Gold/Auriferous Deposits can be classified into types for which here is a List of 10 Types of Gold Deposits:
Auriferous porphyry dykes, sills, and stocks; Auriferous pegmatites; coarse-grained granitic deposits + albitite.
Carbonatites and carbonatite-related deposits.
Auriferous skarn and gold skarn type deposit.
Gold/Silver and vise-versa veins, lodes, mineralized pipes and irregular silicified deposits in fraction, faults + zones.
Auriferous veins, lodes, sheeted zones, saddle reefs in faults and fractures.
Silver/Gold and vise-versa veins, lodes, stockworks and silicified zones in a complex geological environment with sedimentary, volcanic and various igneous intrusive + granitic rocks.
Disseminated and stockrock gold/silver deposits in igneous, volcanic and sedimentary rocks.
Gold deposits in quartz-pebble conglomerates and quartzites.
Various other gold sources.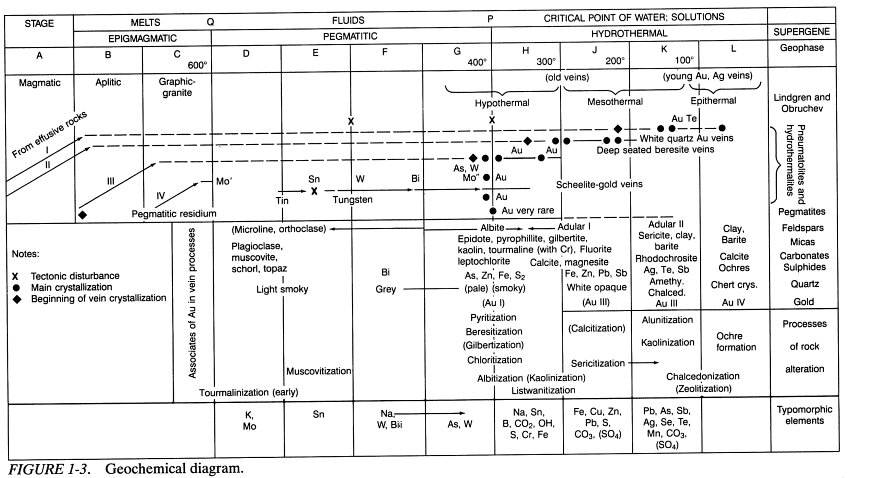 The Extractive Metallurgy of Gold
Gold Deposits Types: List of 10
Gold Deposit Class #1

 Pegmatites are igneous rocks formed in the final stage of magma crystallization
Porphyry Dyke
Coarse-grained granite

Albitite

Gold Deposit Class #2

Carbonatite

Carbonatite Related

Gold Deposit Class #3

Gold Deposit Class #4

 Gold/Silver Veins
Saddle reef

 Mineralize pipes

  Silicified deposits

Gold Deposit Class #5

 Auriferous veins

Saddle Fracture

Sheeted Zone

Saddle Fault

Gold Deposit Class #6

Auriferous Lode

Silicified zones
 Intrusive Igneous Rocks

Gold Deposit Class #7

Disseminated

Stockworks

Volcanic rock

Gold Deposit Class #8

Quartz pebble conglomerate

 

Quartzite

Gold Deposit Class #9

Alluvial placers

 Eluvial placers

Gold "Deposit" Class #10

Electrorefining Slimes: Example -Selenium Roasting Waste – Gold rich