DIAPHRAGM PUMP WITH AUTOMATIC STROKE ADJUSTMENT ACCURATELY CONTROLS DENSITY OF THICKENER DISCHARGE is through his aggressive leadership of our Research and Development Department that many new and improved machines have been developed.
Exacting control of thickener underflow density is a critical point in many operations. Normally it is desirable to maintain the highest possible underflow density to provide maximum removal of fluids. This is essential for efficiency in counter-current washing systems, cement plants, and in processes involving filtering and drying.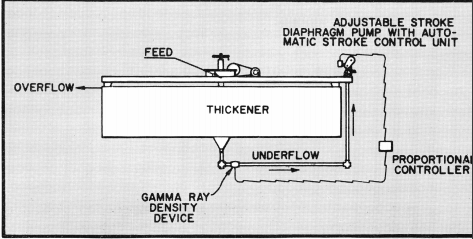 The Adjustable Stroke Diaphragm Pump with Automatic Stroke Adjustment provides a positive method of accurately controlling thickener underflow density. The unit further answers the requirement for full automation of modern plants.
A gamma-ray device is installed on the thickener underflow line. The device transmits a signal to a proportional controller. The controller is connected to the automatic stroke actuator on the Adjustable Stroke Diaphragm Pump. Depending upon the signal received, the actuator either increases or decreases the length of the pumping stroke or leaves it unchanged.
The pump remains in continuous operation. Pump capacity is, of course, directly proportional to the length of stroke. Adjustment of stroke length is the only effective method of varying pump capacity. Capacity adjustment by change of speed frequently results in serious operational problems.
Operation of the Pump is fully automatic. Density of solids in the thickener underflow is maintained with exacting accuracy. Additional details on how this unit can be adapted to improve your operation will be supplied on request.
Thickener and Diaphragm pump
Now uses gamma ray sensor to provide exacting density control AUTOMATICALLY

Set-it-forget-it! Automated operation adjusts diaphragm pump stroke length • reduces cost • eliminates overloads • provides specification product. Additional details on request.
ACID-PROOF OR STANDARD CONSTRUCTION
THICKENER ADVANTAGES: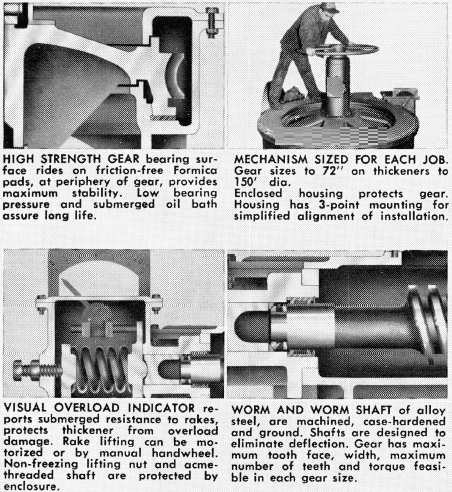 ELIMINATE RISK.
Use Testing Service to Determine Correct Thickener Size.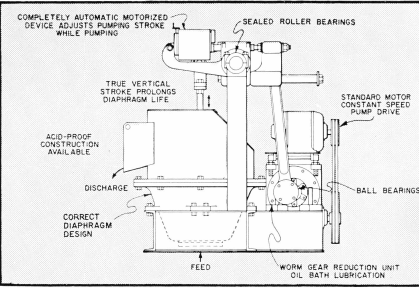 Many Engineering Firms and Operators use testing Service to verify their own tests and recommendations. Tests supply reliable data on (A) Settling Rates; (B) Final Density; (C) Affect of Flocculating Agents; (D) Thickener Area Units. Send 5 gallon sample prepaid to Testing Division, 1755 Blake St., Colorado, along with details of problem.
PROCESS AUTOMATION
If you are looking for a "better way" of processing or making your operation "automatic" consult. No obligation. Our experience can help you!
ADJUSTABLE STROKE DIAPHRAGM PUMP sizes to 10″ Duplex
Exclusive with Stroke can be adjusted while pump is operating. Ideal for automated operation.
Improved Design Boosts Capacity over 50%—Cuts Horsepower Requirements.