Objective
Reduce the time, complexity and expense of dissolving metal and mineral samples in solution in preparation for chemical analysis.
Approach
In earlier research, the Bureau of Mines developed a rapid and inexpensive method for the dissolution of mineral and metal samples in plastic pressure bottles heated in a boiling water bath. Using this technique, samples could be prepared for chemical analysis in less than one hour compared with several hours by traditional dissolution methods (see Technology News No. 85, December 1980 for further details). By heating in a microwave oven, sample dissolution time can be reduced to approximately 5 minutes.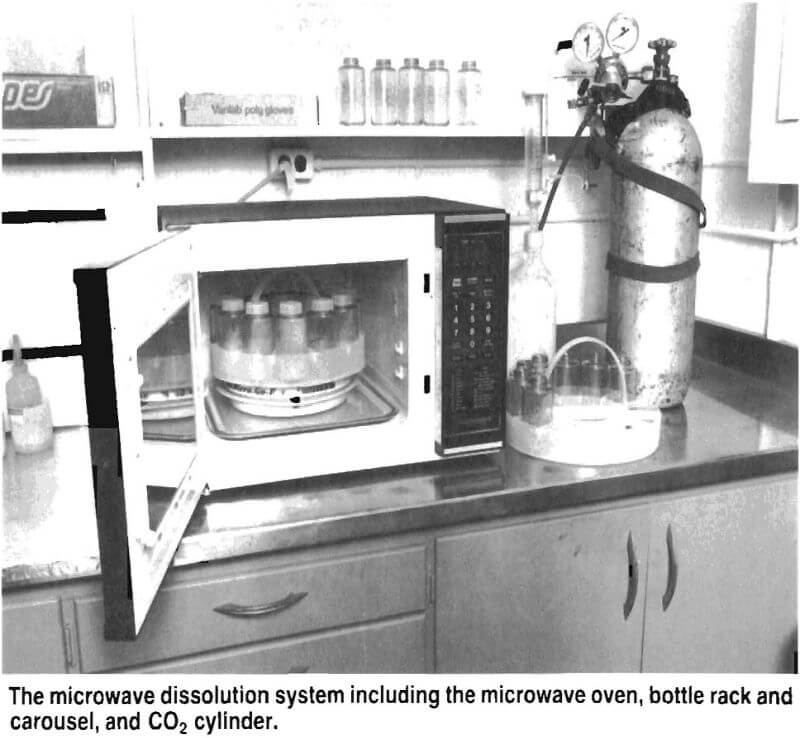 An inexpensive microwave oven provides extremely precise and efficient heating of the sample and acid mixture. Increased temperature and pressure in the sealed bottles accelerate sample dissolution.
The Improvements
Samples are prepared as previously described by grinding them to minus 100- mesh and placing a small weighed portion of each into polycarbonate bottles. A mixture of hydrochloric, nitric, and hydrofluoric acids is added to each bottle. The bottle caps then are screwed on tightly to prevent contamination and to retain volatile gases which could be released during the dissolution