The Difference Between a Clarifier and a Thickener is subtle as they will visually look the same.  Fundamentally, thickeners and clarifiers are both used to settle solids which results in the separation of liquids and solids. Thickeners are used to concentrate solids, while clarifiers are used to purify liquids.
A thickener will give you a high density underflow while a clarifier will not. The clarifier overflow is typically cleaner or clearer than the thickener overflow would be.
Clarifiers, depending on the application – that can be used to recover immediately reusable process water, as well as extracting fines and other materials. Thickeners can be used by mineral and aggregate producers, as well as by environmental contractors in industries such as wastewater management.
The benefits of Thickeners can vary from user to user depending on the producer's needs and the industry. For instance, Thickeners can be used in locations where water is in short supply or very expensive, providing immediately reusable process water back to the plant. They can also be used to reduce the size or possibly eliminate settling ponds. In some industries, they are used as Clarifiers to remove minerals and fines from water.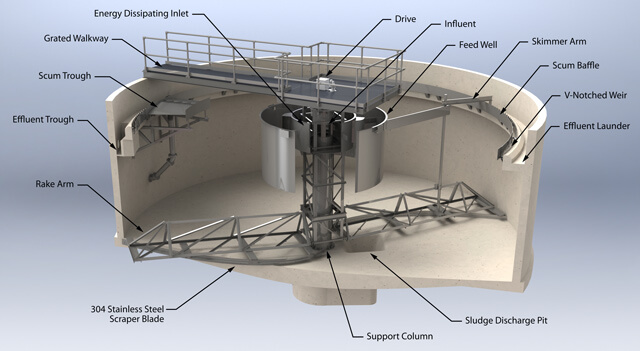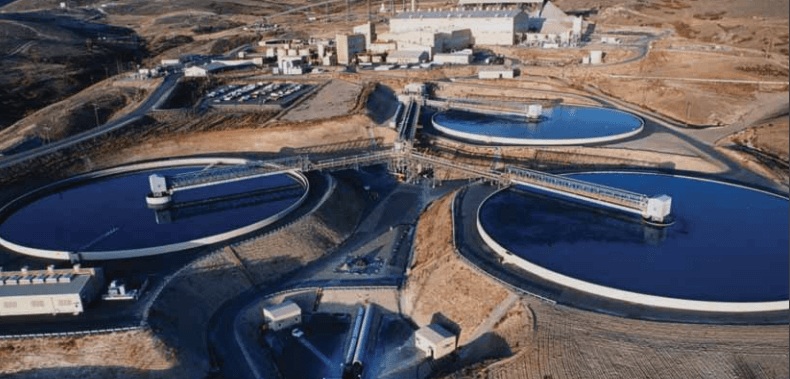 Some types of thickeners are:
High-capacity thickeners
Column-supported thickeners
Traction thickeners
Caisson thickeners
CableTorq® thickeners
High rate thickeners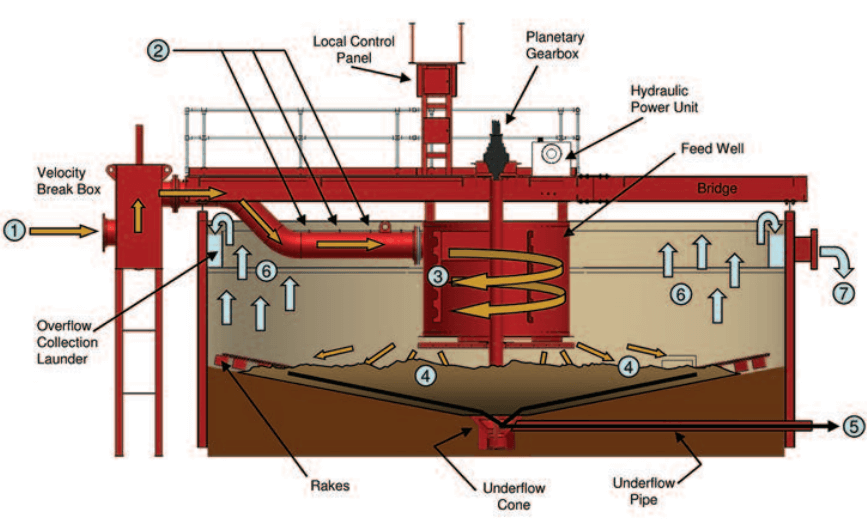 HOW THICKENERS WORK
Feed enters the velocity break box where excess energy is removed from the slurry prior to entering the Thickener feed pipe.
Flocculant is added into the feed pipe and mixes with the solids, forming larger agglomerations, that will rapidly settle to the bottom of the Thickener.
The feed well is oversized allowing entrapped air, contained within the feed slurry, to rise and dissipate so it does not enter the main settling zone within the Thickener.
Flocculated solids settle to the bottom of the Thickener, compacting in what is known as the compression zone, creating a dense slurry.
The dense Thickener solids are raked to the thickener's underflow cone and are removed via a slurry pump through the underflow pipe. Underflow slurry densities can vary based on the type of material being processed, size distribution of solids being settled, or other process factors but as a general rule, range from 35-50% solids by weight.
Clean water rises to the top of the Thickener and overflows a peripheral weir into a collection launder.
Once collected in the overflow launder, clean water exits through a single flanged outlet and can flow via gravity to a water storage tank or clean water pond for reuse.

http://monroeenvironmental.com/water-and-wastewater-treatment/circular-clarifiers
Some types of clarifiers include:
Horizontal flow
Solids contact
Inclined surface
Circular solids contact clarifier
Parallel inclined plates in a circular clarifier
Tube settlers in a rectangular clarifier.
New simplicity — new efficiency for long, trouble-free service in counter-current washing and thickening, water and waste treatment, clarification. Heart of the Spiral Rake Thickener is this improved, totally- enclosed, simple and rugged gear reducer in sizes for thickeners to 150′ diameter. Newly designed, high strength main gear is carried on Formica bearings that mean no wear, no maintenance. Gear runs in oil — gives maximum lateral and vertical stability — provides highest torque rating throughout size range. Heavy worm shaft prevents deflection, assures maximum worm-gear contact and long life.
Rake lifting device consists of lifting stand with non-freezing lifting nut, ball thrust bearing, an acme threaded lifting stem and handwheel. Simple, effective overload indicator provided. Spiral rakes move settled material to center discharge in only one revolution. Acidproof construction available. Thickeners and tanks, steel, stainless steel, wood or rubber-covered steel, in sizes to 150′.
THICKENER MECHANISM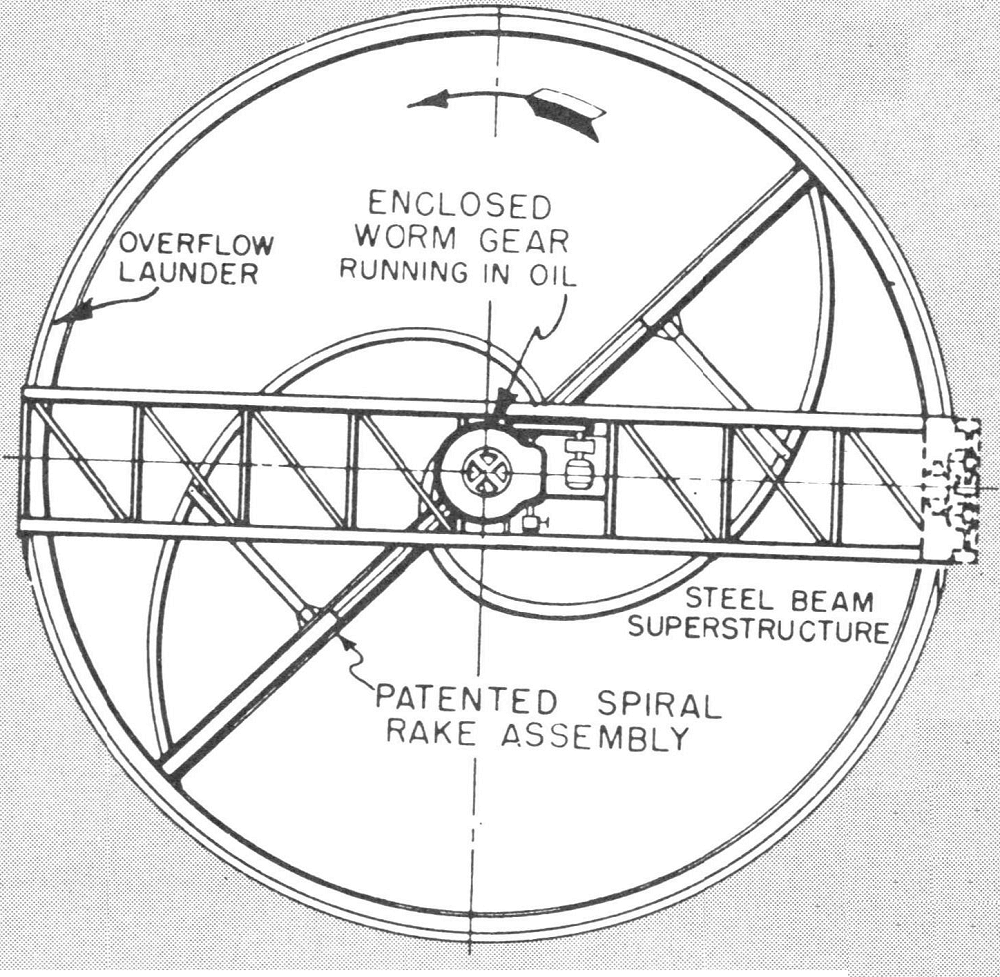 SPIRAL RAKE THICKENER

Spiral Rake bring pulp to center discharge in one revolution.
Small Thickener Capacity Sizing Table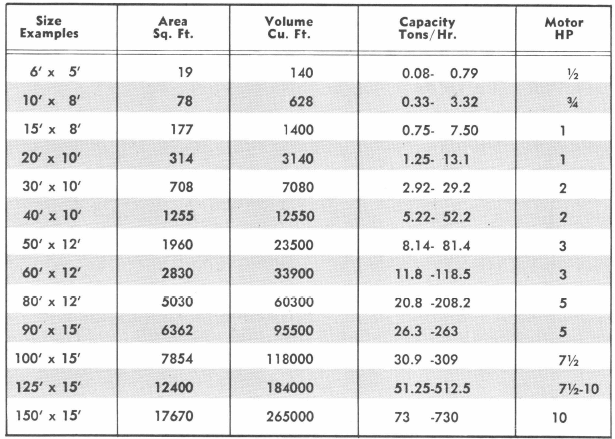 THICKENER TEST SERVICE
Many engineering firms and operators use Testing Service to verify their own tests and recommendations. Tests supply reliable data on:
(A) Settling Rates;
(B) Final Density;
(C) Effect of Flocculating Agents;
(D) Thickener Area Units;
(E) Overflow Clarity.
These tests are made at no cost to you. They can assist you by eliminating risk of specifying a thickener that is too small to do the job or too large and costly for your needs. Specializes in thickening problems.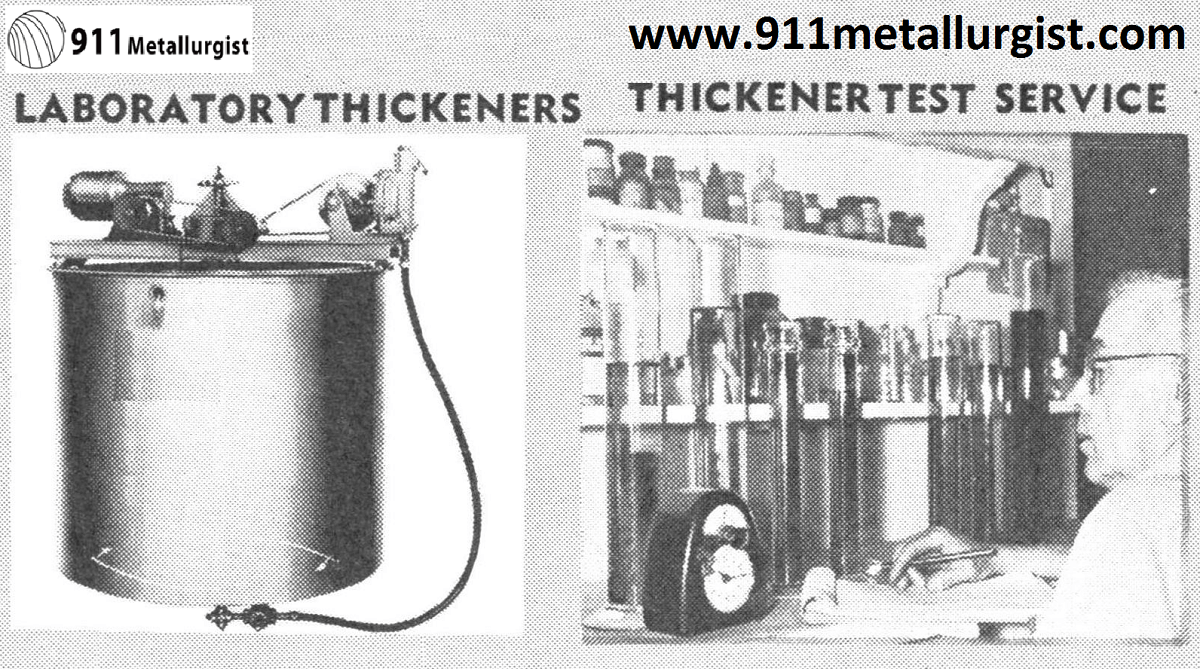 HYDRO CLASSIFIERS
With the Hydro Classifier, fine sizing and desliming of pulps with particles of different settling rates are accomplished with the simplest operating methods to reduce operator's time, maintenance and mechanical wear. Sizes from 6′ diameter to 55′ diameter.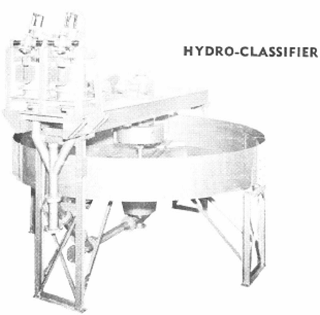 Source: This article is a reproduction of an excerpt of "In the Public Domain" documents held in 911Metallurgy Corp's private library.