Strategic Minerals, such as uraninite, garnet, monazite, zircon, cassiterite, columbite, magnetite, are often found closely associated with pegmatic orebodies. Concentration of these minerals is frequently complicated by hardness of the ore, presence of the clayey materials, and the fact that mineral sizes range from micron dimensions up, and have varying degrees of magnetic and electro conductivity. Concentration requires considerable flexibility in flowsheet.
The Process Extraction Flowsheet
To make high grade marketable products, The Selective Mineral Jigs, Coarse Mineral Jigs, Concentrating Tables and Tilting Buckman Concentrators, as well as a magnetic separator are vital factors in the efficiency and economy of such an operation. The flowsheet above employs these elements and is adaptable to alluvial or lode deposits.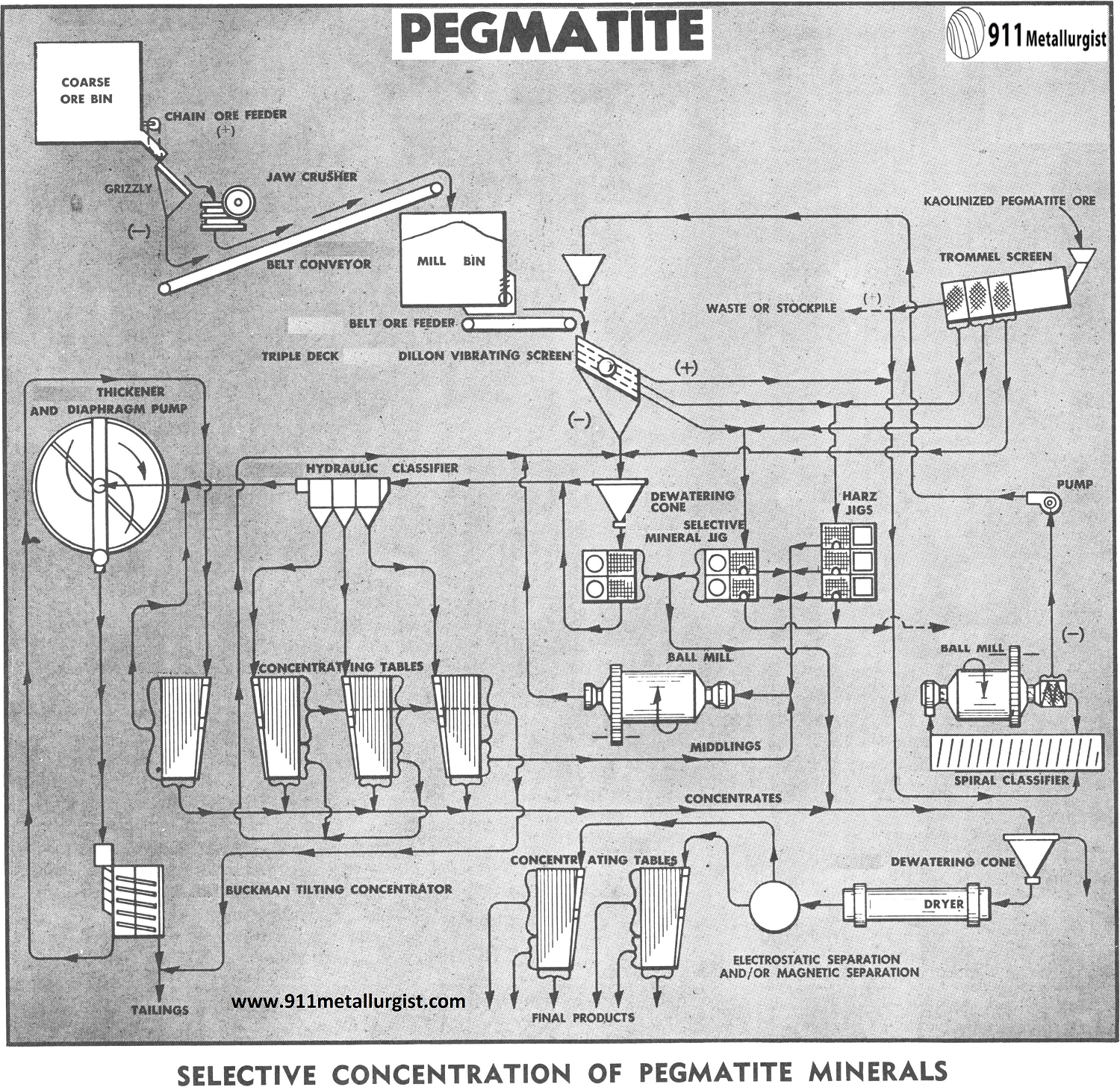 Crushing Section
The crushing section must be applicable to the hard pegmatic ore. Crushing to minus 1¼" by means of the Steel Frame Forced Feed Jaw Crusher is normally all that will be necessary. See Flowsheet Study M7-F7 for other arrangements. Crushing sections should be followed by a surge bin having ample storage capacity from which a predetermined feed-rate can be maintained to the subsequent sizing sections. For large tonnages a secondary crushing unit is recommended.
Sizing Section
The size distribution of the minerals to be recovered can best be determined in a laboratory. Equipment Company maintains complete testing facilities for such investigations. For a typical installation the minus 10 mesh product after being dewatered would go to a Selective Mineral Jig. The plus 10 mesh, minus 3/8″ to similar jigs, while the plus 3/8″ minus 1″ product would be fed to a Plunger Jig.
Alluviums, normally require scrubbing and washing to free the minerals from the clay in addition to screening. This can be effectively done by a Heavy Duty Trommel Washing Screen.
The crushed material from a pegmatite deposit is sized over a vibrating screen. The Dillon Vibrating Screen, due to its circle throw motion and low horse-power requirements is highly efficient for this.
Gravity Concentration
Feed to the Mineral Jig handling the plus 10 mesh minus 3/8″ fraction should incorporate a center or end draw-off for removing a coarse mineral fraction or a middling product. The hutch products in each case are a final or bulk concentrate to be further concentrated in the magnetic or electostatic sections.
Selective Mineral Jigs are used because of their minimum water requirements. The plus 3/8″ minus 1″ fraction is proportioned to the Plunger Jig for obtaining a middling product. This product is then combined with the draw-off product from the Mineral Jig for feed to the regrind circuit.
The fine Mineral Jig tail is sent to the tabling section, for further concentration. The plunger jig tailing go to the grinding section for size reduction, for further concentration or to waste.
Selective Mineral Jigs are used because of their minimum water requirements. They produce a hutch product that is further concentrated in the magnetic or electrostatic sections; also a product that is sent to regrind circuit.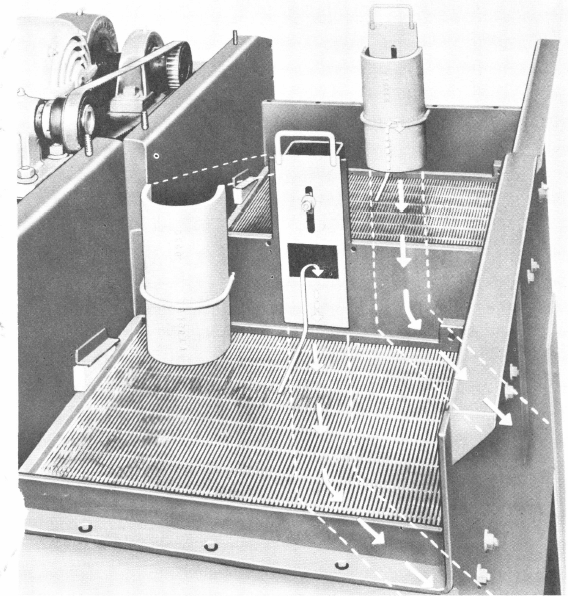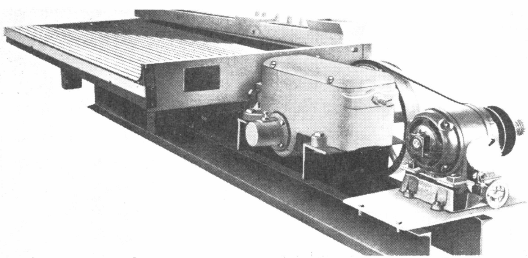 Sand Concentrating Tables are used to remove a bulk concentrate, which is combined with Jig Hutch concentrates for magnetic and/or electrostatic separation.
Classification before tabling provides the proper sized feed to each table (a coarse, medium and fine sand, also a slime fraction). The sand fractions are sent to the Sand Concentrating Tables and the slime fraction to thickening (about 17% solids) and thence to the multi-deck Buckman Tilting Concentrator (optional) for mineral recovery from the slime fraction. Tilting Concentrator concentrates are then cleaned by recirculation or by passing over a Concentrating Table, equipped with slime deck and riffles.
A finished and/or bulk concentrate is removed from each Sand Concentrating Table and combined with Jig Hutch concentrates for magnetic and/or electrostatic separation. Table and jig middling products are sent to the Steel Head Ball Mill for regrinding, and thence returned to the gravity circuit.
Selective Concentration Section
Bulk concentrates having a large magnetic fraction (magnetite) are first separated by wet (Crocket type) magnetic separators. Concentrates of a nature having varying degrees of magnetic, non-magnetic, conductive and non-conductive minerals are dried thoroughly. Subsequent treatment then depends on laboratory or actual field results to determine specific concentrating step, i.e. Magnetic or Electrostatic. Varying degrees of low, medium, and high intensity magnets are used, depending on the mineral characteristics:
Electrostatic methods are receiving increased attention. The dried concentrates are passed over the unit making non-conductive (pinned) and conductive (thrown) fractions. (See Table page 70, DECO Bulletin LG3-B10). These fractions can then be separated into their magnetic components or (preferred) their gravimetric component which is best accomplished by the Concentrating Tables.
Summary of the Pegmatite Concentration Process
Selectively concentrating marketable products efficiently requires proven machines and applications with emphasis on removing the minerals as soon as free and rehandling the middling products separately for improved metallurgy.
The extent to which individual products should be separated is dependent on market conditions. Normally, a selected product demands a higher price with subsequent increase of profit to the operator. Preliminary testing is essential and facilities of the Ore Testing Division are available to help determine proper flowsheet in each specific case.
---
Source:
This article is a reproduction of an excerpt of "In the Public Domain" documents held in 911Metallurgy Corp's private library.