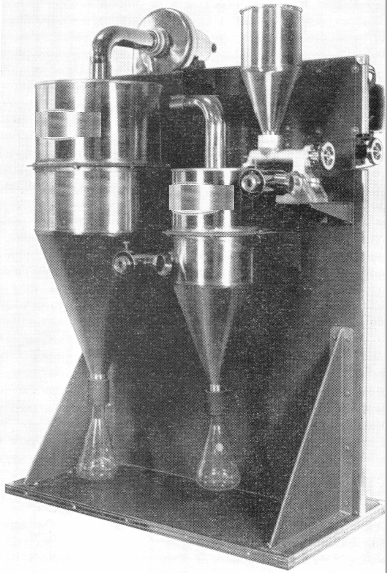 LABORATORY AIR CLASSIFIER OFFERS DRY SEPARATION DATA ON SMALL-SCALE
One of the problems confronting many laboratories handling dry grinding and separation problems is the proper method of sizing the products.
To meet this need, our Equipment Company has developed the Laboratory Air Classifier for dry materials. The unit is available in two sizes. The Model "C" which is shown in the photo has a 12″ diameter collector and an 8″ diameter classifier. The model "D" is the same as the Model "C" but is provided with an additional 8″ diameter classifier.
With minus 200 mesh feed this classifier has a capacity of 100 to 120 pounds per hour. When using the Model "D" unit one additional size classification is possible.
The collector and cyclone are of stainless steel. A high capacity blower permits admission of sufficient volumes of air through conveniently adjusted control valves to affect the desired separations over a wide range of sizes. The unit provides a high degree of control which makes it possible to duplicate results on check tests. The finest size dust which passes the collector accumulates in disposable paper bags contained in and protected by zippered canvas bags on the back of the machine.