The use of a laboratory pulverizer is a must before sending any soil or test sample for XRF, titration, ICP or other assay method; you need to pulverize or fine grind a dry representative portion of the rock sample using what is commonly called in the laboratory language of sample preparation a laboratory pulverizer. Any of these term are part of the jargon to describe the pulverizing machine used to bring the particle size of your test sample down to low microns. Finer is better, and under 270 mesh (53 um) is generally fine enough.
The basic parts of this vibratory type sample pulverising machine are: steel grinding bowl, ring and puck. The ring and puck rotates inside the approximately 8" diameter cage at a speed around 400 RPM or fast enough to crush and pulverize rocks of up to ½" down to 400 mesh.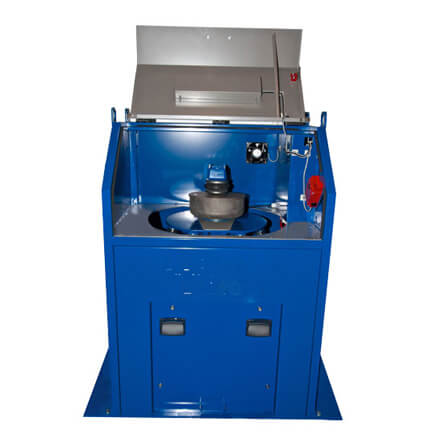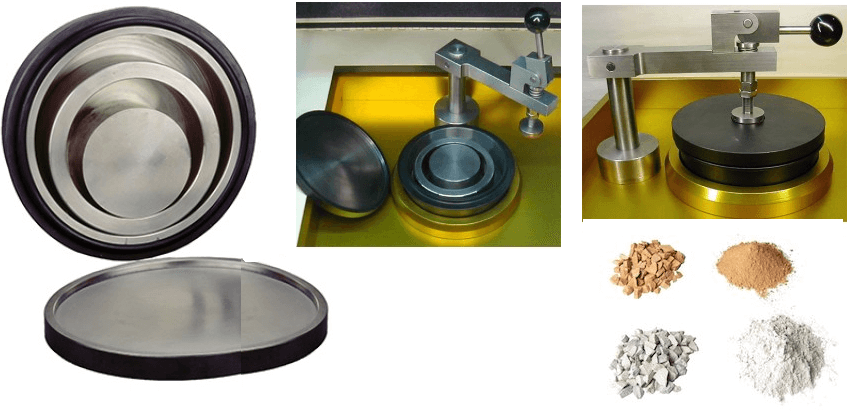 Laboratory pulverizers sell with pneumatic or manual clamping system.
These ring grinders also come in single or multiple stations or bowls.  The most common being 1 bowl but as production or sample contamination reduction might require I saw as much a 7 bowls on one machine.  The size/capacity of the bowl and its ring & puck also varies depending on how much you want to grind and pulveriser at the same time.

Here is some kind of photographic step-by-step of pulverizing a dry (make sure it is well dried) sample.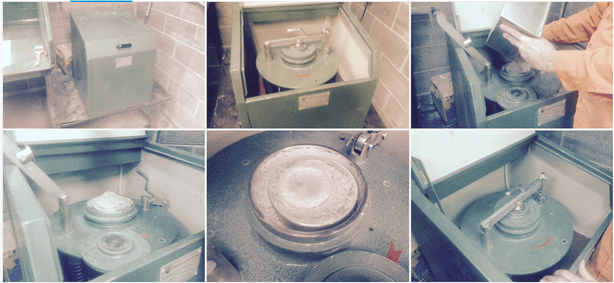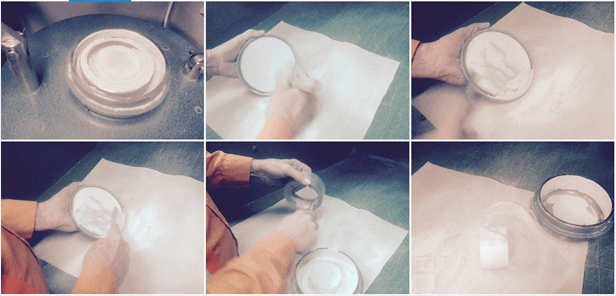 Finding a good ring and puck mill for sale is not that hard but it can be expensive.
The D. F. C. Laboratory Pulverizer is an excellent unit for reducing primary laboratory crusher or roll products to a fineness up to 120 mesh in preparation for treatment tests. This pulverizer is ideal for ore dressing, assay, chemical and industrial laboratories.
The capacities of this unit will vary with different materials and conditions, but a medium quartz ore can be reduced from ¼ mesh to 100 mesh at the rate of 1.4 pounds per minute. The degree of fineness of product obtained can be easily adjusted by turning a handwheel at the rear of the machine. A lock nut holds adjustments made, thus assuring a uniform product size. Easy and thorough cleaning is permitted by a hinged cover which drops back, exposing the grinding chamber which is lined with baked enamel for additional certainty in cleaning to prevent salting of samples.
Design of the D. F. C. Laboratory Pulverizer combines simplicity with the proven advantages of planetary motion which eliminates all possibility of grooving the rotating discs. This unit is driven directly without the use of a gear train. All bearings and gears run in a bath of oil.
Drive may be by tight and loose pulleys for flat belt or a motor may be mounted on the pulverizer frame and equipped with an enclosed V-belt drive. Correct belt tension is secured by raising or lowering the motor base with an adjusting bolt and nut.
Laboratory Disk Pulverizer
The McCool Laboratory Pulverizer is an economical, simple, durable, and amazingly rapid and efficient disc type grinder. It is designed for grinding virtually any material and will produce a fine mesh sample in one operation. This unit is particularly adapted for use by assay offices and metallurgical, chemical, and industrial laboratories.
This pulverizer is the only self-contained laboratory grinder which has both a vertical and a horizontal planetary movement. Thus the rotating disc always has the proper angular curvature with relation to the stationary disc. This feature is particularly desirable due to the greatly lengthened life of wearing parts and the unusual uniformity of the final product.
The revolving disc is attached by a ball-and-socket joint with spring tension. This enables the disc to automatically align itself with the stationary disc. The constant contact of the two discs tends to perfect the crushing efficiency as evidenced by uniformity of product and high capacity of this pulverizing unit.
The main shaft is hollow. Located eccentrically within it is the disc driving shaft which, through the range of gearing, has a much greater speed than the pulley speed. The resultant high speed of the rotary disc accounts in a large measure for the exceptional capacity and fineness of product of the McCool Laboratory Pulverizer.
A self-locking device holds the hinged grinding chamber in place and affords easy and quick access to the chamber for removing ground samples and cleaning. The adjustment of the grinding discs to each other is automatic and positive and various settings can be made while the machine is in operation.
When ordering advise the kind of material to be pulverized, as well as the desired fineness of the finished product, as there are three types of grinding discs.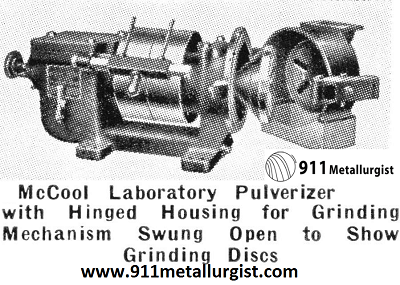 The McCool Laboratory Pulverizer is available incorporated into a crusher-pulverizer unit on a common base with a single driving motor, as shown at left. The crusher unit is the 2 ¼" x 3 ½" (Type I) Forced Feed Laboratory Jaw Crusher, which is of the high capacity type with a one-piece cast alloy iron frame and reversible manganese steel jaw and cheek plates. This crusher-pulverizer unit is a compact, efficient, portable combination, ideal for use in any laboratory.
Let us make recommendations for the proper size crusher-pulverizer combination to suit your specific requirements.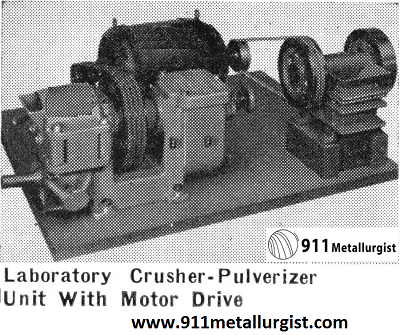 Laboratory Pulverizer Capacity
Gearless Laboratory Pulverizer
The McCool Laboratory Pulverizer (Gearless Type), as illustrated at left, has been designed to give 1/3 more capacity with 1/3 less horsepower consumption than the previous models. It is an ideal unit for grinding virtually any material and for pulverizing to any mesh in one easy operation.
Although using the time proved gyratory motion of the original McCool, this unit has been designed to eliminate all gears and oil leakage. By the elimination of all unnecessary parts it is made quiet, smooth running, and practically vibrationless and for this reason requires only 1/3 the H.P. of the previous models. It is a self-contained unit with a micrometer adjustment near the grinding chamber lock and handy to the operator for changing the size of the product. The motor, the shaft assembly and the housing move together as a sealed unit in dovetail slides toward the grinding chamber to compensate for disc wear. With this method the shaft is not drawn in or out of its bearings and exposure to dust and wear is avoided. The 9″ diameter discs rotate at 800 R.P.M. and at the same time travel around their own axis at 200 R.P.M. inside an eccentric outer sleeve.