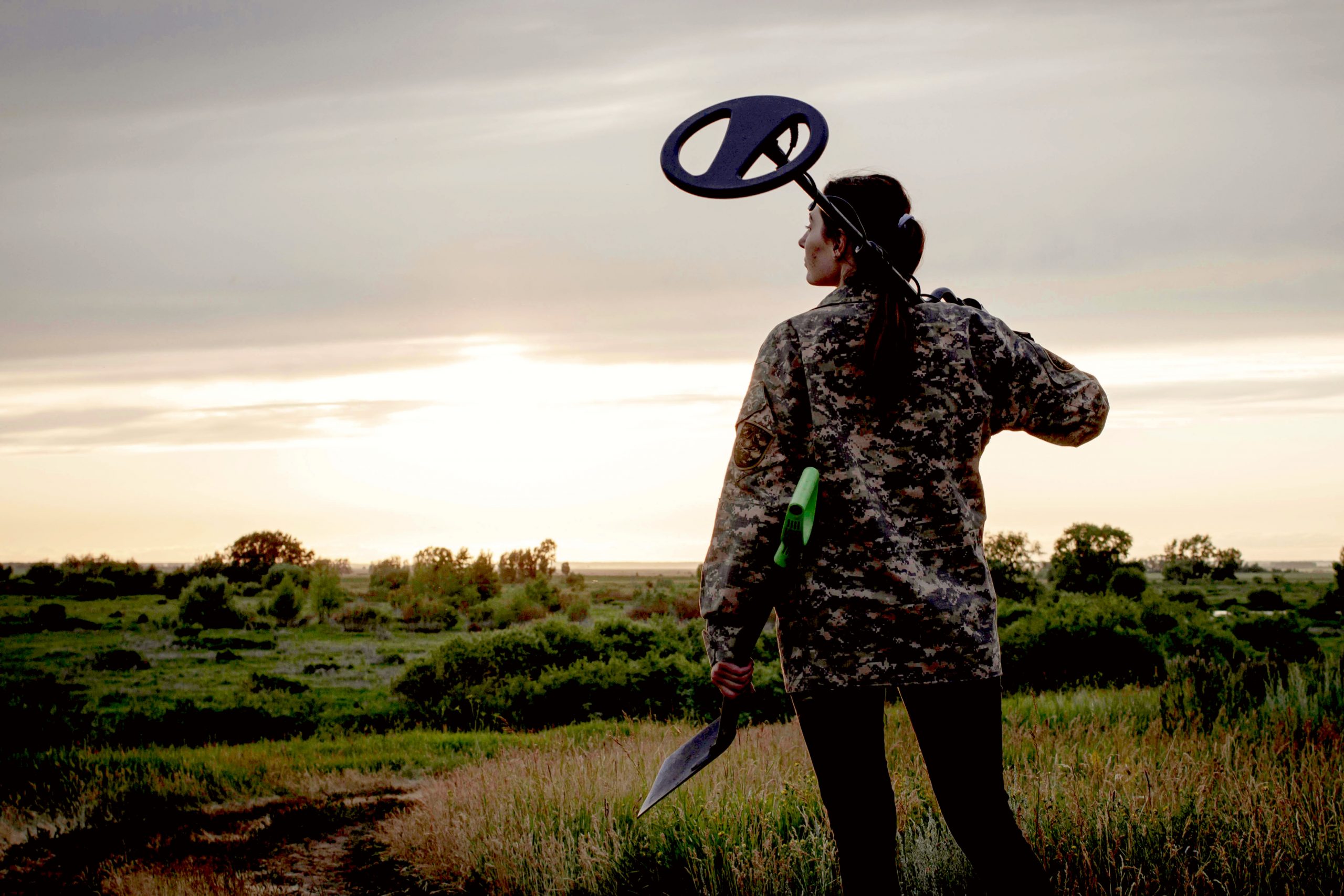 Bronze age necklaces, golden chalices, and meteorites are just some of the amazing discoveries that metal detectors have uncovered. For many detectorists, it all comes down to having the right tools for the job. So before you can start unearthing long-lost artifacts, you'll need to educate yourself on the best metal detectors available.
We've compiled a list of the best units, covering a variety of different technologies, terrains, budgets, abilities, and features which will prove to be valuable for everyone, beginners, intermediates, and experts alike.
Metal detectors are not all created equal. Depending on where you plan on hunting or what types of terrain you have access to, you will need to have a metal detector that possesses the required features for that type of location. We've reviewed over 911 articles and compiled a list of our top choices which are suited for different environments and metals. Some of the materials and locations we have considered include:
For example, you can usually use any type of metal detector on the beach. However, the performance of your metal detector is determined by technology and any additional features that your detector may have. Metal detectors designed specifically for the beach usually can provide accurate target ID in mineralized soil as well as being submersible in water. 
While it may be tempting to get out and start searching for treasures straight away, you have to remember that different locations and areas have different laws and regulations surrounding metal detecting. So we recommend that you look into them before starting your metal detecting adventure, in order to avoid fines and other consequences. 
To determine the 14 best metal detectors available, we have analyzed customer consumer reports and listened to recommendations from experienced detectorists with knowledge of the particular features that make these products indispensable. We then used Fakespot to remove any products with high numbers of false reviews to uncover the best possible choices for you.
Metal Detector
Minelab Gold Monster 1000
Preview
Pro
Compact and lightweight so it's easy to handle
Accurate depth perception
Recharges well to deliver hours' worth of power
Con
Better suited for finding gold than other materials
May require a steep learning curve for some
Could have better ergonomics so that it's easier to swing
Metal Detector
Minelab Gold Monster 1000
Preview
Pro
Compact and lightweight so it's easy to handle
Con
Better suited for finding gold than other materials
Preview
Pro
Accurate depth perception
Con
May require a steep learning curve for some
Preview
Pro
Recharges well to deliver hours' worth of power
Con
Could have better ergonomics so that it's easier to swing
1. Minelab Gold Monster 1000 (Best Option for Gold)
The Minelab Gold Monster 1000 is entry-level in design, yet high-end in terms of performance. It's built using extra sensitive VLF technology so that it balances out sensitivity in order to find small gold while remaining stable enough in mineralized ground. The sensitivity of this device adapts automatically depending on the mineralization of the soil, however, this can be adjusted manually when needed.
When detecting, there are 6 volume levels to choose from. There are also 2 detecting modes: gold (iron reject) and deep all-metal. For ease of use, this detector features a handy gold chance indicator so that you know whether it's even worth searching in a particular area, saving you valuable time. Operating this detector is straightforward thanks to its fully automatic design and quick-start process. You can even detect in different weather conditions thanks to the rain-proof control box.

Features:
VLF single frequency | 45 kHz

2 detect modes

Auto tracking ground balance

Waterproof search coil

LCD display

Universal shaft adapter
What we love:
Good for both beginner and intermediate metal detectorists

Compact and lightweight so it's easy to handle

Does particularly well when detecting gold in compromised and deep soil
We don't like this as much:
Since it's not multi-purpose, this detector is better suited for finding gold than other materials
Minelab Gold Monster 1000 Universal Metal Detector with 2 Search Coils, Waterproof
KIT INCLUDES: Minelab Gold Monster 1000 Metal Detector | 10x6" DD Waterproof Search Coil | 5" DD Waterproof Search Coil | Headphones | Lithium-Ion Battery | 8 x AA Batteries | Lens Cleaning Cloth | Minelab 2 Year Control Box & Coil Warranty
45 KHZ VLF & 24-BIT SIGNAL PROCESSOR: This primary combination greatly boosts sensitivity to gold beyond that of other single frequency VLF detectors over a wide range of nugget sizes, without introducing excess noise and false signals.
IMPROVED DISCRIMINATION: The GOLD MONSTER 1000 also has improved ferrous/non-ferrous discrimination and copes better with conductive (salty) soils than higher frequency detectors, making it the perfect choice to maximise your gold recovery.
VERY LOW FREQUENCY: VLF (Very Low Frequency) is a conventional single frequency sine wave continuous transmission technology. This is the traditional type of technology used in most basic metal detectors. Single frequency sine wave detectors create an electro-magnetic field, which is transmitted into the ground in a continuous wave. The receive signal processing has improved enormously. ​
2. Garrett Sea Hunter MK-II (Best Option for Underwater)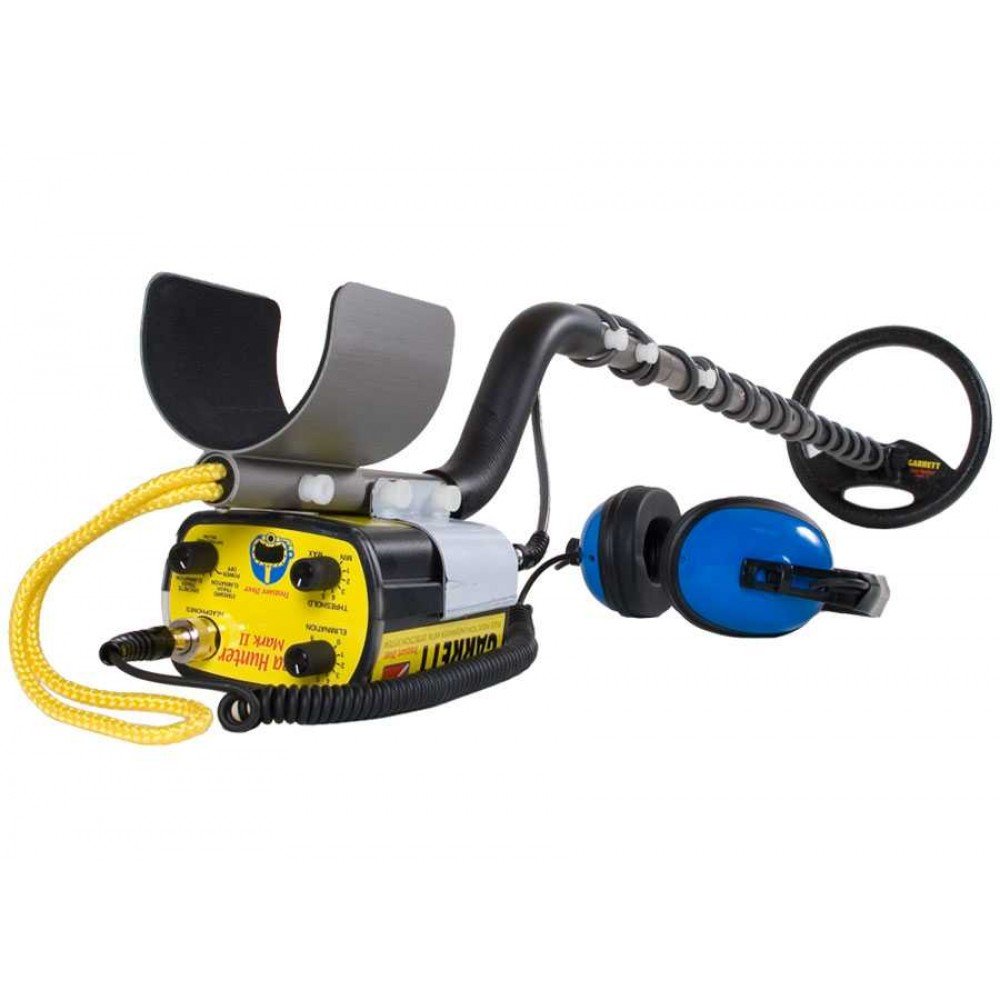 The Garrett Sea Hunter MK-II is your go-to detector for underwater hunting of relics, gold, and coins. Operating at 750 pulses per second, this detector does well at ignoring trash as well as saltwater and iron mineralization so you can find quality treasure at depths even deeper than 200ft. For comfort, while you're using it, you can mount the control box on or above the hip as well as under or below the cuff. There are both short and long configuration options as well.
With 3 search modes, the unit does well at adapting to your situation. It has a discrete PI discrimination mode, a non-motion all-metal with adjustable PI discrimination mode, and a standard PI discrimination mode. The detector is very sturdy in order to withstand the uncertain conditions and water pressures you can face when underwater.
Features:
22 frequencies | pulse induction

3 search modes

Submersible up to 250ft deep

Adjustable armrest and shaft

Underwater headphone jack

Convertible control box mount
What we love:
Floats well so you won't lose it

Good resistance in the water

The setup process is fast and simple
We don't like this as much:
Could have better discrimination when used on land
Buy from KellyCo: Garrett Sea Hunter MK-II
3. NALANDA MD056
The NALANDA MD056 is a valuable metal detector that can serve as a fantastic unit for beginner and intermediate detectorists. It has high sensitivity with 5 sensitivity levels for deeper and more reliable indications. This unit features a quality LCD display that provides you with everything you need to know, such as the possible metal type and the target depth. When you detect something, the sound discrimination system has 4 different tones that can be used. Also, you can adjust the volume across 3 different levels to find what best suits your needs.
There are 4 main search modes to use: all-metal, memory, custom, and disc. Alongside that, there is also a pinpoint mode that you can turn on. When you're hunting, both the length and the coil angle are adjustable to suit a variety of conditions, which makes this an ideal multipurpose detector.
Features:
18 kHz frequency

5 sensitivity segments

6 signal strength indicator segments

4 search modes (plus 1)

Waterproof search coil

4 sound frequency tones
What we love:
Compact for easy portability

Quality and accurate pinpoint feature

Easy to put together
We don't like this as much:
The recovery of this device seems a bit slow
NALANDA 18 kHz Metal Detector with 5 Detection Modes, Outdoor Gold Digger Handheld Metal Finder with Adjustable Sensitivity Waterproof Search Coil LCD Display (Included Foldable Shovel and Headphone)
【18 kHz High Frequency / 10'' Waterproof Search Coil / metals discrimination 9 kinds 】With Automatically Ground Balancing and adjustable sensitivity, this 18kHz high-sensitivity detector easily and accurately locates even the tiniest pieces of gold. The 10'' waterproof search coil will detect 9 kinds of metals including Gold, silver, copper, coins, artifacts, jewelry, etc. in no matter beach, shallow cave, rivers where a lot of gold is located.
【5 Detecting Modes includes Discriminate Mode(Disc) etc.】①All METAL - the metal detector notifies you whenever it sees any metal. ②Disc mode - you can utilize this metal detector to discriminate other types of metal for a specific one. ③MEMORY - remember some kind of metals you choose, and it will only respond to this metal. ④CUSTOM – be free to choose the combination of metals that do not need to be detected.⑤PINPOINT - This mode aids in the detection of metals.
【75 * 55mm LCD display / 4-Discrimination mode Tones】The LCD display, showing possible metal type, target depth, sensitivity level, battery level, volume (3 levels adjustable), backlit cursor and target ID display. Low power - a red light will be displayed to remind you to replace the battery (Please note: the control box is not waterproof). The sound discrimination system will sound four frequency tones to help you discriminate the targets.
【Length-Adjustable 44'' to 54'' / Coins Depth Indication 2'',4'',6'',10''】The Nalanda detector is detachable and length-adjustable, suitable for adults and also children. Earphone included in the Package can help to find target metal easily. 18kHz high-sensitivity also make our detector grade up the depth indication to 10''. 5 Sensitivity Levels to have a deeper indication(2〞,4〞,6〞, 8〞and 10+) of target metal.
【12-months Warranty / with Full Accessories】What you will get: 1x metal detector, 1 multi-function foldable shovel, 1 x headphone, 1 x professional manual. 12-months warranty. *Any of the technical issues, please feel free to contact us to get a satisfactory solution.* Now start your treasure hunting with just 1x9V battery (not included) for up to 40 hours.
4. Garrett ACE 300 
For beginners and intermediate users who need a comfortable learning curve, consider the Garrett ACE 300. It's geared toward coin and relic hunting, making it ideal for general use. This detector also features multiple search modes so you can change things up depending on what you're searching for. You can use the jewelry mode, zero discrimination mode (all-metal), relics mode, coin mode, custom mode, and pinpoint mode.
As an all-purpose unit, you can even take it out for freshwater wading rather than sticking to dry land. You may even cut down on your search time thanks to the quality 3-tone detection and 4 different iron discrimination segments. Its reliable battery also boasts a 20 to 40-hour life so if you want to walk around for longer to find more hidden treasures, you can without worrying about the detector running out of power.
Features:
VLF single frequency | 8 kHz

12 target ID segments

6 search modes

Adjustable discrimination

Fixed ground balance

3 distinctive tones
What we love:
Quality depth penetration to make it easier to find high conductivity targets

Well-balanced design

Ergonomic set up for ease of use
We don't like this as much:
Could have better trash discrimination
Sale
5. Fisher F22 (Best Low Budget Option)
The Fisher F22 is one of the more affordable units that you can still take out to a variety of locations. It's environmentally sealed so that you can bring it to tougher environments as well as more straightforward ones. For versatility, it has 4 modes of operation: artifact, custom, coin, and jewelry. You can readily separate the trash from the treasure too, using the 9-segment visual and numerical target ID.
Alongside that, this detector offers 20-level sensitivity control so you can further adapt to changing ground conditions. This has an easy-to-read iron identifier icon and a ground mineralization readout to make your time out hunting a less stressful process, more so for those just starting out. Also, you get a comfortable 30-hour battery life for extended treasure hunting adventures.
Features:
VLF single frequency | 7.69 kHz

4 search modes

Waterproof search coil

20-level adjustable volume

9-segment visual target ID

4-tone audio ID
What we love:
Accurate depth perception

Comfortable to swing for long hunting trips

Good weatherproof capabilities
We don't like this as much:
May require a steep learning curve for some
6. Bounty Hunter Land Ranger Pro 
With the Bounty Hunter Land Ranger Pro, detectorists get many useful features all in a cost-effective package. There is a pinpoint mode to use with a depth indicator so that you have a better chance at detecting quality objects. You can also alternate among the other search modes to adapt the unit to any specific targets. These modes include discrimination, no motion, and motion.
On the topic of discrimination, there are 6 modes with 3 of them being preset and the others being manual. The built-in modes are ideal for beginners to help them better understand the unit. Meanwhile, the others provide greater control for experienced detectorists to get the most use out of the detector.
Features:
7 search modes

5-segment active depth indicator

4 audio ID tones

Pinpoint mode

1-button ground grab ground balance

43 target ID icons
What we love:
User-friendly 1-button Ground Grab ground balancing feature

Durable build

Lightweight and easy to maneuver
We don't like this as much:
Pinpoint button may lose contact when you try to hold it down
Sale
7. Nokta Makro ANFIBIO 14 
The Nokta Makro ANFIBIO 14 is a quality metal detector best suited for hunting coins and relics on both land and in underwater environments. It has waterproof protection up to 16.4ft with wireless audio capabilities deriving from its Bluetooth connectivity. The various search modes give you more room to explore different environments too. Its 6 modes include: 3 tone, 2 tone, all-metal, beach, deep mode (DEP), and discrimination.
The detector's advanced beach mode will provide you with more stability as you operate in dry sand, wet sand, or venture beneath the water. As a mid-range unit, it provides other high-performance features such as automatic, tracking, and manual ground balancing. Despite the abundance of features, navigating through these is straightforward thanks to the single-menu design that can save you valuable time out in the field.
Features:
14 kHz frequency

Bluetooth compatibility

8 search modes

Advanced Beach Mode

Telescopic shaft

Waterproof search coil
What we love:
Long battery life

Quality waterproof protection

Versatile search modes
We don't like this as much:
Could benefit from search flashlight for underwater use
Nokta Makro 11000613 Anfibio Multi CoinHunter Metal Detector, One Color
INCLUDES: Nokta Makro Anfibio Multi Underwater Metal Detector with 11" Waterproof DD Search Coil, Wireless Headphones, Coil Cover, USB Cable, AC Charger, and a Two-Year .
Fully submersible up to 5 meters (16. 4ft. ) - IP68. Fully waterproof and protected from total dust ingress.
Excellent Discrimination and Unmasking Ability. Save time by detecting the targets you want while spending less time digging.
Advanced Beach Mode. Very stable operation in dry sand, wet sand and underwater.
9 Search Modes. GEN Delta / 2 Tone / 3 Tone / 4 Tone / 5 Tone / 99 Tone / Beach / Deep / Cache
8. Garrett ATX Pro Deepseeker (Best Option for the Beach)
The Garrett ATX Pro Deepseeker is an all-terrain detector designed to function just as well on land as it does underwater without compromising on quality. It features a wide ground balance range from ferrous soil to salty ground. You can also choose from 4 ground track settings and alternate through motion, non-motion, and pinpoint search modes. This unit can change modes seamlessly so you don't have to waste any time.
It's also comfortable for those who are hearing impaired to use thanks to the adjustable volume control. At the same time, this adjustable control can help you pick out those fainter signals. There is also an external waterproof speaker so you don't have to completely rely on the headphones to catch signals. The detector further indicates signal strength and settings using LED indicators.
Features:
Pulse induction

3 search modes

Adjustable audio threshold

13 sensitivity depth adjustments

25 adjustable discrimination settings

Submersible up to 10ft
What we love:
Well-designed automatic ground tracking

Collapses well for storage and transport

Durable and waterproof for extreme conditions
We don't like this as much:
Bluetooth capabilities would be helpful for underwater detection
Buy from KellyCo: Garrett ATX Pro Deepseeker
9. Garrett AT Gold
The Garrett AT Gold is a waterproof unit that is useful for shallow freshwater wading. It is submersible up to 10ft too so you can take it comfortably into streams and lakes. This gives you a greater accessible area where you can potentially find jewelry, coins, and perhaps go cache hunting. With its electronic pinpointing, you can better locate these different targets in a variety of environments.
There are also 3 search modes to use to make it easier to adapt the metal detector to suit your needs. It also features the True All-Metal Mode that is highly preferred for prospecting due to the high sensitivity and depth. Besides that, this unit is designed with manual and automatic ground balance as well as a Ground Balance Window to better optimize the detector and how well it performs in highly mineralized ground. The various ID tones can further help you find treasure while sorting out the trash.
Features:
18 kHz frequency

20 target ID cursor segments

Adjustable length

8 sensitivity/depth adjustments

3 search modes

3 level audio tone ID
What we love:
Easy to handle over long distances

Helpful iron audio feature

Good adjustable length range so it is comfortable to use no matter your height
We don't like this as much:
Might take some time to learn how to use and navigate the features
Sale
Garrett at Gold Waterproof Metal Detector with Headphones and ProPointer at PinPointer
This package includes a Garrett AT Gold Waterproof Metal Detector with 5x8 DD Search Coil, Mastersound Headphones, Garrett ProPointer AT Pinpointer and AA Batteries
Highly Recommended - Prospecting, Coin, Jewelry, Cache Hunting, Relic Hunting, Organized Hunts and Shallow Fresh Water Hunting
Target ID Cursor Segments 20 | Iron Discrimination Segments 44 | Search Modes 3 | Sensitivity/Depth Adjustments 8
Electronic Pinpointing Yes | Frequency 18 kHz | Audio Tone ID Levels 3 | Standard Searchcoil 5" x 8" ( 14x20cm) DD PROformance
Length (Adjustable) 42" to 51" (1.06m - 1.29m) | Total Weight 3.03 lbs. (1.4 kgs.) | Batteries 4 AA (included) | Warranty 2 Year, Limited Parts/Labor
10. Minelab Equinox 800 (Best Option for Relic Hunting)
The Minelab Equinox 800 is a sleek metal detector ideal for hunting down relics. It has a multi-frequency and single frequency design for high-performance use. Alongside that, it boasts 4 detecting modes: beach, field, park, and gold. This makes it easy to adapt to various conditions so you can take your treasure hunt anywhere. The unit has quality waterproof protection as well, so don't be afraid to get closer to the water or head into muddy or wet soil.
There are advanced audio settings so you control how much target information you want to hear, and it even has a wireless set up so you can hook up a Bluetooth device. This makes the detector ideal for submerging when detecting around rivers and streams. Once you have your favorite settings in, you can use any of the 8 custom search profiles to save them.
Features:
Multi-IQ | 5 kHz, 10 kHz, 15 kHz, 20 kHz, 40 kHz

LCD display

Bluetooth compatibility

Waterproof design

4 detecting modes

Accurate Target ID
What we love:
Recharges well to deliver hours' worth of power

Sends out clear audible tones

Has fast recovery
We don't like this as much:
Could have better ergonomics so that it's easier to swing
Minelab Equinox 800 Metal Detector with EQX 11" Double-D Waterproof Coil
MULTI-IQ TECHNOLOGY: Minelab's revolutionary technology combines the power of multiple detectors into one, allowing you to effectively search all metals, all soils, all the time.
FULLY WATERPROOF: Don't stop at the beach or the bank, this fully submersible up to 10 ft. (3m).
4 DETECT MODES: Easily select from Park, Field, Beach or Gold modes to focus on target types or ground conditions.
ACCURATE TARGET ID: Identify your targets quickly and confidently to efficiently sort between trash and treasure.
CUSTOM SEARCH PROFILES: Enjoy 8 custom Search Profiles and save your favorite 2 settings in each mode.
11. Bounty Hunter Junior T.I.D. (Best Option for Kids)
If you have children eager to get into the metal detecting game, then the Bounty Hunter Junior T.I.D. Metal Detector can be a great choice. This kid-sized unit features an adjustable stem so that it can adapt to children of various ages and sizes. It even features a wing stand so that it won't get damaged when kids lay it on the ground.
As for how it functions, it has all the necessary basics that kids need to explore the joys of finding hidden treasures. It has 3 target ID categories to identify various metal objects as well as 3 tone target ID that gives the different types of metal a distinctive tone. There's even a cool graphic depth indicator that easily shows kids how deep the objects are.
Features:
6.6 kHz frequency

Discrimination button

3-tone target ID

Water-resistant search coil

Graphic depth indicator

Adjustable stem
What we love:
Simple to understand thanks to the high-pitch audio tone and Happy Face icon

Fast to set up out of the box

Easy for young children to maneuver
We don't like this as much:
Would be nice if it featured an armrest like adult-orientated models
12. JW Fishers Pulse 6X Version 2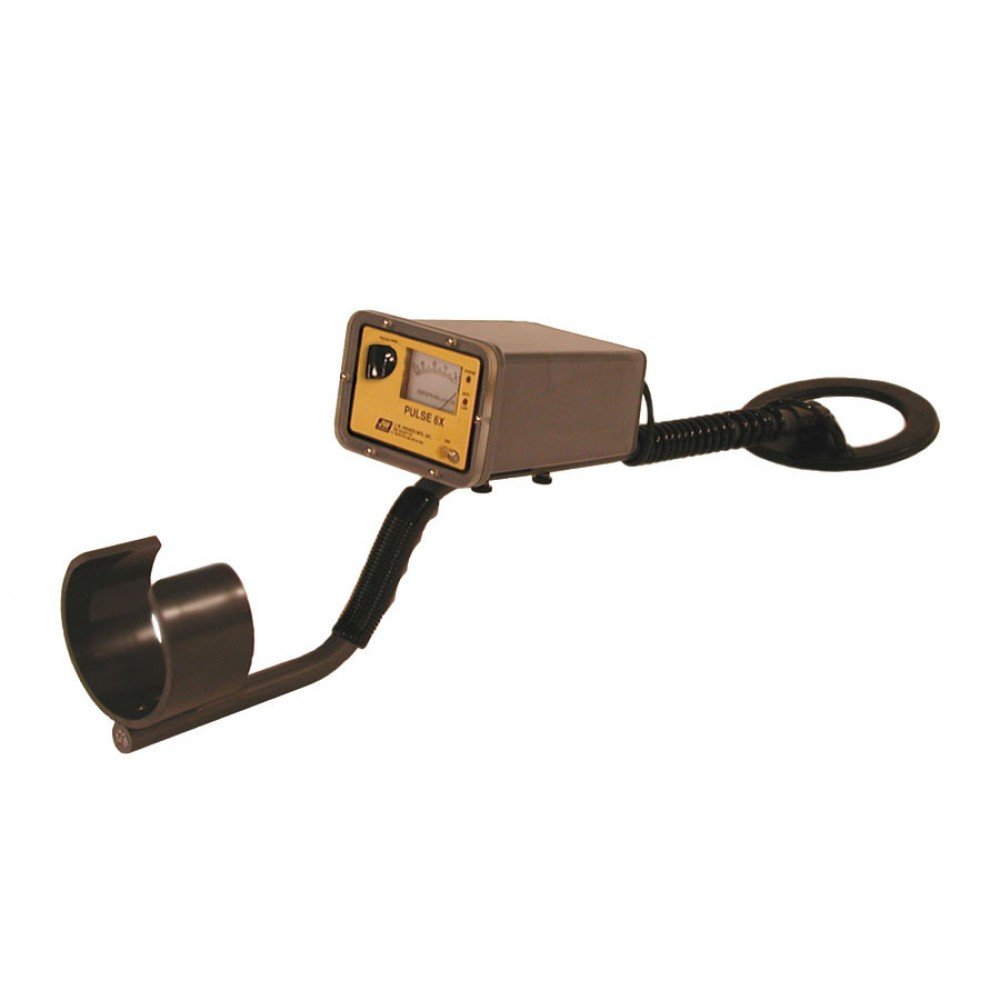 The JW Fishers Pulse 6X Version 2 is a top-quality unit for serious hunters eager to explore underwater treasures. It features a single all-metal search mode to detect large and smaller metal items. This detector can detect depths of up to 200ft, and the range remains unaffected no matter where you're detecting. So, feel free to explore through mud, coral, air, or water without losing that deep range.
This unit is built to last as well with high-quality construction and a corrosion-proof PVC handle. With this handle design, it should hold up better in underwater conditions. Meanwhile, the anodized aluminum handle also makes it ideal for land use.
Features:
Pulse induction

Adjustable armrest

All-metal search mode

Analog display

Interchangeable search coil

Leak detection technology
What we love:
Commercial-quality performance

Includes numerous helpful accessories such as a spare parts kit and underwater headphones

Ignores minerals well for accurate detection
We don't like this as much:
Would be nice if it had more than a single search mode
Buy from KellyCo: JW Fishers Pulse 6X Version 2
13. JW Fishers Pulse 8X Version 2 (Best Option for Pulse Induction)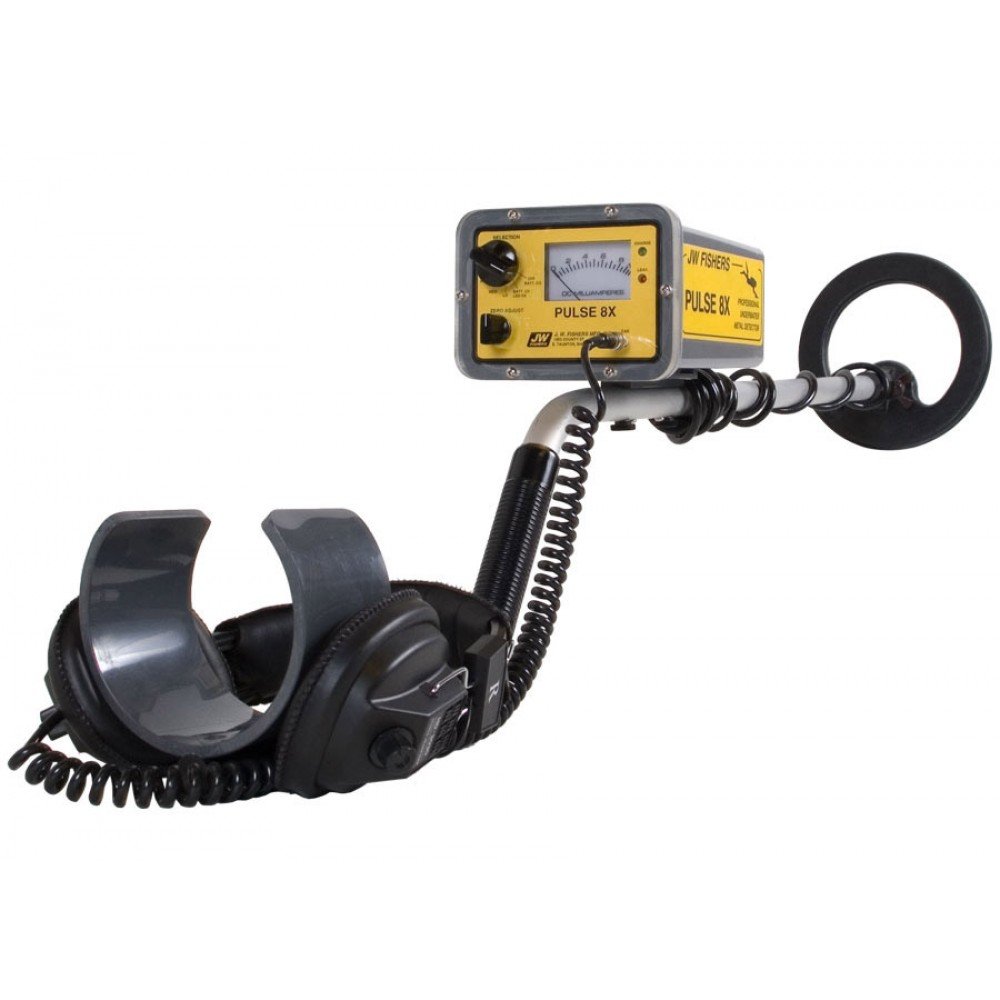 The JW Fishers Pulse 8X Version 2 is a high-end metal detector with quality pulse induction technology intended for serious and seasoned hunters. It's heavy-duty and features high sensitivity to support professional and commercial use. This unit is powered by an internal rechargeable battery for those day-long hunts. You can detect various types of metals as large as cannons and as small as coins, and it keeps a consistent performance on land and water (fresh and salt).
As the detector is sensitive to both large and small items, you can adjust the sensitivity with a single switch from low, to medium, and high. You can also alternate between 3 search modes: high search mode, medium search mode, and low search mode.
Features:
200ft depth rating

PI technology

Adjustable sensitivity

Convertible control box mount

3 search modes

Leak detection technology
What we love:
Clear audio tones

Does well at detecting ferrous and non-ferrous metals

Reliable commercial-grade construction
We don't like this as much:
Could benefit from slight buoyancy so that it doesn't stay underwater
Buy from KellyCo: JW Fishers Pulse 8X Version 2
14. Bounty Hunter Tracker IV (Best Option for Beginners)
For those new to metal detecting, the Bounty Hunter Tracker IV is a good starter detector that won't be too difficult to learn. It's affordable and contains all the necessary features to serve as a good all-purpose unit that you can take out to the backyard or to the park. The overall appearance is just as streamlined as its use. It has a simple intensity meter display, dual-tone discrimination, and both discrimination control and sensitivity adjustment.
This detector is ideal to use in various environments, and with its waterproof search coil, you can use it around damp ground areas without worry. There are two hunting modes, discrimination and all-metal, and automatic ground balancing so you aren't frustrated trying to adapt between the two. This device even comes equipped with two distinct audio tones to quickly alert you to the different metals detected.
Features:
VLF single frequency | 6.8 kHz

Automatic ground tracking

2 search modes

Analog display

Internal speaker

2-tone audio discrimination
What we love:
2 knobs for easy adjusting of the discrimination and sensitivity levels

Lightweight design makes it easier to swing and carry around for hours

Long battery life
We don't like this as much:
A bit of a learning curve to not get false positives
Sale
Bounty Hunter TK4 Tracker IV Metal Detector
Rugged metal detector ideal for detecting treasure in extreme ground conditions
Motion All-Metal mode, Discrimination mode, and 2-Tone audio mode
Preset ground balance neutralizes response to mineral content in the ground
Disc/notch control distinguishes between targets and unwanted metals
Rugged metal detector ideal for detecting treasure in extreme ground conditions
FAQs About Metal Detectors
What metal detectors are best for finding gold?
The "best" detector is a highly subjective topic, but there are certain features to look for that allow one detector to perform better in certain situations. If you're looking for gold, your best bet is to go either for a VLF machine or a PI machine for the sake of versatility, since you don't always know the ground conditions.
However, PI metal detectors are also adept at gold hunting since they ignore mineralization better than their counterparts. They can also detect at far deeper depths, which can be helpful when trying to find those hard-to-reach gold nuggets. Keep in mind that these types of detectors are more expensive, however.
What metal detectors are best for the beach?
Metal detecting around water means there are different requirements to look for in your equipment. Primarily, you should consider detectors with multi-frequency or pulse induction frequencies.
VLF metal detectors are great for all-around usage and are a good introduction for those of you new to metal detecting. They do well on dry land and in freshwater. If you do take a device around saltwater, remember to use a machine with adjustable ground balance since VLF metal detectors tend to have false readings around wet and salty sand.
If you have the means to, you can instead opt for PI metal detectors for saltwater beaches, since they ignore salt better and can detect deeper in the surface.
No matter what type of metal detector you go for, look for ones with waterproof capabilities. Since you're at the beach, the equipment will likely get wet. The whole machine can be waterproof to give you more peace of mind, or you can find a detector with a waterproof coil.
What metal detectors are best for hunting relics?
Metal detectors that feature ground adjustment controls and ground balance controls are the best for hunting relics. This helps you filter out interference from the natural minerals that the ground contains. As such, you'll save a lot of time digging through trash.
Remember that with historical relics, you're looking at items usually made from brass, iron, or steel. A lower frequency is best in this case since these materials have lower conductivity. Quality pinpointing controls are another useful feature, as they provide you with a better understanding of the location of the object so that you'll know the precise location of where to start digging.
Wrap Up
Finding the best metal detector can take time, so we hope our reviews have opened up some doors for you to explore. Deciding on that "perfect" detector depends on several factors. Some are best for gold, others with relics, while additional detectors are great versatile machines. Consider the location of your hunt too. Are you going to be searching around bodies of water or sticking to dry land? How is the soil in the area?
Answering those questions will help you further narrow down your search. You can also keep your budget in mind as well as your skill level, since some detectors are ideal for seasoned users rather than novice hunters.