Packed in carton about 8x10x1¾ inches.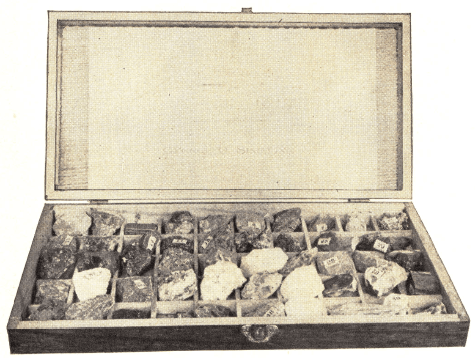 MINERAL COLLECTION, Diamond—The specimens average about an inch through and each is in a separate partition. Each specimen bears a number for purpose of identification, correspond­ing to a list on the lid of the box.

Complete in neat wooden box about 11¾x6¼x1 5/8 inches.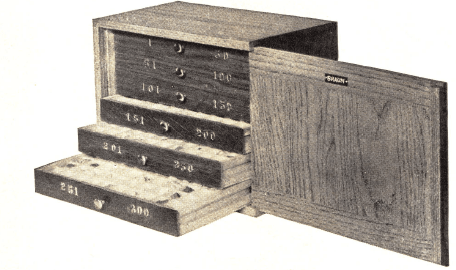 MINERAL COLLECTION, Student—Comprising 300 splendid specimens averaging 1×1 inch in size, in neat oak cabinet, with six drawers of fifty compartments each, with door. Dimensions, 12×8¾x71/4 inches.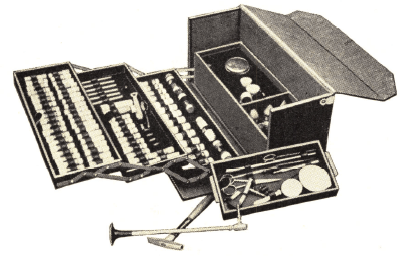 MINERAL TEST SET, Braun—A compact portable set containing the essential equipment and reagents. Forty-seven articles are included; packed in a neat carrying case, with lock and key. The liquid chemicals are in glass stoppered bottles with labels and in separate wooden boxes. Dry chemicals are in screw cap vials each properly labeled. All other pieces, tools, etc., are in partitioned trays, packed to prevent breakage. Case measures about 16 inches long, 8 inches high and 6 inches wide. Weight about 12 pounds.
MINERAL TEST SET, Braun—This is set No. 39750 listed above, with the addition of fifty mineral samples for comparison, in screw-cap vials, neatly labeled: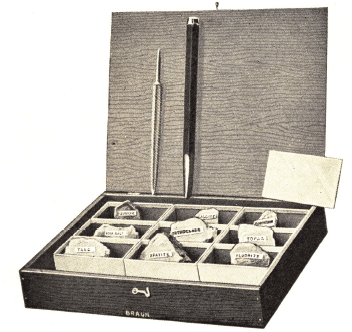 MINERAL TEST SET, Hardness—Large pieces of nine different minerals as samples of the nine degrees of hardness. See "A System of Miner­alogy," by J. D. Dana. Each specimen is labeled, and in a separate compartment as follows:
Talc.
Selenite.
Calcite.
Fluorite.
Apatite.
Orthoclase.
Quartz.
Topaz.
Corundum.
Complete in neat box about 11½x8x1 3/8 inches, with porcelain streak-plate, file and chisel.