A Mohs Hardness Test Kit is a tool set of picks allowing you to obtain a qualitative relativity for the hardness of the minerals or rocks you are testing.
Just hold the pick in your hand and place it on the mineral you would like to test. Apply some pressure, drag the pick's point across the surface of the mineral/rock specimen. Whether the marker leave a scratch, slide without scratching, or leave a trail of metal behind will determine its relative hardness.
The Mohs Hardness Test Kit includes eight points – for Mohs hardness scale of 2, 3, 4, 5, 6, 7, 8 and 9. The 2 is a plastic point, the 3 is a copper point, the others are alloys carefully selected to match the hardness of the Mohs index minerals.
Which Mohs hardness test kit do we recommend in 2023:
Mohs' Hardness Test Kit for Industrial Applications
This set includes 8 Mohs' Hardness Points from Mohs' 2 through Mohs' 9, nicely mounted in nickel-plated Brass, color-coded, number-stamped, double-ended Pin Vises. Also includes two Hardness Plates of Mohs' 3.5 and 5.5, a 100x Sharpening Stone, along with laminated Instructions permanently affixed to inside of case, a Table of Industrial and other materials sorted by Mohs' Hardness, all compactly packaged in a molded Plastic carrying Case, designed for use in rugged workplace environments.
The Hardness Points are made of Metals and Alloys of equivalent Mohs' Hardness as the mineral standards, so the points will not break off, and they can easily be re-sharpened, and ultimately replaced after many years. This beautiful and thoroughly conceived tool is made for the opposite of "planned obsolescence".
This is probably the foremost tool used in the Concrete Polishing industry, for determining the Mohs' Hardness of the underlying Concrete matrix. We especially configured it with customized components, Instructions, Hardness Tables, and Carrying Case for Industrial use.
IMPORTANT: For Rockhounds and Mineral enthusiasts, instead, we highly recommend our especially configured Deluxe Hardness Pick Set and Mineral Identification Kit. Just search Amazon using that keyword string.
One year Warranty, 30 day Money-Back Guarantee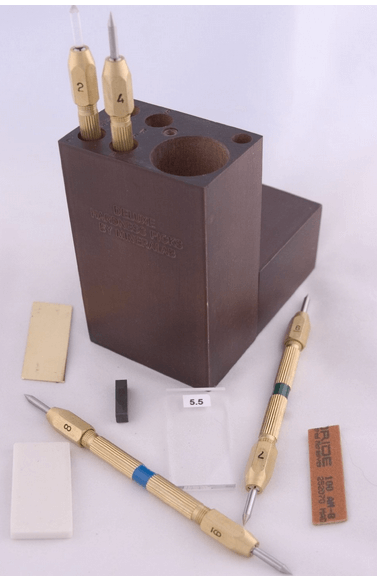 Kit of Mohs' Hardness Mineral Identification