This molybdenum flotation circuit, based on 250-500 tons per 24 hours is designed for low-grade molybdenum ore having high-grade streaks and with pyrite-quartz gangue. It is also basically sound for many other friable sulphide ores, such as antimony, silver and even some lead ores.
The basic ideas stressed in this moly flotation flowsheet are the importance of simplicity and the quick removal of the freed mineral. Gravity flow is used as much as possible in handling the ore and pulp.
The ability of the "Sub-A" Flotation Circuit to produce a high grade concentrate and also to circulate middling products by gravity are important features.
Overgrinding and colloiding the ore, which is so serious in molybdenum flotation is not only expensive but also requires more equipment, such as larger ball mills and cleaner flotation cells and thickener.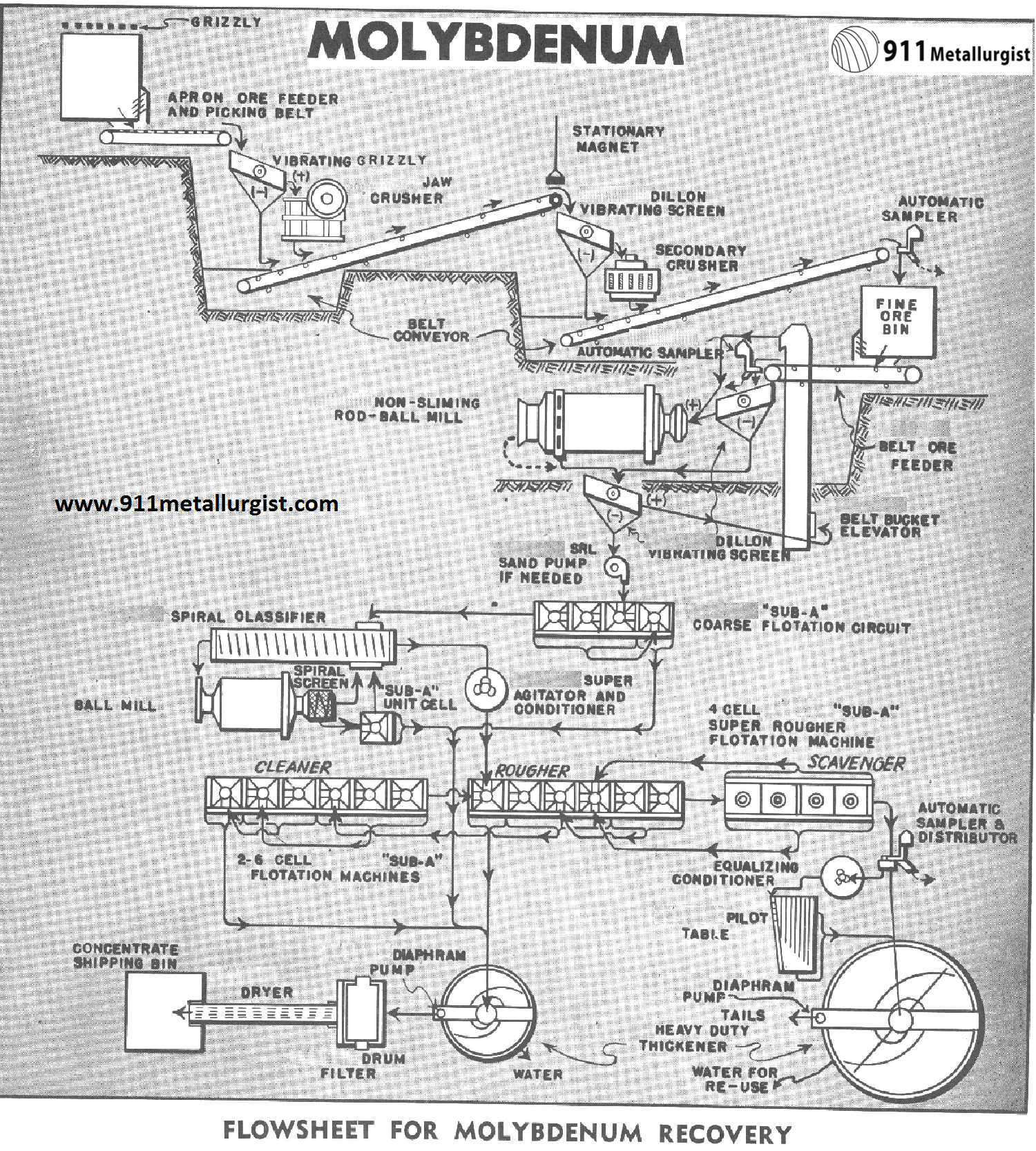 The Molybdenum Process Flowsheet
In the crushing department, which is designed for 8-hour per day operation, a heavy duty apron feeder, with plenty of length for picking purposes, starts the ore on its way. The crusher operator with his assistant can sort out any high grade ore, waste rock and wood or tramp iron. Open circuit crushing provides simplicity, low first cost and less tendency to over-crush.
Note the use of vibrating grizzly or screen ahead of each crushing step to avoid over crushing of ore already fine enough to by-pass that particular crushing step.
A magnetic head pulley or a stationary magnet over conveyor may be used. In remote locations it is desirable to use both in order to save secondary crusher from dangerous steel hammer heads, drill steel, etc. The suspended magnet removes tramp iron from the upper layers of the ore stream and the magnetic head pulley removes pieces close to the belt.
Mill head assays are obtained from Automatic Sampler on the discharge of the fine ore feeder. It may be helpful to have another sampler on top of the ore bin, sampling material put into the bin.
Grinding
The Vibrating Screen removes fines ahead of the (Non-Sliming) Rod-Ball Mill. This Mill is arranged with special non-sliming features such as peripheral discharge and large diameter discharge trunnion opening (2/3 diameter of the mill). This double method of discharge prevents choking and gives additional grinding flexibility.
Rods generally produce fewer slimes but balls may be used. The large-diameter trunnion discharge aids in re-lining as well as introducing replacement rods or balls. A smaller diameter trunnion opening can be used if desired.
The peripheral rod mill discharge joins the coarse screen undersize and passes over Dillon fine screens to remove oversize before the pulp enters the four "Sub-A" Flotation Cells in the coarse flotation circuit.
Oversize from the fine screens goes by gravity to a small Bucket Elevator which returns it to the Peripheral Rod-Ball Mill for regrinding. A SRL Sand Pump and Spitzkasten for dewatering may possibly be used instead of the elevator.
Coarse Flotation Circuit
On many molybdenum ores a high-grade concentrate can be made in this four-cell coarse flotation circuit. The "Sub-A" Flotation Machine is the only unit that can successfully treat such coarse feed without sanding up. Tailings from this coarse flotation circuit go to a separate regrind circuit.
Regrind Circuit
This consists of a Steel Head Ball Mill in closed circuit with a "Sub-A" Unit Flotation Cell and Spiral Classifier. The "Sub- A" Unit Flotation Cell takes the ball mill spiral screen undersize, removes the freed mineral and, to the great satisfaction of mill men, it makes a very high grade molybdenum concentrate.
The "Sub-A" Unit Flotation Cell is one of the most important parts of the circuit, for it not only removes a major portion of the remaining molybdenum mineral as a high grade product, but may also be used to remove a greater tonnage of a middling product for later up-grading if the metallurgist may determine. The unit cell discharge goes by gravity to the Heavy-Duty Spiral Classifier for separation into the fine flotation feed and the coarse regrind product.
Fine Flotation Circuit
Classifier fines go to a Super Agitator and Conditioner to provide a steady flotation feed and also the necessary reagent conditioning for best flotation results. The conditioned pulp goes to Cell No. 1 of the "Sub-A" Rougher Flotation Machine. With the "Sub-A" it is often possible to remove a substantial amount of molybdenum concentrate of high enough grade to require no further cleaning. The remainder of the rougher concentrate normally requires conventional multiple cleaning. Many other ores, like antimony, silver and lead also make a high- grade product if the mineral has not been colloided in prior milling.
The flowsheet of roughing and cleaning in the six-cell "Sub-A" Rougher and the six-cell "Sub-A" Cleaner is typical of molybdenum flotation or any other mineral where recleaning steps are necessary. The recirculation is done by gravity in the "Sub-A" Flotation cells. With its flexibility of cell-to-cell design any change in flow can be easily made without the use of pumps.
The Standard "Sub-A" Rougher tailings go to the "Sub-A" Super Scavenger Cells. These are of the double impeller and double overflow, low pulp level type. They are used to pull out the last trace of mineral. This concentrate is sent by gravity to the cells immediately preceding.
Concentrate Treatment
The high grade molybdenum concentrate is sent to the heavy-duty Spiral Rake Thickener for thickening prior to filtration. The drum-type filter is placed high enough so that it can receive its feed from a Adjustable Stroke Diaphragm Pump and still be high enough so that its tank can be drained by gravity back into the thickener if necessary. The filter capacity should be sufficient so that it will handle the entire tonnage in 10 or 12 hours. It may be necessary to include a Standard Concentrate Dryer in the flowsheet before the concentrate goes to storage.
Tailings
The tailings stream is cut by a Automatic Sampler with a double cutter. One cutter is for assay sample and an additional large cut is made at the same time for subsequent pilot table feed. The tailings then go to a large heavy-duty Spiral Rake Thickener for water reclamation.
Many progressive mills are using the basic principles shown in this flowsheet. Their success has been directly related to their practice of "When your mineral is free, recover it as soon and as coarse as possible."
Flotation of Molybdenite from Copper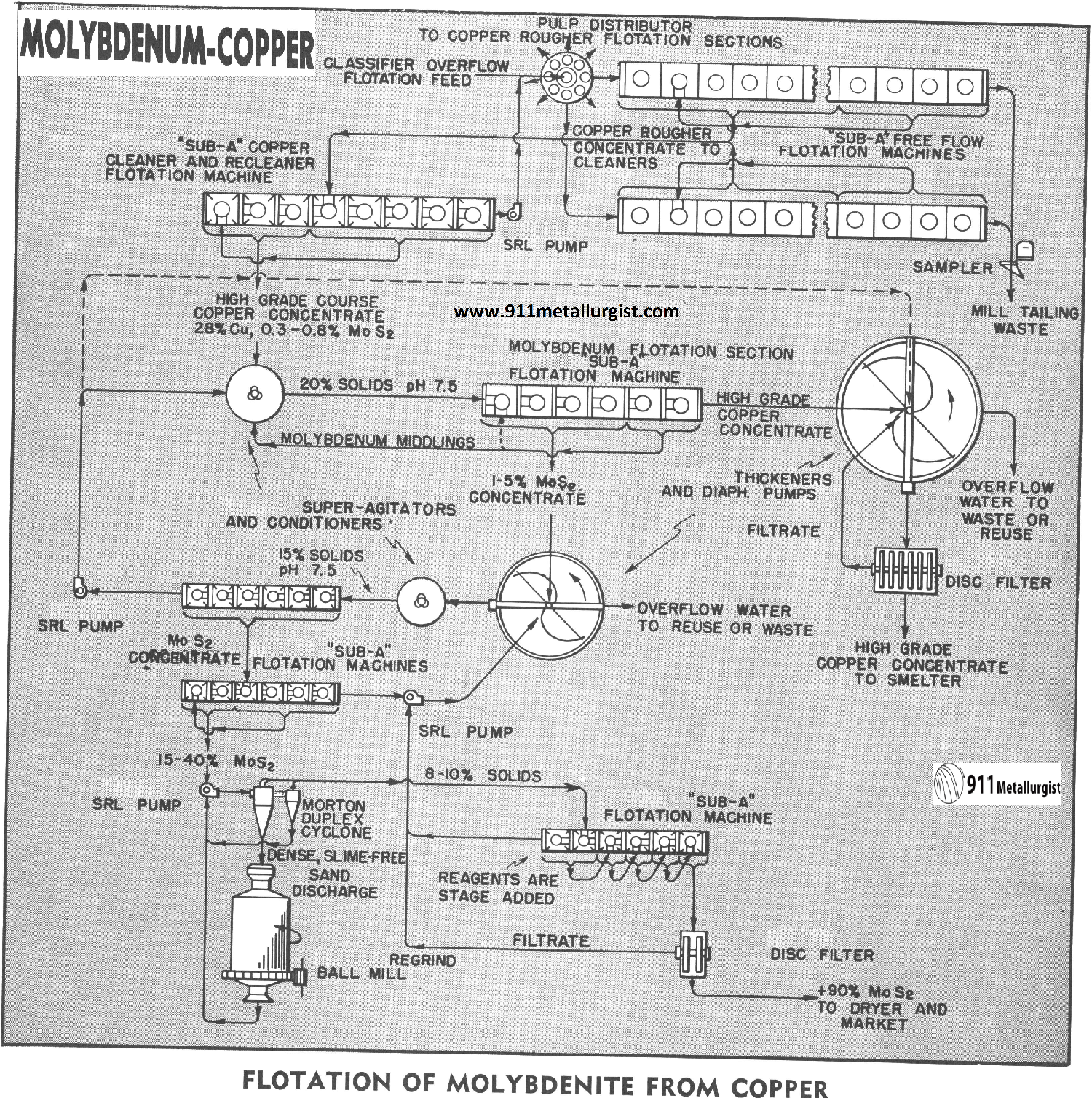 How to separate copper & molybdenum; the problem
Molybdenum is found in small amounts in practically all low grade porphoritic copper ores. It is usually present as the sulphide, molybdenite, which is readily recovered in the copper flotation concentrate. Copper sulphide flotation concentrates may contain from 0.25 to 1.00% MoS2. When such ores are milled in large tonnages the amount of molybdenum present may be substantial. Practically all major copper producers now have molybdenum recovery systems.
The Copper/Moly Separation Flowsheet
One of the typical and quite successful treatment systems is studied. It resorts entirely to reagent control and flotation to separate the molybdenite from a copper sulphide flotation concentrate. No heat treatment, steaming or roasting steps are used. In this process sodium ferrocyanide and sodium cyanide are used as copper mineral depressants while sulphuric acid is the pH modifier.
Copper-Molybdenite Flotation—The low grade ore, after grinding in the conventional manner, is treated by bulk or selective flotation. Selective flotation is used where barren pyrite must be rejected into the mill tailings. In this case, lime is used for pH control.
The usual flotation reagents are the xanthates and a selective frother such as Dowfroth 250 or one of the light alcohol type frothers.
The flotation steps usually consist of roughing, scavenging, cleaning and recleaning to provide a high grade copper concentrate which contains the bulk of the contained molybdenite. All of these steps may be successfully accomplished in "Sub-A" Flotation Machines with excellent recoveries and the resulting concentrate is a product highly desirable by the copper smelter. The "free-flow type" Flotation Machine is used for roughing and scavenging and the cell-to-cell type "Sub-A" is used for the cleaning steps. The Type "M" Flotation Machine may be used to advantage for the scavenging steps.
MOLYBDENITE FLOTATION
The high grade copper concentrate from the "Sub-A" Cleaner Flotation Cells will contain from 40% to 50% solids. At this point in the flowsheet the copper sulphides are selectively depressed and molybdenite is floated in successive steps until final high grade MoS2 concentrates are produced.
The copper concentrates at 40% to 50% solids are sent to a Super Agitator and Conditioner and during conditioning are diluted down to about 20% solids. Sulphuric acid is added to lower the alkaline pH to 7.5. Sodium ferrocyanide is added to the conditioner discharge or to the pump sump if a pump is necessary between the conditioner and the cells. This reagent depresses the copper sulphides. The conditioned sulphide pulp is then treated in a "Sub-A" cell-to-cell Flotation Machine for the initial molybdenum up-grading steps. These cells are usually the same size as the preceding copper cleaner cells as the entire tonnage of concentrates must be handled at this point. This flotation step produces a molybdenum rougher concentrate containing 1% to 5% MoS2. In addition to the reagents previously mentioned, sodium cyanide, fuel oil, and oronite are used. The flotation tailings from this circuit are the final copper concentrates which go to thickening and filtering as shown. The rougher molybdenum concentrates also go to a separate thickener ahead of conditioning and prior to subsequent enrichment step's by selective flotation.
SELECTIVE FLOTATION CLEANING
The rougher molybdenum concentrate thickener underflow at 65 to 70% solids is removed by a Adjustable Stroke Diaphragm Pump discharging into a Super Agitator and Conditioner. During conditioning the pulp is diluted to about 15% solids with fresh water and sulphuric acid is added to adjust the pH to 7.5. The conditioned pulp after addition of sodium ferrocyanide goes to two banks of Flotation Cells for three stages of cleaning. Fuel oil, oronite and a frother plus additional sodium ferrocyanide are stage added as required. Exact pH control is critical and is usually done automatically. These three stages of cleaning raise the MoS2 concentrate grade to 15 to 40% and the final froth at this point will contain 30 to 50% solids. The cleaner tailing from the first cleaning step is returned to the conditioner and flotation circuit ahead of the final copper concentrate thickener or, if low in MoS2, it may be diverted direct to the final copper concentrate thickener and filter. Middlings from the second cleaner cells are returned to the rougher MoS2 concentrate thickener for retreatment, and tailings from the third cleaners are returned to the second cleaners.
REGRINDING AND FINAL CLEANING
The MoS2 concentrate at this point contains 15 to 40% MoS2 and goes to a regrind Ball Mill in closed circuit with a SRL Pump and Morton Duplex Cyclone classifier. Water is added as required to maintain the classifier overflow at 8 to 10% solids, while the underflow, which is returned to the regrind mill, is of a rope discharge density and contains about 70% solids.
The cyclone overflow is cleaned five successive times by flotation to bring the MoS2 up to final grade of plus 90%. Sodium cyanide, fuel oil, oronite, and a frother are stage added as required. No acid is used in this circuit since the cyanide is used to depress the chalcopyrite and pyrite. The cleaner tailing for this regrind and reflotation section is returned to the rougher molybdenum thickener for retreatment.
"Sub-A" cell-to-cell Machines with launders provide for multi-stage cleaning. Some molybdenum retreatment circuits may become quite complex depending upon the number of conditioning and flotation stages necessary to attain final grade with a good recovery. One operation, for example, uses over 100 cells in their MoS2 retreatment plant. These cells range in size from the 100 cubic foot No. 30 (56 x 56) machine down to the 10 cubic foot No. 12 (22 x 22) machine. In some of the small plants, the No. 8 (16 x 16) which has 3 cubic foot volume per cell has been used with good results. It is not uncommon to find as many as 24 cells in series on one floor level operating without the aid of auxiliary pumps.
MOLYBDENUM LABORATORY AND PILOT PLANT TESTING
In developing a retreatment method for molybdenite recovery from a specific copper ore it is best to run batch flotation tests on freshly produced copper plant concentrates. This is much more satisfactory than attempting to produce the copper concentrate in a laboratory since the amount of product available is rather limited due to the unusually high ratio of concentrations. Copper ores may also be quite erratic in molybdenite content—hence the work on a concentrate produced in a regular milling circuit will usually minimize this condition.
Geology-Where-are-Molybdenum-Deposits

---
Source:
This article is a reproduction of an excerpt of "In the Public Domain" documents held in 911Metallurgy Corp's private library.