Portable Gold Amalgamation Plant
Free milling gold and silver ores are efficiently and economically treated in Amalgamation Mills. These mills are often used in the early stages of development of free milling gold properties to recover the main portion of the gold with a simple, inexpensive flowsheet. Later a more comprehensive installation can recover the remaining mineral. These mills are also used to bulk sample ore bodies having erratic mineral occurrences and exploit properties with limited ore reserves at greatest possible profit and with a minimum of risk.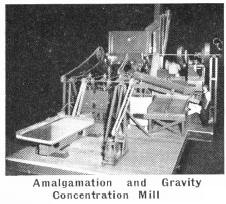 The basic machine in Amalgamation and Concentration Mills is the Selective Mineral Jig, used in conjunction with the Amalgamation Unit. The balance of the equipment includes a jaw crusher, ball mill, rotary classifier, and corduroy blankets or a concentrating table. Mills can be operated by diesel-electric generator sets using individually driven units, giving greatest possible flexibility, or transmission equipment can be supplied for driving from a single source of power.
Portable Gold Leach Plant
Cyanide Mills are designed to treat a particular ore deposit to give the highest economic return; due consideration being given to location, tonnage involved, and capital available. Each ore body to be treated presents an individual problem due to these variable factors.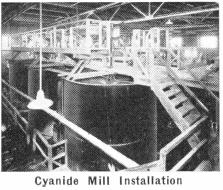 Various combinations of treatment methods are utilized to best advantage. Flotation, and amalgamation provide valuable auxiliary treatment. Frequently flotation is used to provide a small high-grade concentrate that is cyanided in a compact concentrate treatment plant.
Equipment Company is well known for its ability to furnish the right machine for the job, irrespective of the flowsheet. Our testing laboratory will be glad to cooperate with you either on your present mill problems or on your proposed new mill.
More complete information can be obtained by writing any Equipment Company office.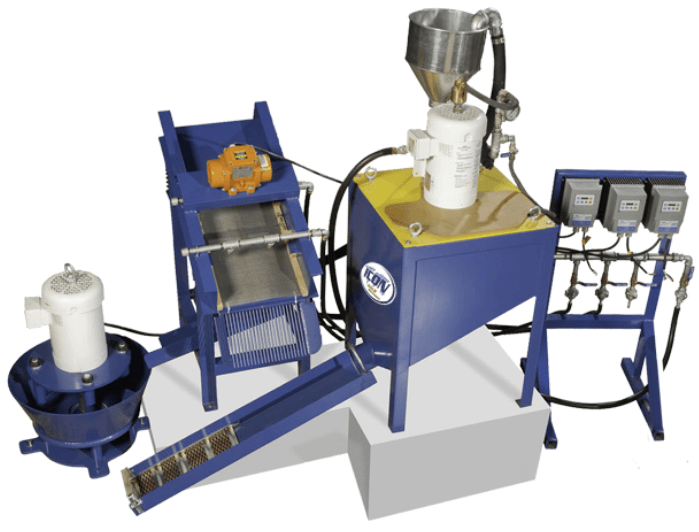 Mineral Processing Engineering Service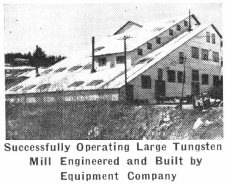 Equipment Company's complete engineering service begins with an accurate and comprehensive ore test, a report of which is sent to you with estimate of profits you may expect from treatment of the ore. After proper method of handling your ore has been determined, our engineers design a mill adapted to your problem, giving complete detailed plans and general arrangement to enable construction of the mill economically and in the shortest possible time. We also can furnish a competent construction superintendent and a crew skilled in mill building. Their familiarity with our equipment and methods insures speed in installation and lowest costs.
Many factors enter into the arrangements for designing and building a mill; and close, cooperative effort is essential to obtain the maximum value at lowest cost. In addition to information obtained by complete ore tests, certain other basic facts must be known before we can carry out an orderly procedure or plan of design and construction.
Portable Froth Flotation Plant
Flotation Mills have been designed to meet the present demand for standardized and economical concentrating mills of the highest quality. They are not only designed for the flotation of gold and silver ores, but also can be used to treat many other minerals of economic importance. The Selective Mineral Jig and a Amalgamation Unit can easily be added and are often advisable for maximum recoveries and lowest costs.

The machines used in the general arrangement of these flotation mills include a jaw crusher, ore feeder, ball mill with spiral screen, classifier, unit flotation cell, conditioner, flotation machine, wet and dry reagent feeders, concentrating table, sand pump, and concentrate filter with vacuum equipment.
Portable Gold Processing Plant
A Portable Mill is a complete plant, including motor or belt driven units and complete steel framework for mounting the machines. It is inexpensive because it can be assembled quickly at small labor cost; the mill having been completely erected and the parts labeled before shipment. Standardized design and mass production of these milling plants make them very economical this is particularly true of plants up to 50 tons per day capacity.
Many Portable Mills are being used as pilot plants as they can be quickly erected and if the ore body does not warrant a large tonnage plant the mill can be easily dismantled and moved to another location. Standard flowsheets for flotation, amalgamation and gravity concentration can be supplied without the expense of engineering design. When a larger tonnage plant is warranted, the equipment of these smaller mills can be used in the flowsheet.
Only machines which have proved successful in plant operation have been included in these mills. They are built in sizes ranging from 5 to 100 tons per day and can be supplied without steel framework if desired.
More complete information can be obtained by writing any Equipment Company office.
Buy a Portable Gold Processing Plant on a Truck
The Portable Truck Mill has a capacity of approximately five to nine tons per day, and consists of the following Machines: plunger ore feeder, jaw crusher, belt conveyor, ball mill, spiral screen, selective mineral jig, amalgamation clean-up pan with riffled launder, flotation cells, pilot table, and middling return pump. A diesel-electric generator unit for individually driven machines or necessary transmission equipment and engine for lineshaft drive is also provided.
The Portable Truck Mill is ideal for concentrating gold and many other ores. Any part of the flowsheet can be used or omitted, according to the treatment desired, due to the machines being arranged on the truck to give maximum flexibility. The use of only standard equipment in the flowsheet allows the operator to try a number of different methods to obtain the best results. These units can be added to if increased tonnage is desired.
The entire unit is self-contained with all machines assembled on a heavy steel frame. Due to being mounted on a trailer or semi-trailer truck, as illustrated at the left, this portable mill can be moved quickly from one location to another. The mill can also be removed from the trailer or truck and mounted on a fixed foundation.
---
Source: This article is a reproduction of an excerpt of "In the Public Domain" documents held in 911Metallurgy Corp's private library.