A SAG Mill trommel screen lets you control the true discharge size of your SAG mill or the transfer size to the downstream Ball Mill circuit.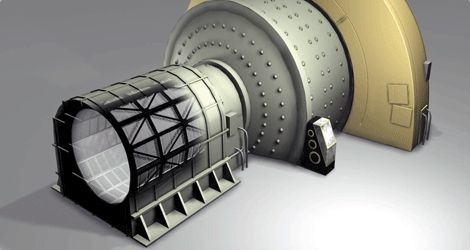 A well sized trommel should not let rocks pass to the Ball Mill if they are to be more than say 5/8″ or 16mm
In the image case below, strangely enough, Metso is the mill shell liner and discharge grate manufacturer.  The grates it provides to this Cu/Pb/Zn operation are 15mm X 30mm.   This operation ordered a polyurethane trommel screen, from Metso, that looks like this: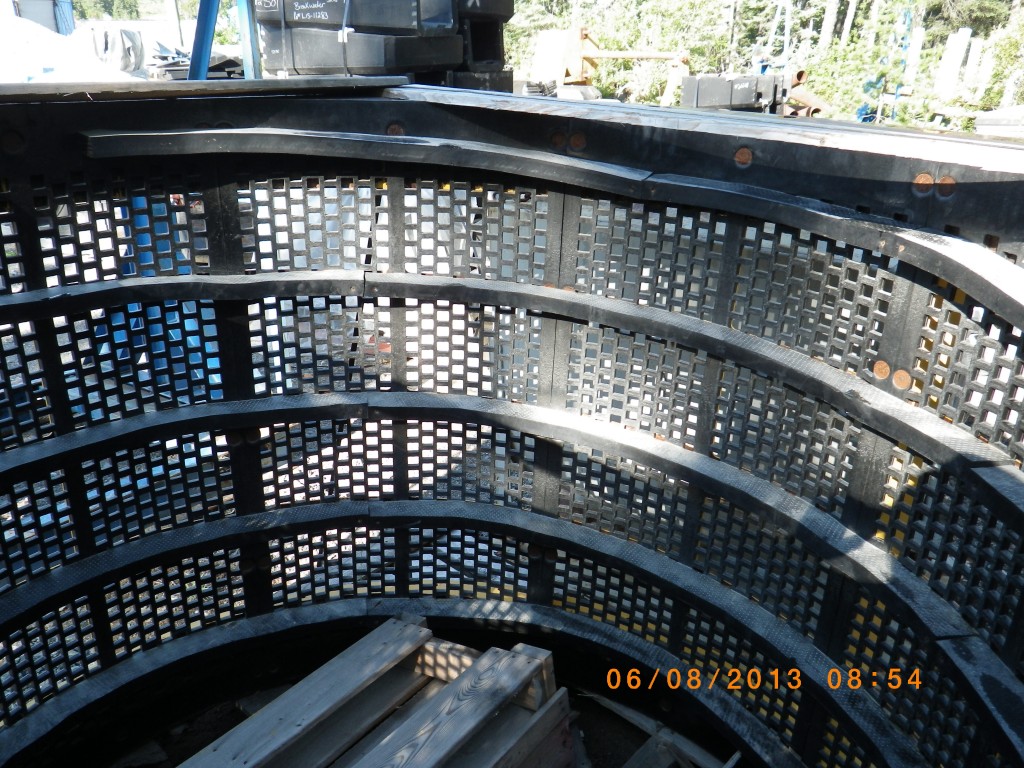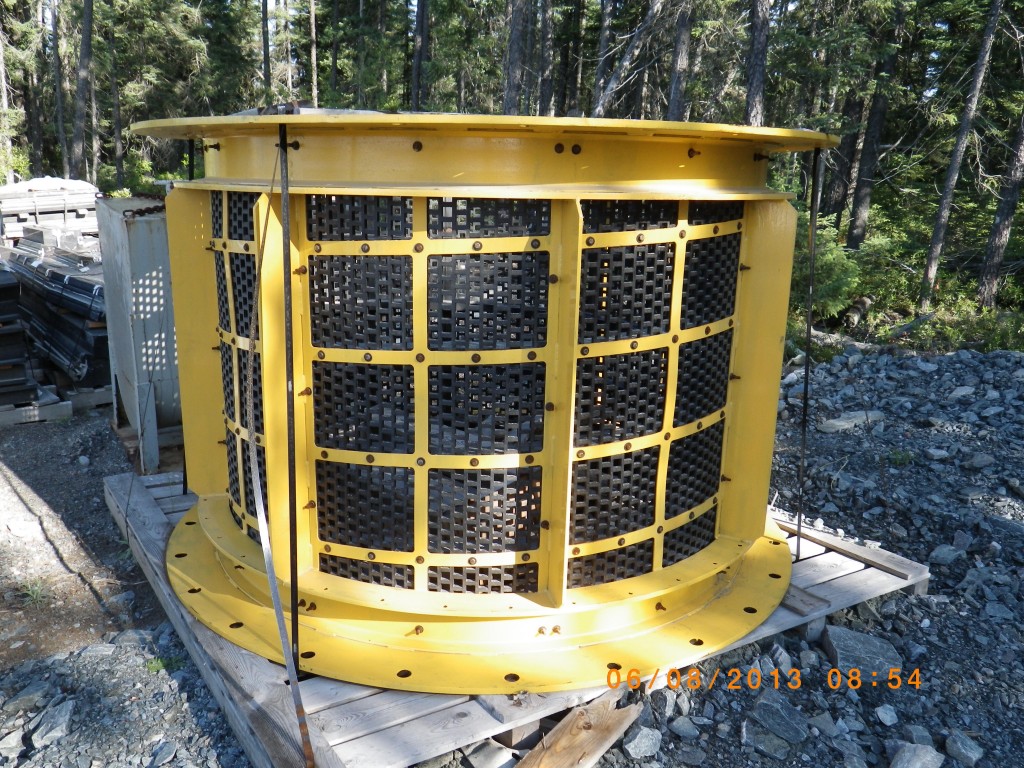 Trommel screens have been used with varying degrees of success to provide tramp oversize protection for pumps and cyclones following the mills. In addition to conventional trommels, internal oversize return arrangements are available, eliminating the need for external return conveyors to the feed end of the mill. The disadvantages of this design are the inability to observe the nature and quantity of this recycled material and lack of discriminate control over this part of the mill charge.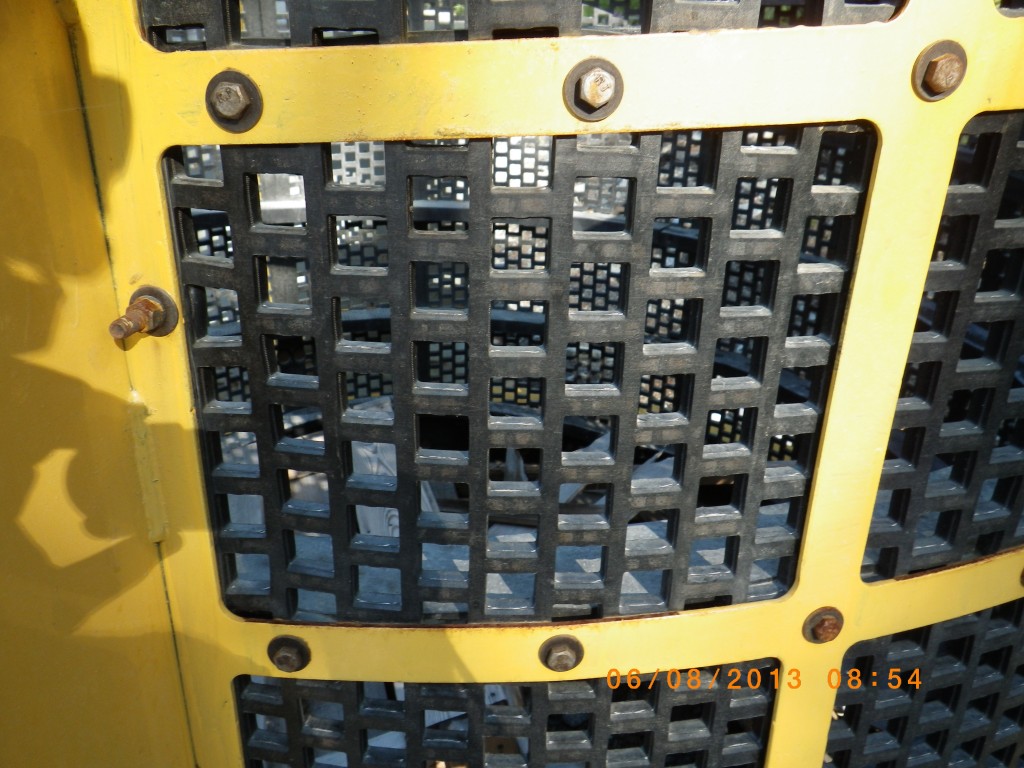 What is "sad" about this it the mining operator was ill advised.  This trommel is 1″ (26mm) in opening .  This means next to now oversize will be returned to the SAG and the Ball Mill will be buried is coarse oversize material it will not be efficient at grinding.
The operator is already complaining its cyclone life is horrible…
This trommel should have screen opening slots of 1/2″ x 1/2″ as a maximum.
Vibrating screens are also often used to provide tramp oversize protection. In addition they can be used to achieve a classifying function, either singly or in combination with sieve bends or cyclones. Pebbles for secondary autogenous grinding can be separated from the slurry stream as can worn balls.
Plant layout for vibrating or trommel screens should be aimed at quick change of decks or complete units to maximize the availability of the mill circuits.
A number of different mill control schemes have been tried in the past and are still being tried. These range from constant tonnage to constant horsepower, to mill sound, to mill total load monitoring.
If an autogenous or semi-autogenous mill is to be controlled under the "constant tonnage" concept, the mill must be selected to be oversized, so that the hourly tonnages will average out to the desired daily tonnage. Power must be available for ore conditions which require higher than average power per ton. The whole philosophy of this concept does not allow for making better than "average" tonnage.
If the mill is run on a "constant power" concept the tonnage will vary depending on the autogenous quality of the ore. It will sometimes be average, sometimes higher and sometimes lower than average, but because of the control concept, this scheme will generally average a higher daily tonnage than the constant tonnage concept because controls are always pushing for maximum tonnage under this condition.
The use of mill sound, and concepts to measure total load in the mill such as bearing pressure, have met varied success. Of the two, the use of bearing pressure to monitor total load in the mill and to act as an "over-ride control" in conjunction with the constant horsepower concept provides some interesting advantages. Instantaneous mill overloading and plugging is reduced along with the danger of overloaded components such as bearings, heads and shells.