SAMPLERS

SAMPLER, Ore—With scoop. Sampler of tin with handle, scoop of sheet iron with band iron handle.
SAMPLER, Ore, Jones—Consists of heavy tin hopper set in iron support; facilitates quick and even sampling and is easily cleaned. Supplied complete with four tin pans, iron scoop and brush.
Pan, only—For above.
Scoop, only—For Sample Cutter above.
Brush, only—For above.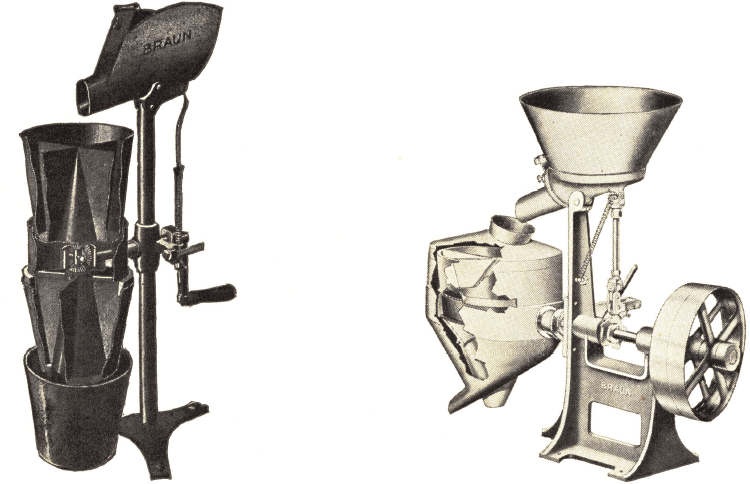 SAMPLER, Hand, Braun Umpire—The buckets revolve in opposite directions, and each bucket is divided into four parts, two closed and two open. The sample is halved in the upper bucket and again in the lower, allowing one-quarter of the original to fall into the receptacle. Re-feed­ing the quarter obtained gives one-sixteenth of the original, and again re-feeding, a sixty- fourth is obtained, etc.
A cam on the crankshaft agitates the hopper by striking a strap, which is attached to the hopper with a coiled spring, and by means of an eccentric lever the force of the blows may be varied at will. The upper and lower buckets may be quickly removed, and all portions are readily accessible for cleaning, making it impossible to salt subsequent samples.
Width, 10 inches; length, 21 inches; height, 41 inches; net weight, 65 pounds and gross weight, 125 pounds.
SAMPLER, Power, Braun Universal—The principle employed is similar to that of the Umpire Ore Sampler No. 56730. Of heavy construction for power use.
The gears and dividers are enclosed in a sheet-iron shell and are practically dust-proof.
The large circular hopper permits feeding with a scoop shovel or an automatic feeding device.
A cam on the crankshaft agitates the hopper which is fitted with a gate to regulate the flow of material.
The prominent features are:
The buckets do not have to be removed for cleaning.
It is practically dust-proof.
It is thoroughly and quickly cleaned.
It delivers an accurate and impartial sample not obtainable by hand sampling or any other mechanical device 

operated by power.

It eliminates the personal equation.
Accuracy and impartiality proved.
An air blast for blowing out the interior thereby dislodging all particles and an exhaust fan will provide rapid and eminently satisfactory.
Width, 14 inches; length, 22 inches; height, 35 inches; pulleys, 12×2 inches; speed, 80 r. p. m.; motor required, 1 H. P. ; net weight, 150 pounds and gross weight 220 pounds.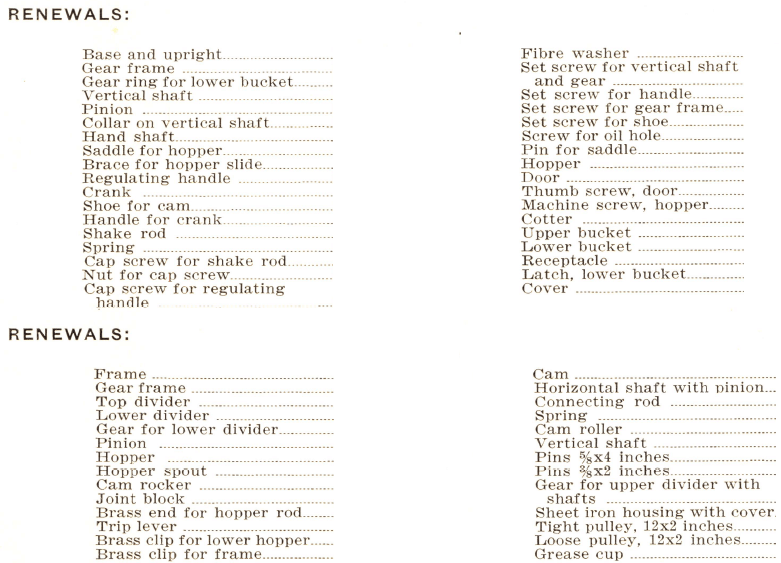 SAMPLING BAG—For ore, etc. Made of 8-ounce duck, with draw strings.
SAMPLING BAG—For ore. Made of heavy 10-ounce duck.
SAMPLING BAG, Mailing Envelopes—With gummed flaps. Suitable for mailing finely ground ore samples or powdered substances.
SAMPLING BAG, Mailing Envelopes—Made of extra heavy Kraft paper with improved metal fast­ener for mailing ore samples.

SCOOP, Sampling—Made of sheet-iron, with wood handle.
SCOOP, Hard Rubber-Dimensions : 3 1/8×5¾.