As far as performance of SRL pump is concerned, it may be equipped with a VARIABLE SPEED DRIVE or the SIZE RATIO between the drive sheave on the motor and the one on the pump may be changed to increase or decrease RPM of the pump. To obtain maximum performance the distance between the impeller and the lining is critical. There is an adjustment on the barrel to compensate for impeller and liner wear.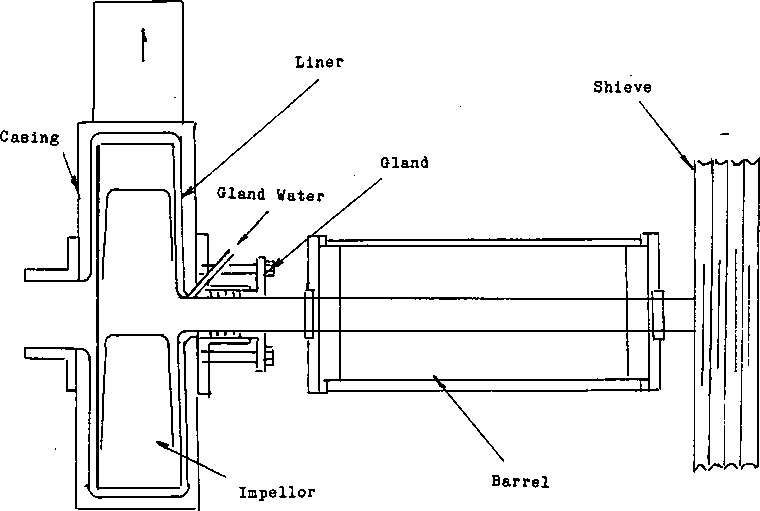 When doing circuit checks there are a few points to watch for with this type of pump. First be sure that the LUBRICATING WATER that is discharging from the stuffing box is still clean, if dirt is evident it means that the GLAND WATER PRESSURE or VOLUME has dropped off, or perhaps the gland needs ADJUSTING. If this water is WARMER than normal it could be that the gland is too tight or a little grit is caught in the packing generating heat.
When this happens the packing will wear faster and might need tightening or complete replacing sooner than expected. If for some reason you have to tighten your own gland, here are a couple of pointers, first tighten the adjustment nuts evenly. If the pressure on the packing isn't even, it will begin to leak. Tighten each a quarter or half turn then tighten the other. Secondly don't tighten them too fast, if the packing should overheat it will not seal as well afterwards.
Other things to watch for are LOW OIL in the barrel, LOOSE DRIVE BELTS, and the TEMPERATURE of the bearings on both the pump and the electric motor.
If you examine the casings of the pump you will notice threaded bolt holes. These are called JACKING BOLT HOLES, these are for is to remove a worn liner from the casing when the mechanic is repairing the pump.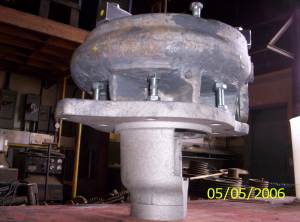 If when you are doing your circuit check you should notice slurry coming out of these holes it will mean that either it is a new liner in that pump and the slurry hasn't sealed the hole yet or that the liner is worn out. If that is the case then the pump should be shut down immediately. If it isn't, the casing will be worn away and a greater expense created.