The Sub-A Flotation cells technology has been around for a long time since the Denver Equipment Company first developed it in 1968 after inventing the flotation machine of 1940 and changed the mineral processing industry. The SUB-A float machines used in the mineral, chemical, environmental, and industrial applications requiring the efficient dispersion of fine air or gas bubbles in slurries or liquids. The units are designed for continuous trouble-free, 24-hour operation and to handle fine and coarse-abrasive slurries.
Special features of Sub-A Flotation Cells:
• Open flow impellers for high efficiency and lower power costs.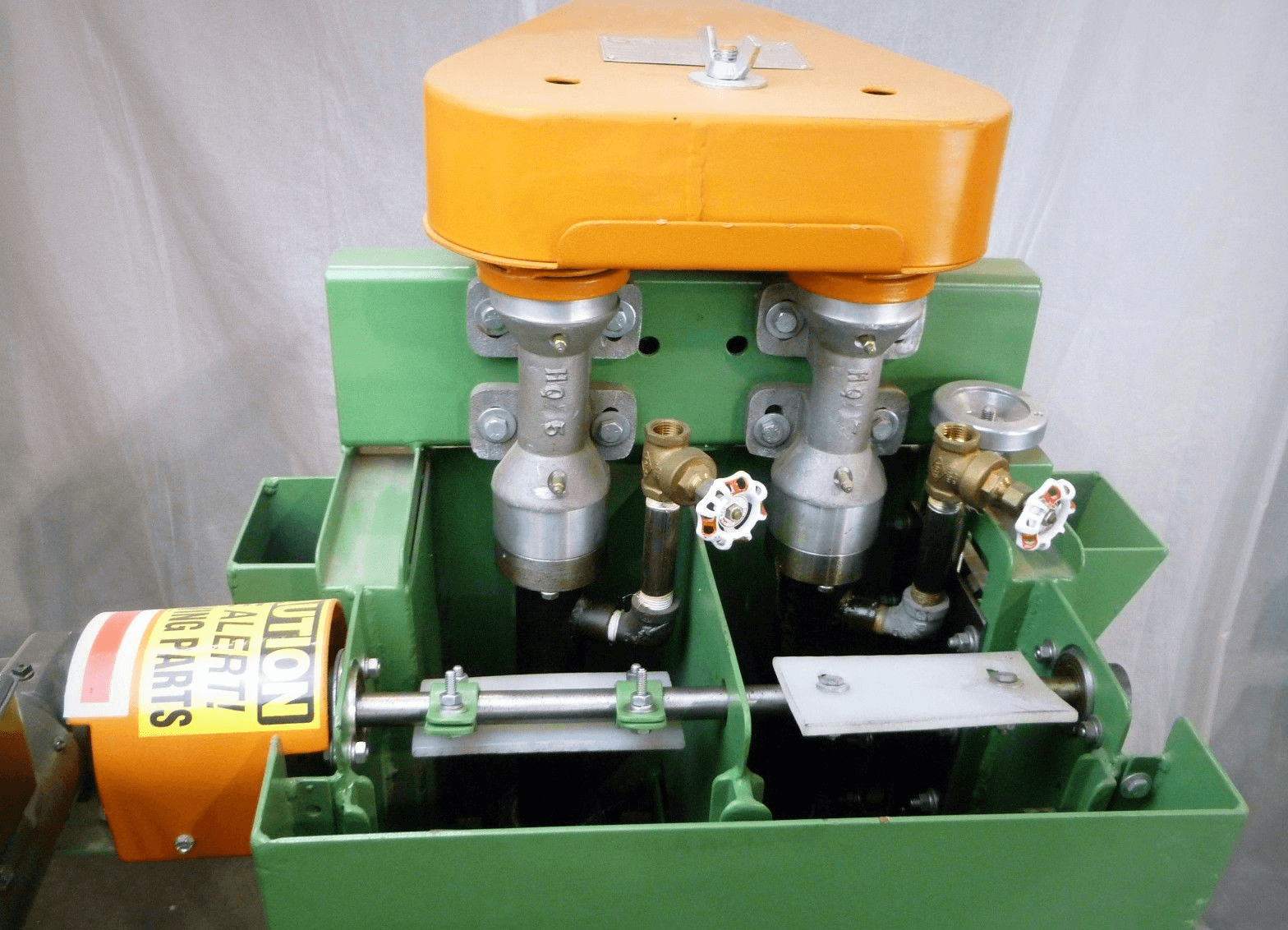 • Cast polyurethane impellers and diffusers for excellent long term abrasion resistance.
• Collectors/frothers of aliphatic alcohols or diesel (gas-oil) have no effect on polyurethane.
• Fabricated steel and cast iron skeletons give rigidity to impeller and diffuser, while flexibility of polyurethane blades allows passage of occasional tramp oversize.
• Special diffuser blade design gives optimum bubble formation and flotation results.
• Simple and effective pin-drive system for fixing impeller to shaft gives total reliability and ease of maintenance.
• Cast iron hood and polyurethane sleeve on lower part of shaft resist abrasion.
• Ports in hood provide maximum recirculation conditions.
• Froth paddles feature easily removable shaft sections on each cell, which eases maintenance.
• Cell proportions give optimum pulp circulation and separation characteristics, which improves results.
• Tank-work is designed to take anti-abrasion liners such as basalt tiles, glazed epoxy or abrasion resistant steel plates to suit specific requirements.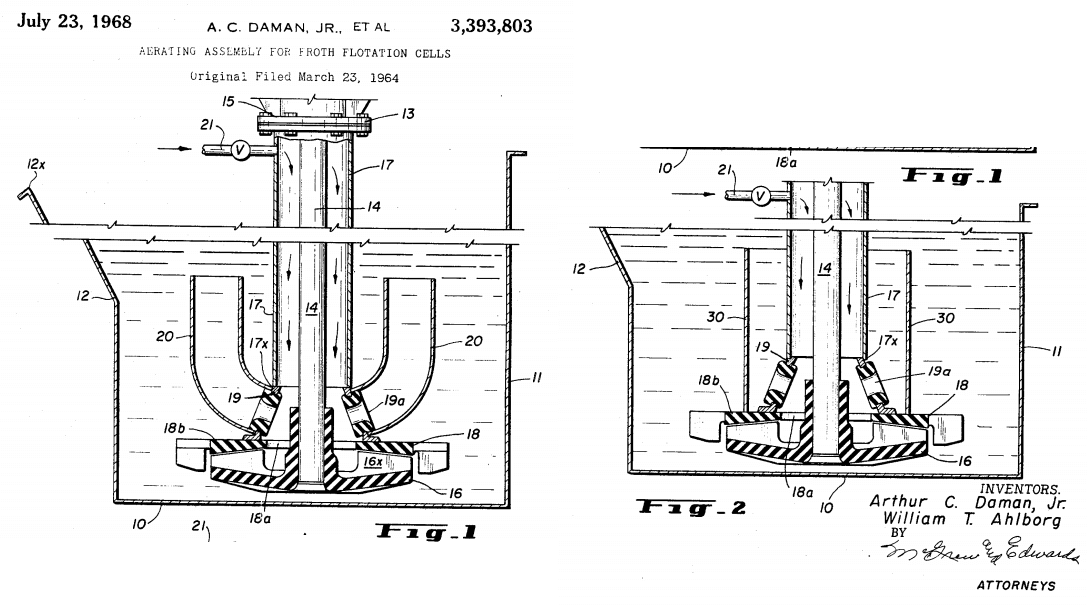 The Sub A  allows for a self-aspiration air system VS the classic forced air with blower machines.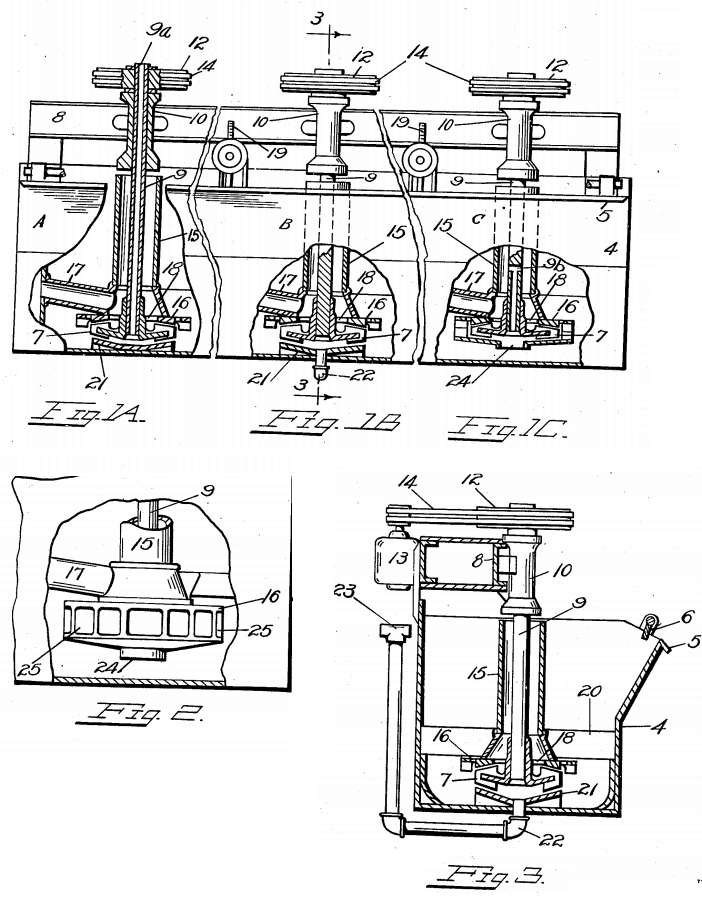 Large industrial scale Sub-A flotation cells are a METSO technology now.
A major player in the flotation cells mineral processing market.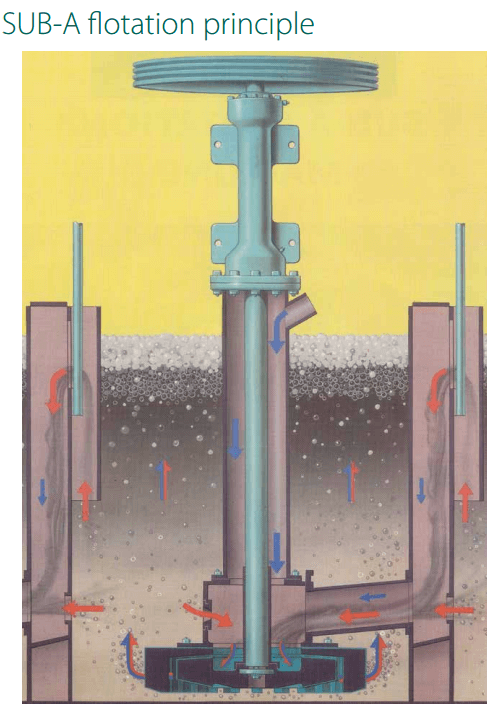 The "Sub-Aeration" mechanism induces and disperses air or gas in sufficient quantities for virtually all applications. External blower air can also be added, if desired.
Gate valve assures positive control of air input to each cell.
Machined standpipe assures accurate alignment.
Impeller-diffuser clearance set at factory.
Molded urethane impeller and diffuser assure long-wearing life and permit close clearance setting for high aeration efficiency.
They are easily replaceable whereas metal castings are virtually impossible to remove
Either "cell-to-cell" or "open-flow" design available.
Replaceable variable size sand reliefs.
DO-IT-YOURSELF KIT MODERNISES OLDER STYLE "SUB-A" FLOTATION CELLS; IMPROVES OPERATION, METALLURGY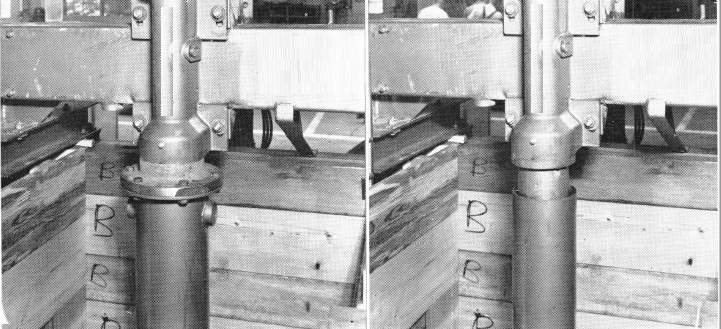 NEW from OLD. Kit makes it easy to have advantages of latest design "suspended" mechanisms. Kit contains adapter flange which rigidly connects new suspended standpipe to spindle bearing housing used on older models.
There are many thousands of older-style "Sub-A" Flotation Cells operating efficiently and profitably today. These are the cells with the mechanism "supported" from the bottom of the cell by hood wings.
Conversion of the old "supported" mechanisms to the newer style "suspended" mechanisms, and, in many cases, conversion of cell-to-cell flow machines to "free-flow" or open type cells for rougher flotation is practical, economical and desirable.
In fact, the advantages of modern cell design — lower maintenance, increased tonnage and aeration and practically unlimited flowsheet flexibility — are now available to operators whose Cells have already served 10 years and longer.
A do-it-yourself kit has been developed that modernizes cells manufactured prior to 1952 by using the existing spindle bearing drive, shaft, and wearing parts. The kit consists of a spindle bearing adapter flange, suspended standpipe, removable feed pipe and hood. The design of the adapter flange makes it possible to use the new suspended type standpipe and hood with the older style spindle bearing assembly. The new style hood accommodates the same diffuser as the earlier models so that no new wearing parts are required. When assembled, the converted mechanism has all the operating and mechanical features of the modern suspended mechanism.
With the mechanism converted to the new "suspended" type, the cell can be used for cell-to-cell flow or, if desired, the adjustable weir partitions can be removed and the machine can be converted to a "free¬flow" unit.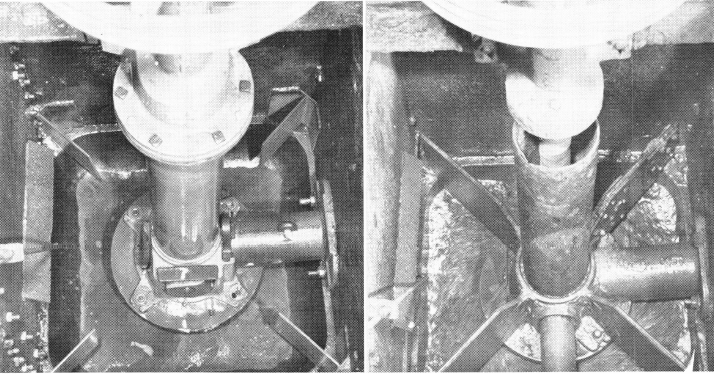 Conversion to the current suspended mechanism permits "pre-setting" of all parts before the mechanism is placed in the cell and the mechanisms can be removed from the cell as a single unit for inspection or replacement of parts. This method reduces down-time for maintenance and assures maximum service from wearing parts.
Conversion of a cell-to-cell flow machine to a free-flow machine for rougher flotation can provide for a greater tonnage, improved aeration and metallurgy.
As an incentive for all operators to take advantage of the benefits and progress in design and operation of "Sub-A" Flotation Cells, a special offer is being extended during our 35th Anniversary year. Drawings, complete instructions and details of the special offer will be sent on request.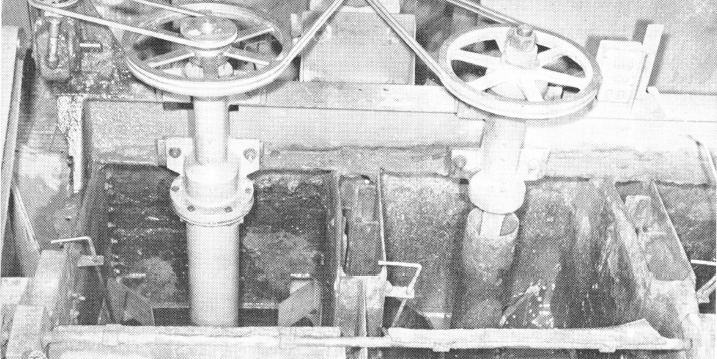 The modernized mechanism is now suspended from the superstructure through the spindle bearing housing exactly as the new units currently being manufactured.