Details of good silver sulphide leaching and filtration circuit operation and instructions for sequencing and preparing for startup.
The following items must be checked before the equipment in this EXAMPLE Argentite Leaching Circuit is started.
The leach tank agitators should be running. Check that the Argentite filter feed pump, drum filter, repulper and tailings sampling pump are available to start up. Ensure that shut-off valve in the air line to each leach tank is open. Ensure that the timer for the lime addition has power and that the shut-off valves in the appropriate lime lines are open. Check the level of cyanide solution in the cyanide day tank to ensure there is an adequate amount to start the Argentite Leach Circuit. Ensure there is an adequate supply of flocculant available and that the flocculant metering pump is available to operate.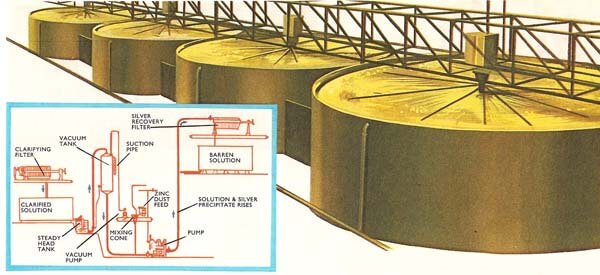 http://www.daviddarling.info/encyclopedia/S/silver.html
Start UP Sequence and