To start with the idlers, let's look at the ones that carry the load first. They are called troughing idlers.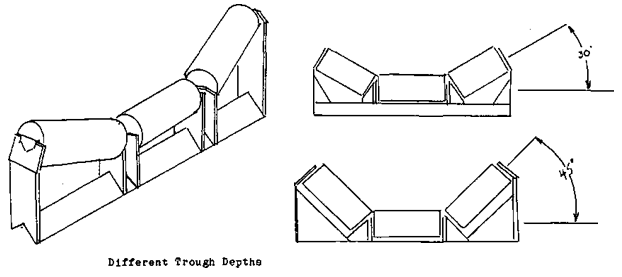 This type of idler comes in various depths of trough. The depth used will depend upon the material being carried and the speed that the conveyor is traveling at. The deeper conveyors will carry more at higher speeds and have less spillage.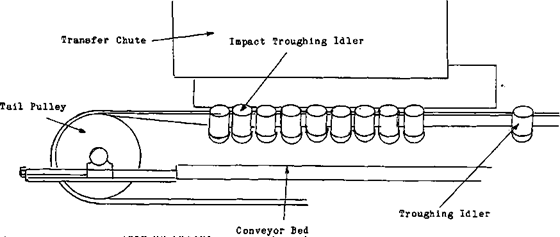 IMPACT IDLERS are still troughing idlers but are designed to receive a sharp blow without being damaged. They are used under the ''DRAY/ POINT" this is the point at which the ore is loaded on to the conveyor, and are placed closer together than the rest of the idlers. To prevent damage to both themselves and the belt, from the impact of the rock, they are made from rubber and are grooved. The groove is put into the idler to allow the rubber to flex when it is struck.
Troughing Idlers & Belt Conveyor Components for Sale
For Sale very heavy duty Belt Conveyor by Continental / Joy Global CEMA D grade components – CEMA-D Rated 60″ & 30″
Includes Troughing Idler and Return Idlers
H-Plus Series
The Continental Joy Global H-Plus™ Idler Series has been the industry standard for many years. It has proved to be extremely durable in the toughest field conditions and under the most grueling of laboratory tests. The proprietary design and construction of the H-Plus™ Series provides the conveyor owner and operator with unparalleled value and extended periods of trouble-free service. The H-Plus™ Idler Series provides one of the best available investments in conveying equipment available to the market today.
The H-Plus™ is a heavy duty, precision idler meeting CEMA D requirements and ideal for today's higher capacity applications.
Idler frames are jig welded for accuracy with formed end brackets and inverted cross angles of high strength steel. The universal foot provides maximum mounting flexibility for both new and existing installations. Rolls are interchangeable and secured to the frame with a steel retainer.