TURBINE TYPE AGITATORS
Design of new Turbine Type Agitator Propellers makes possible the use of positive propeller agitation in larger diameter tanks compared with higher speed agitators. One large diameter agitator handles volume of several small ones. Saves space, operating expense, supervision and maintenance. Large size of propeller and tank permits operation at slower speeds and lower horsepower, yet effective mixing and agitation are obtained even with slurries as coarse as 8 mesh in slurries of 18% solids.
Turbine Type Propeller Agitators have been developed up to 144″ diameter propeller size. They operate at slower speeds with low horsepower requirements and have long wearing life. Special design features eliminate cavitation of blades, minimize wear and assure long life.
Propellers are available in alloy steel, stainless steel, Hastelloy C; rubber, neoprene or polyester covered for acid or abrasion resistance. Larger sizes have individually replaceable blades. Cast steel coupling between shaft and propeller is of tapered design to assure accurate centering and alignment when coupling halves are bolted together. Jack screw threaded holes provide easy disassembly. Lower coupling half is shrunk on propeller shaft extension.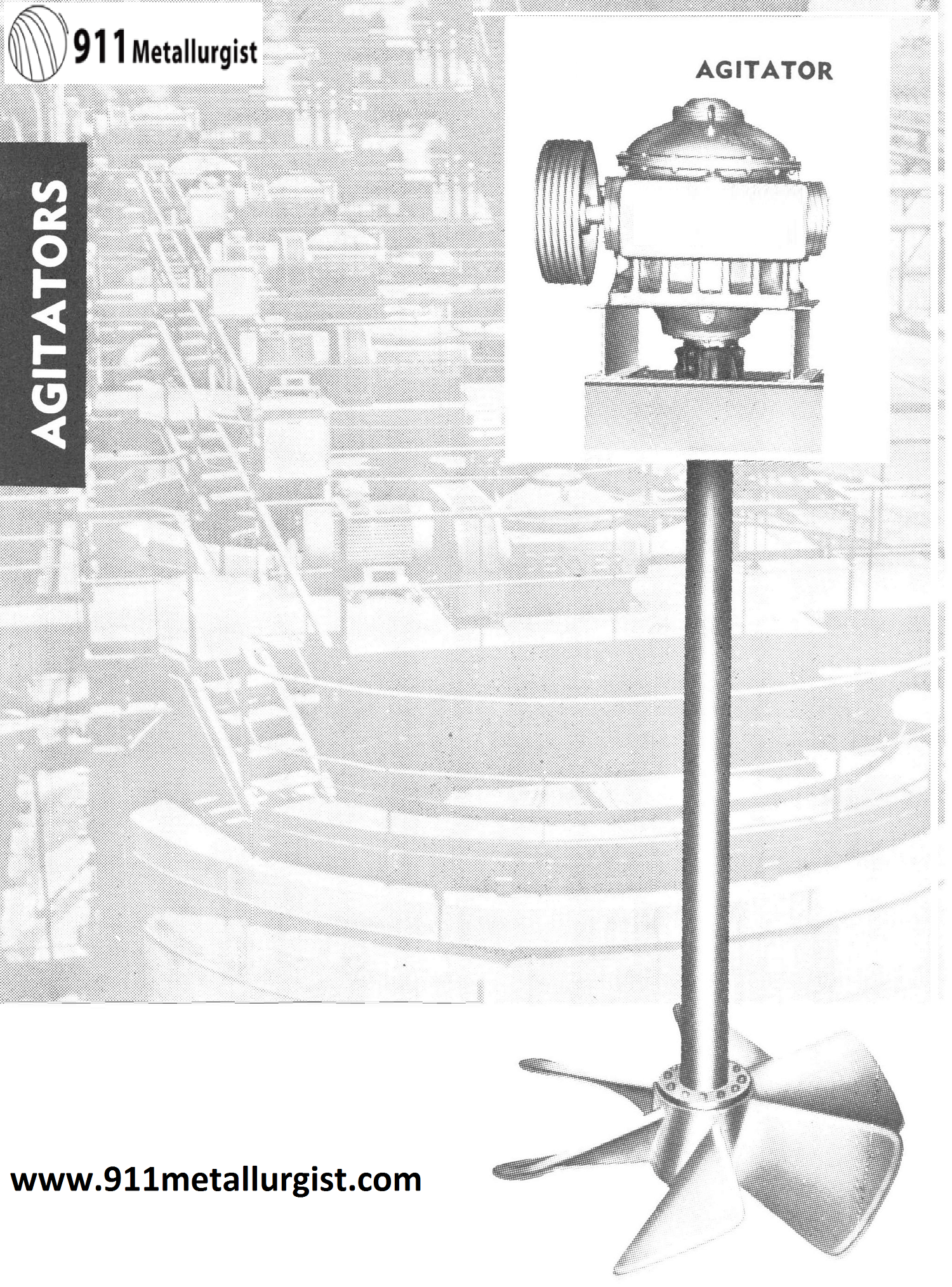 CASE HISTORY OF AGITATORS & COARSE PARTICLES 
Agitators at Leading Alumina Producer — 22′ x 20′ tanks, solids settling rate 78 F.P.M Tests showed high alumina extraction at coarse grind.
Advantages were: lower grinding costs and a coarse sand residue which kept soluble loss to a trace.
PROBLEM: Can coarse high density fast settling solids be kept in suspension?
VERTICAL SHAFT AGITATOR REDUCER DRIVES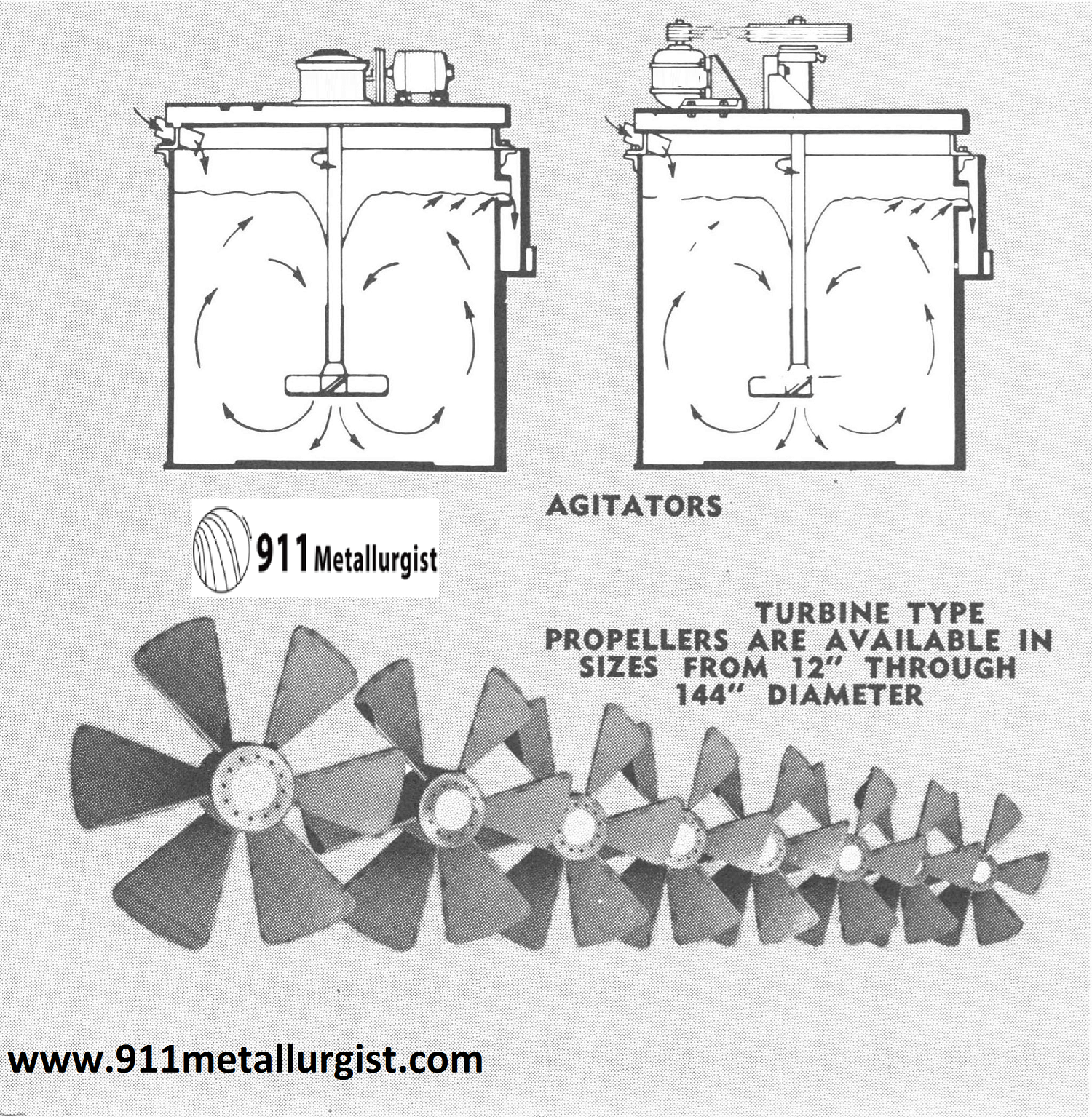 HEAVY DUTY, ENCLOSED, RUNNING IN OIL WORM AGITATOR GEAR DRIVES
Drives with Specially-designed Vertical Shaft Reducers are available to power all sizes including the 144″ Turbine Type Propellers and Mixer-Stirrer units. A wide range of speed reductions is available to allow many variations in application. V-belt or direct-connected flexible coupling drive. Simple design and heavy duty construction offer easy, trouble-free maintenance and high operating efficiency.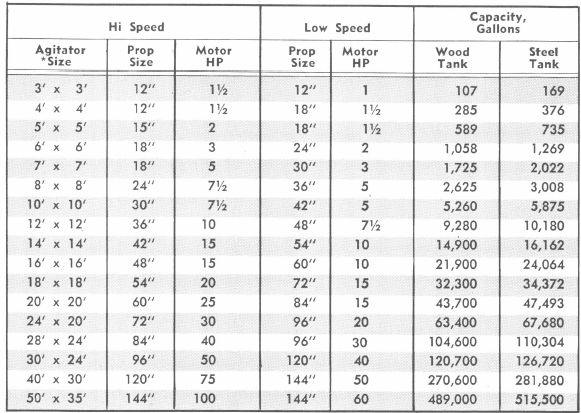 Agitators and Mixers are available in a full range of types and sizes for either batch or continuous operation.
SLOW SPEED AGITATORS
Open type for gentle, thorough agitation or mixing. Equipped with the Reducer Drive — a compact, totally-enclosed, self-lubricated speed reduction drive with V-belt or direct connected motor. Many speed selections. A variety of propellers and stirrers is available to meet your specific needs. Sizes: to 50-foot Tank Diameter.
SUPER AGITATORS
For high speed mixing, agitation, aeration or attrition scrubbing. Has patented draft tube with adjustable weir collar that positively controls recirculation and aeration. Wearing plate above propeller eliminates sanding up and assures trouble-free starting after shutdown. Available in rubber-lined and acid-proof tanks. Sizes: 3′ x 3′ to 20′ x 20′. Low HP. Also available in batch laboratory and pilot plant sizes.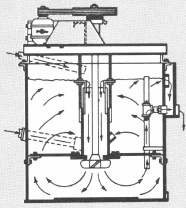 AIR-LIFT AGITATORS
Available in three types: center air-lift, side air-lift, and combination center-side air-lift. Each type has hollow revolving center shaft so that air can be added for center air-lift. Adjustable slope rake arms are provided. Sizes to 50′ diameter.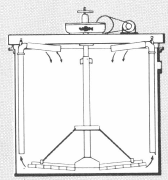 ATTRITION SCRUBBERS
This is a highly efficient unit for removing surface films, coatings and slimes from sand grains in neutral or acid pulps. Also used for the agitation and conditioning of pulps in operations requiring maximum pulp densities of 70% to 80% solids. Scrubbing and polishing is accomplished by grain-to-grain attrition chiefly in the zone between the two large diameter opposed propellers, with physical contact between sand grains maintained by low moisture content (15% to 20%) of the feed. Available in 2, 4 or 6 cell units. Rubber covered propellers and tanks. Other linings available as required.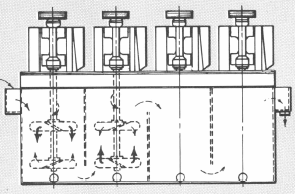 FLUID AGITATORS
Equipment Company can supply agitators with impellers in flat- blade, radial-flow turbine type for intimate mixing, blending and stripping. Used in counter current solvent extraction systems, for washing of liquids, caustic treating, emulsions. A complete line of worm gear drive units is available to power these impellers at the correct horsepower and speed for your application. Vertical Turbine Mixing Propellers can be provided in a full range of sizes to provide desired flow shear.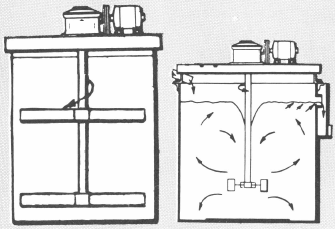 LABORATORY MIXER-SETTLER UNITS
Mixer-settler units are standard in uranium solvent extraction circuits. They are compact, efficient and represent only a fraction of the cost involved in multiple-unit mixing and settling installations. Equipment Company is a leading supplier of commercial size solvent extraction equipment.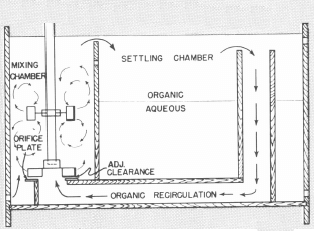 LABORATORY AGITATORS
Duplicates of all commercial sized agitators and mixers are available in either laboratory or pilot plant models for batch or continuous test work.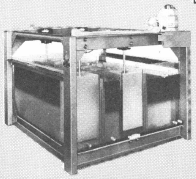 ---
Source: This article is a reproduction of an excerpt of "In the Public Domain" documents held in 911Metallurgy Corp's private library.