BEARINGS, Ball and Roller
Chief advantage of the ball bearing is its low coefficient of friction which does not increase at the instant of starting in motion. Other advantages are: economy of space; simplicity of lubrication; practical elimination of wear due to the rolling point contact and the extreme hardness of contact surfaces obviating the necessity of frequent adjustment; and maintenance of accurate alignment for an indefinite period.
Ball bearings are of two general types: radial, for loads perpendicular to the shaft axis; thrust, for loads parallel to the shaft axis. With slight modifications, radial bearings are capable of carrying a considerable portion of thrust load also. All manufacturers of ball bearings have standardized their overall dimensions for light, medium and heavy series so that one make of bearing is interchangeable with another make.
As the majority of Machines are equipped with ball bearings, we carry a large stock of radial and thrust bearings to fill the needs of our customers.
Roller bearings, like ball bearings are either radial or thrust, and are often used in ore cars, speed reducers, etc.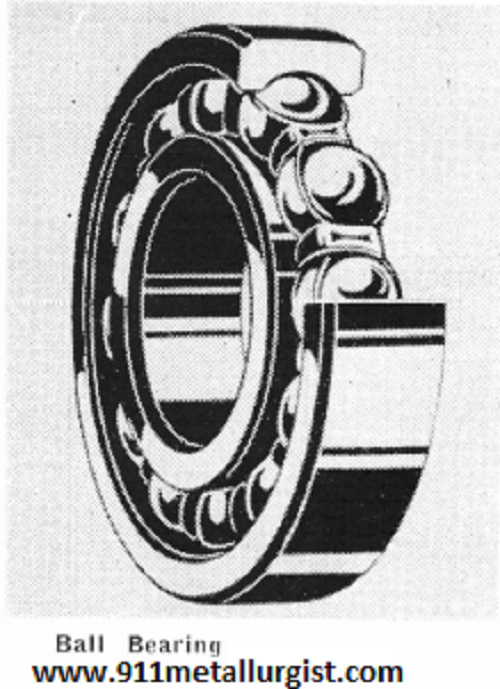 Bearings, Ball Bearing Pillow Block
Self-Aligning Ball Bearings are available for vertical and horizontal operation. These anti-friction bearings are the finest made, and are widely used on vertical shafts or for high speed operations. Friction is practically eliminated and power consumption reduced.
An important feature of Ball Bearings is their ability to compensate within themselves for any slight misalignment. This action takes place automatically, causing neither heating nor binding. Since the bearings are of the anti-friction type, wear, adjustments, and need for lubrication are reduced to a minimum. Bearings for vertical operation are doubly sealed to prevent grease leakage down shafts.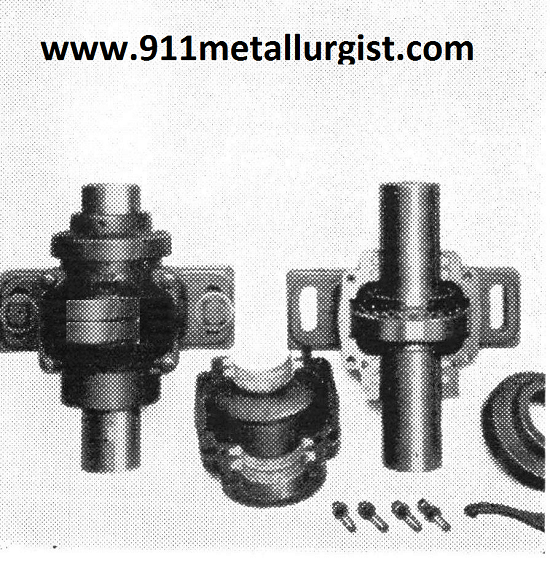 Self-Aligning Ball Bearings left-Assembled. Right-Housing Removed

Bearings, Elevator Take-Up
Elevator Take-Up Bearings are used for the lower bearings of the Belt Bucket Elevator. They are made of cast iron, with a jack screw, adjusting hand wheel, and locking handles for keeping the elevator belt tensions uniform. These combination bearing take-ups and steel boots are of the heavy duty type and yet low in cost. Their protected design insures a long life and freedom from costly shut-downs.
Made in sizes for 1-15/16″ up to 4-15/16″ boot shaft, these bearings are standard equipment used in Elevators.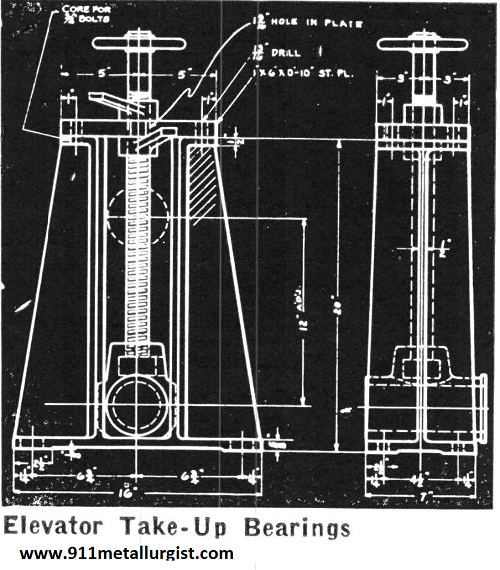 BEARINGS, Rigid Pillow Block
Standard Rigid Pillow Block Bearings are strongly built to deliver long, uninterrupted service. They are used for low speed line shafts and general requirements of this type. The bearings are made in two pieces and machined to form a tight fit which prevents dirt or slimes from entering and damaging the bearing surfaces. Grease cups or Alemite fittings are furnished for convenient, efficient lubrication. The distinct hooded design of the bearing cap prevents entrance of dust, dirt, and slimes. Thus, with proper lubrication, a long life is assured. Practical operators appreciate this important feature.