BURETTE SUPPORT—For one burette. Of wood, with adjustable cork lined clamp.
BURETTE SUPPORT—For two burettes. Of wood, with adjustable cork lined clamps.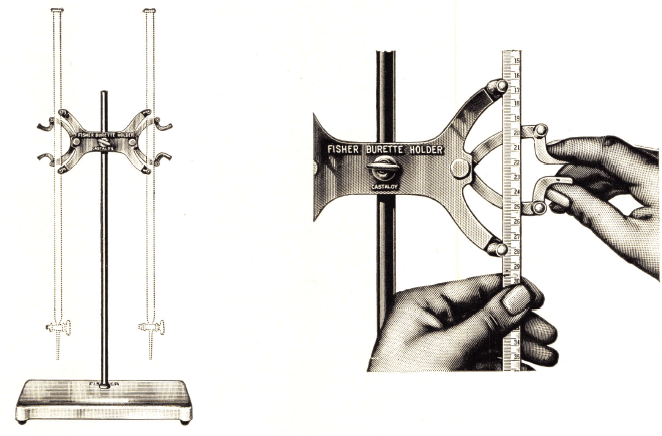 SUPPORT, Burette, Castaloy, Double—One-piece, thick, molded opal-white glass base, with reinforcing ribs underneath, and rubber feet, with nickel plated support rod and Castaloy holder for supporting two burettes firmly and vertically. The opal-white of the base is of advantage in making color discriminations in titrations. The holder of corrosion-resistant Castaloy is stronger than those made of cast iron or stamped steel. No part of the holder obscures the graduations on the burettes. Size of base, 13×7 inches. Complete.
SUPPORT only—Base and support rod only of No. 17685. Useful in the laboratory for any purpose for which the regular cast iron support is employed. The glass base effectively resists the action of any chemical that can be handled in glass, and is easy to keep clean.
HOLDER only. Burette, Castaloy, Double—Holder only of No. 17685. While designed for use on the special non-corrosive stand, this holder can be attached to any regular apparatus stand.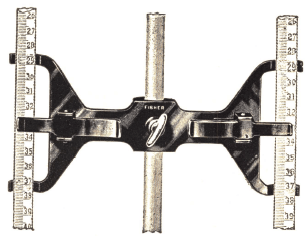 HOLDER, Burette, Double, Students' New—Of sheet steel with levers actuated by coiled phosphorbronze
springs. A nickel plated brass screw on the front provides for fastening at the height desired. Will fit any size support rod. finished in black, baked-on enamel.