To ensure adequate mineral liberation is achieved ahead of the dilution cleaner circuit, a regrind mill is installed on the combined copper rougher-scavenger concentrate stream.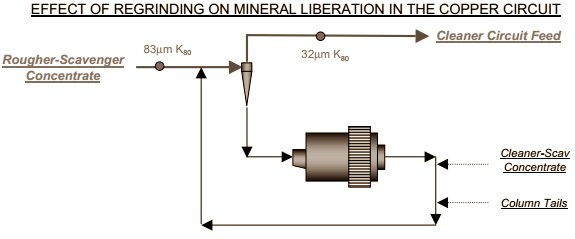 See below the mineralogically limiting grade recovery chart, summarizing the theoretical limits to metallurgy imposed by the mineralogical associations in the cleaner circuit streams: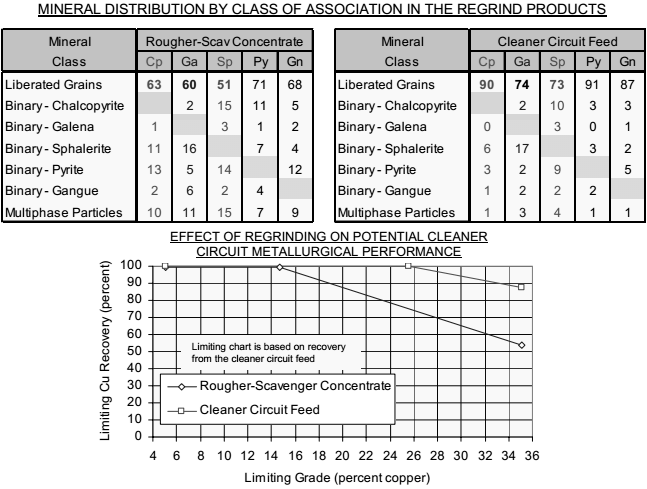 Regrinding of the copper rougher-scavenger concentrate from P80=83µm to 32µm in the cleaner feed stream resulted in significant improvements in chalcopyrite liberation from 63 to 90% when observed in two dimensions. This observed improvement in chalcopyrite liberation occurred as a result of breaking up all classes of chalcopyrite bearing composite particles.
Regrinding also improved the liberation level for galena and sphalerite. On average liberation of galena, sphalerite, pyrite and non-sulphide gangue increased by 15 to 20 units.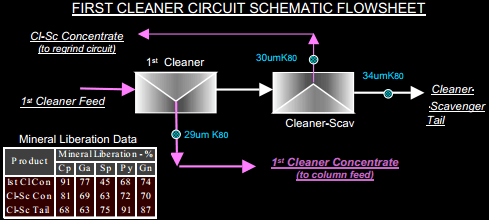 The theoretical effects of regrinding on potential metallurgical performance, is estimated in the limiting grade recovery chart shown here below.

It would appear that regrinding of the current copper rougher concentrate is necessary to provide sufficient mineral liberation for the efficient operation of the copper cleaner circuit.  Although regrinding is important in this copper circuit, perhaps targeting other process streams for regrinding or a coarser regrind size should be considered in future testwork.