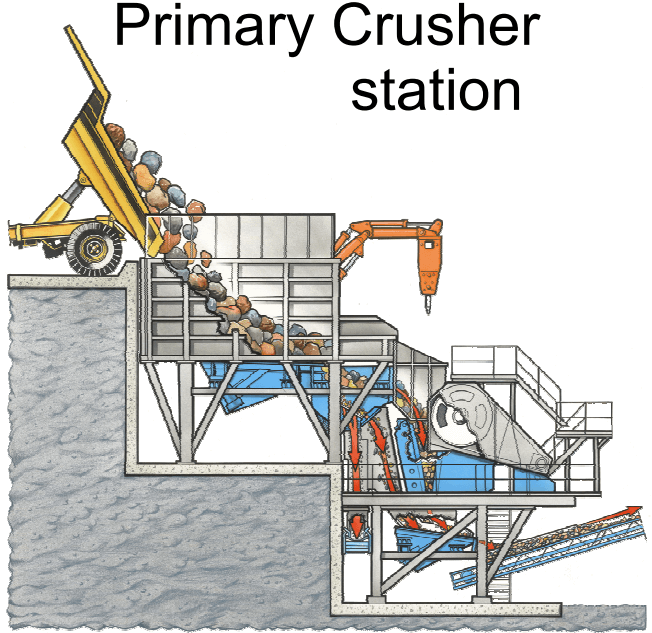 How you select your primary crusher will be based on factors like moisture content, maximum rock lump size, material density SG, abrasion index, degradability and it being prone to dusting or not.
The crusher capacities given by manufacturers are typically in tons of 2,000 lbs. and are based on crushing limestone weighing loose about 2,700 lbs. per yard3 and having a specific gravity of 2.6. Wet, sticky and extremely hard or tough feeds will tend to reduce crusher capacities.
Selectiing what size a crusher needs to be is based on factors such as the F80 size of the rocks to be crushed, the production rate,  and the P80 desired product output size.  Primary crushers with crush run-of-mine rock from blast product size to what can be carried by the discharge conveyor or fit/math the downstream process. A typical example of primary crushing is reducing top-size from 900 to 200 mm.
In Selecting a primary crusher you need to worry about these requirements:
That crusher must be capable to reduce the size of even the lastest rocks it is fed.
To secure the capacities specified, all feed to crushers should be smaller than the feed opening of the crusher in at least one dimension.
The crusher discharge P80 product size needs to remain less than 1/3 of the related conveyor belt width.
Primary crushers should provide a significant crushing ratio that's good enough to impact how many more downstream comminution units are required.
No crusher, when set at any given discharge opening, will make a product all of which will pass a screen opening of the same dimensions as the given discharge opening.
In in-pit crushing, the primary function of a crusher is to provide a smaller uniform product size for each of transport by the conveying system.
Minimum power consumption in part of a good design.  For their coarse duty, primary crushers use, comparatively lower energy, to other systems.
The horsepower required varies with the size of product being made, the capacity and the toughness of the rock or ore.
Primary crusher labour requirements should not be intensified be clogging and oversize rock removal or rock-breaker operation.
A crusher's wear parts need to last as long as operationally-economically possible. Typical numbers are for liner and mantles to have a useful wear-life of almost 2,000,000 tonne on abrasive taconite and 9,000,000 tonnes on porphyry copper ores.
Dependability and long service life are landmarks of good primary crusher design of up to 30 yrs.
The selection of the primary crusher must consider best-in-breed maintenance services as the whole mine's production goes through 1 or 2 of these machines and make the in-pit crusher a vital piece of equipment.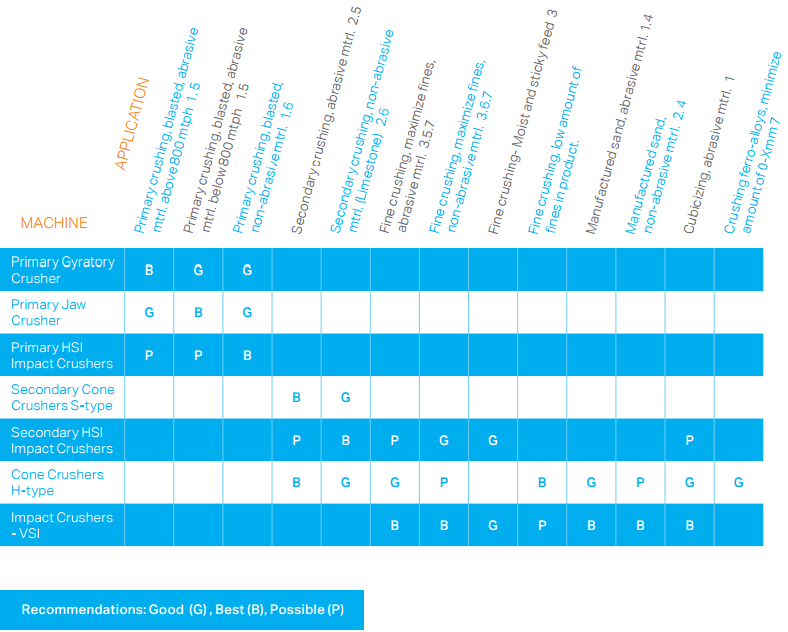 The mom and dad of primary crushers are jaw and gyratory crushers.  In open-pit mines where high tonnage is required, the gyratory crushers are typically the choice as jaw crushers will not crush over 500 TPH with great ease.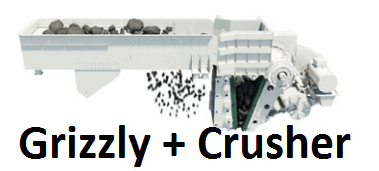 There are exceptions like MPI Mineral Park in AZ where 50,000 TPD was processed via 2 early century vintage jaw crushers of a:
Traylor –Fuller Size:–56" x 72"
Type: H
Toggle Type Double
HP:–400
Minimum Jaw Gap : 6"
+
Birdsboro Size:–56" x 72"
Type-C
Double Toggle Type
400 HP
both with Amsco as the liner supplier.
The rated capacity at 5" closed-side setting was 490 stph based on standard 100lbs/ft3 feed material.  These crushers were fed a very fine ore over a 4″ grizzly which allowed the 1000 TPH the SAG mills needed.
For crushing operations under 500 TPH, the design engineer will typically select a jaw crusher as they are of lower cost.
In under-ground crushing plants where the diameter of the mine-shaft a skip forces limits on rock size, a jaw crusher will be the machine of choice.  Again, if crushing on surface, both styles of stone crushing machines should be evaluated.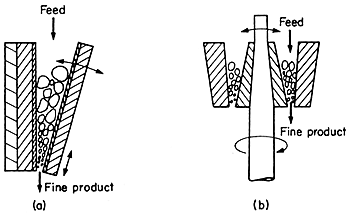 The basic difference between a gyratory and jaw crushers are:
At the same feed size rocks, the capacity of a gyratory crusher is much greater than that of a jaw crusher.
A gyratory crusher in a primary duty install will usually cost more VS a similar jaw construction set-up.
Direct truck dumping on the gyratory spider allows for simple choke feeding while a jaw crusher requires a grizzly and feeder ahead of choking.
A gyratory crusher consumes less power when idling and will reduce the size of 2X the rock for the same energy utilized by the jaw crusher.
There is less waste or scrap metal coming off a jaw crusher liner (it is reversible) which affords the jaw crusher with a less maintenance.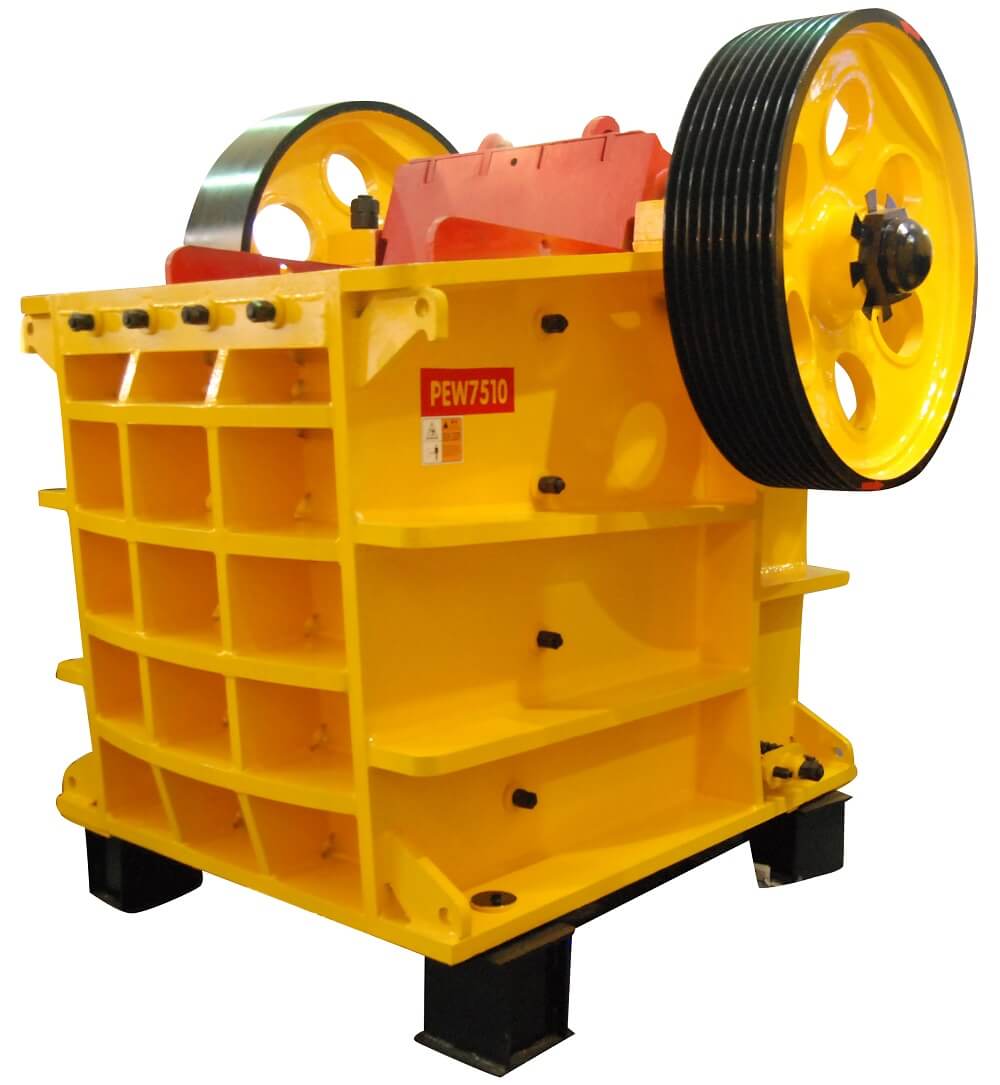 HBM
Metso.com and Sandvik.com