The 100 to 125 Ton/Day Mill is arranged along the same standard lines as the smaller mills, and a large oversize forced feed crusher is recommended for primary crushing. An intermediate crusher can be installed later if necessary. Changes can be easily made according to your local conditions. Here too, a Selective Mineral Jig may be advisable on gold ores.
All machines have motor "V" Rope drive, but with slight changes belt drives can be furnished. Drives and flowsheet can be changed to meet your conditions, and by means of the sand pump, products can be returned to any part of the flowsheet. Standard Machines, flexible in design, insure successful and profitable operation. And for a process plant under 50 TPD.
All primary process equipment total around 45000 Kilos OR 100000 lbs in weight.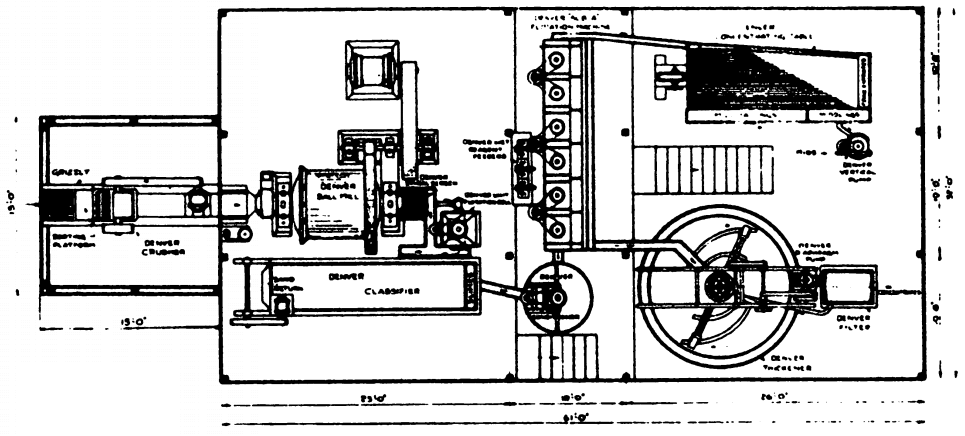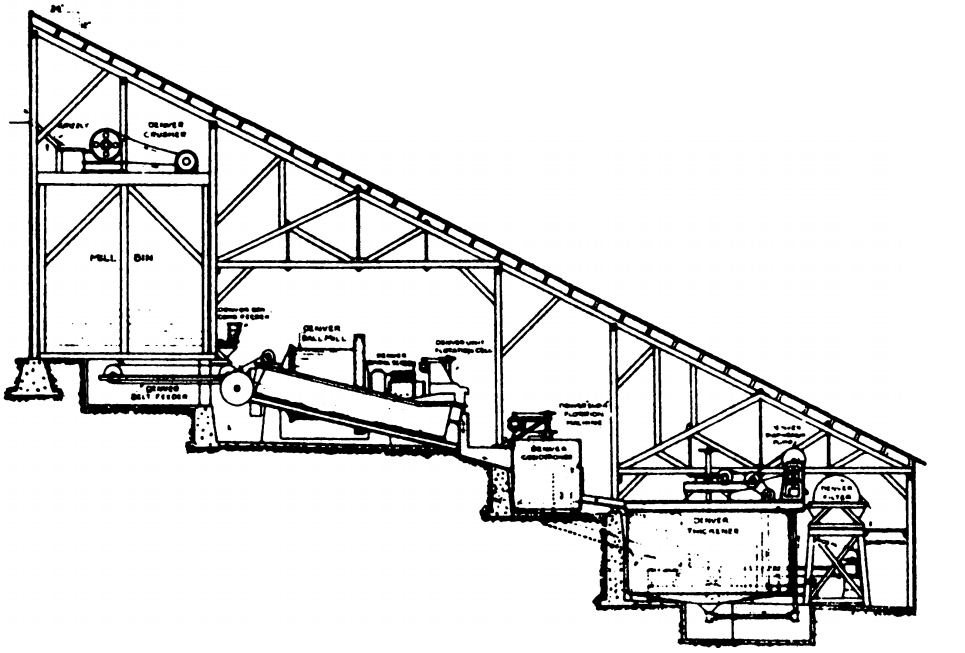 | | |
| --- | --- |
|  Process Equipment List |  Motor HP |
|  10″x 20″ Jaw Crusher |  17 |
|  24″x 8′ Belt Ore Feeder |  1 |
|  5′ x 8′ Ball Mill (Steel Head) |  75 |
|  No. 250 Unit Flotation Cell |  3 |
|  Spiral Screen | |
|  42″ Cross-Flow Classifier |  4 |
|  6′ x 6′ Conditioner and Tank |  2 |
|  6 Cell No. 18 "Sub-A" Flotation Cells |  10 |
|  6″ Cone Reagent Feeder |  0.5 |
|  Triplex Wet Reagent Feeder |  0.5 |
|  No. 6 Wilfley Concentrating Table |  1.5 |
|  Vertical Sand Pump |  4 |
|  14′ x 8′ Thickener and Tank |  1 |
|  2″ Diaphragm Pump |  0.5 |
|  4′ x 3-disc Denver Disc Filter |  1 |
|  Vacuum Equipment for Filter |  5 |
|  Total |  130 |