The Ore and Water Skip is furnished in a few standard sizes, but any size or style can be supplied. When these skips are used for handling water an automatic valve is supplied which is placed in the bottom.
Two styles are made as to attachment of the wheels and axles. In style "A" the axles are riveted to the sides, while in style "B" the axles extend across beneath the car. The illustration above shows the style "B" skip without a top or upper side. Ore and Water Skips are also available with riveted steel tops. The table below includes only data on units having steel tops but additional information on units without tops will gladly be furnished upon request.
When ordering, specify whether for ore or water, capacity desired, weight of one cubic foot of material to be handled, track gauge, angle of incline of shaft, and any limiting dimensions.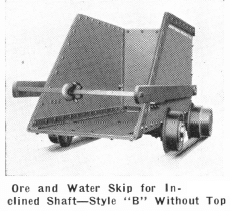 Self-Dumping Skip or Bucket
Self-Dumping Skip or Bucket is heavily built to withstand the wear and tear of loading, rapid hoisting, and strains incident to dumping.
Two styles are available. Style No. 1 is the standard ….Read more