Disclosure: This post contains affiliate links and I may earn a small commission if you purchase through these links.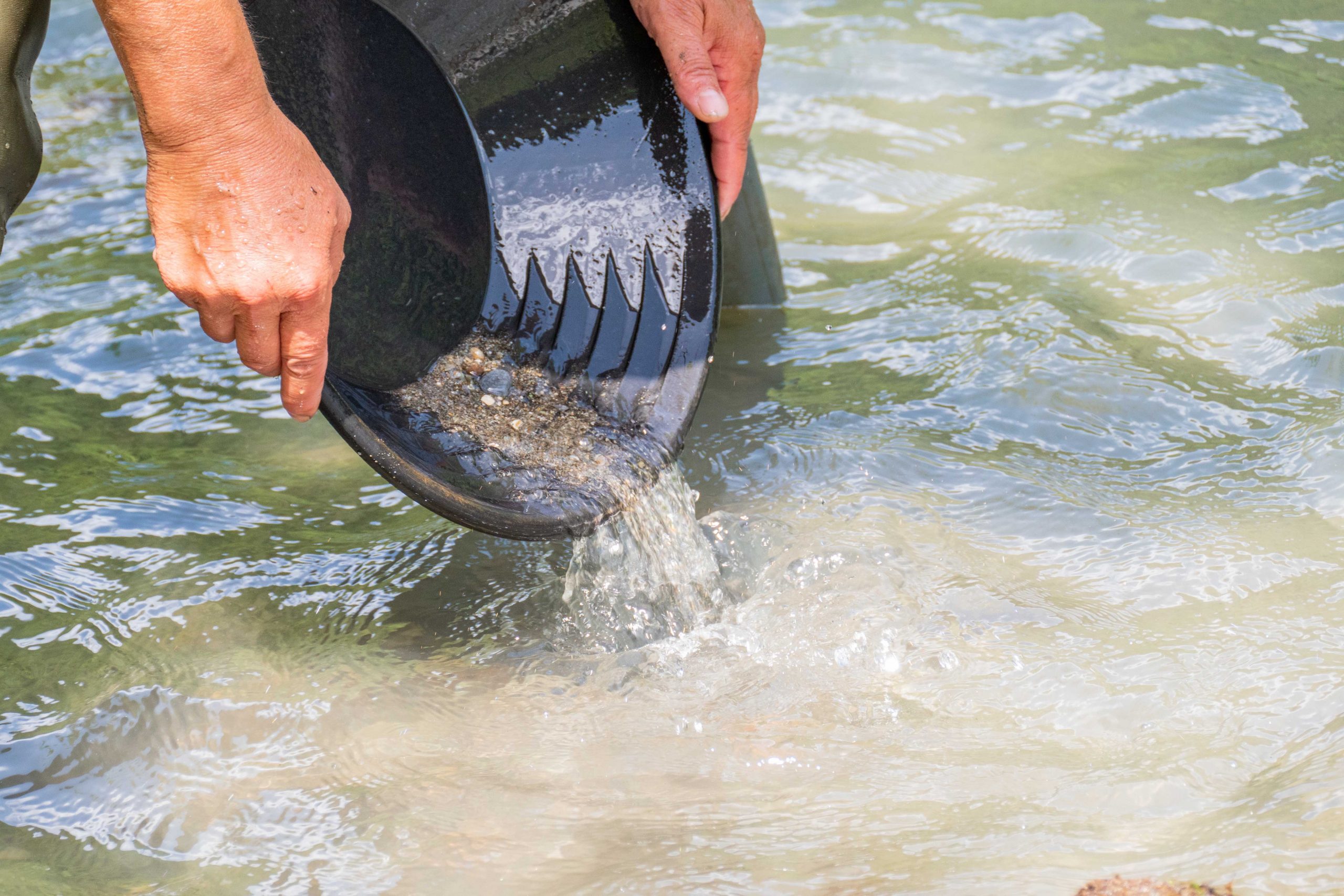 Gold fever has gripped man ever since that first shiny nugget was discovered. From the gold rush days of yesteryear, right through to the modern-day, aspiring prospectors, hunting through unexplored rivers and lakes while dreaming of unearthing valuable gold nuggets has inspired generations of people. In order to successfully discover gold one will need to focus on the approach, especially in different types of terrains and weather conditions. We have selected gold panning kits that ensure your search is thorough and that you have the proper tools to strike it lucky.
Whether it be a 27lb giant bar like those in Fort Knox or tiny flecks in a stream, the excitement of finding gold drives us to get out into the field to prospect.
We ensure that every product comes with the right features to help in your prospecting ambitions, so in our reviews we focus on:
Gold pans

Sifter pans

Tweezers with attached magnifier

Gold storage vials

Vacuum suction bottles

Magnet separators
In the US and Canada, you may need a permit to explore particular areas and locations, so we advise that you become aware of the laws concerning your local rivers, lakes and creeks to avoid trespassing or incurring any penalty fees.
To choose the best gold panning kits, we read customer reports and explore recommendations from people with extensive experience and knowledge of prospecting. We then analyze our research through Fakespot to pick the best possible equipment for you.
1. Gold Panning Kit | Mini Sluice Box
This Mini Sluice Box Gold Panning Kit is a compact kit that can fit inside a normal-sized backpack. This means that those of you who are hobbyists and just starting out can easily take it along for an adventure with the whole family. It has everything a casual user needs to get started on the gold hunt.
This box features miner's moss as well as rubber v-trap matting. You can use the sluice with both of those items attached or just with the standard matting. There are additional tools that further facilitate the process. The 2 gold pans each have dual riffles on them. There is also a quality black sand separator magnet to enhance separation.
To help you spot those small gold flakes you can use the magnifying glass featuring on the accompanying tweezers. There are even suction tweezers to suck up any flakes you find and readily collect them in the 3 vials that are included so you can safely store your gold.
Features:
12in. miniature sluice box

8lb black sand paydirt separator magnet

2 small gold pans

Tweezers with attached magnifier
 What we love:
The pans are lightweight enough for easy packing and traveling

Designed well enough to be handled with ease by both adults and children
 What we don't like that much:
The pans feel a bit thin and could use more durability
Gold Panning Kit | Mini Sluice Box | Black Sand Magnet | Free Tote Backpack
This Compact Prospecting Kit Includes a miniature "Pocket" Sluice Box that measures 12" long and includes both rubber v-trap matting and miner's moss. Full dimensions for this aluminum pocket sluice are 12" x 3.5" x 1.5".
8 Lb Black Sand Paydirt Separator Magnet, Mini Classifier Sifting Pan, 2 Small Gold Pans with Dual riffles (one 8" and one 10").
Tweezers feature a magnifier to help spot gold flakes. Suction tweezers to collect the gold flakes and fines from one of two gold pans. Includes three vials to store gold.
This Prospecting kit is assembled in USA near Keyesville, California by the Sluice Fox group of prospectors and outdoor professionals. Parts sourced globally.
Includes a free tote backpack to take on your prospecting adventure. Pack up and join the gold rush!
2. Stansport Mining Kit
Feel like a professional with this affordable and beginner-friendly gold panning kit. This deluxe and pick version includes the metal pick hammer which delivers the feel of a true adventurer in search of the coveted gold nuggets. It also comes with a hand trowel to facilitate digging, a snuffer bottle and a 3/8in. mesh classifier.
The snuffer bottle appears well-made too, making the process far simpler if you have never done this before. The hand trowel features points of measurement, so you know just how far down you are going.
The magnifier on the precision tweezers will make locating small gold flakes easy. You can then use those same tweezers to pluck them out of the gold pans and into the sample vials included with the kit. The vials come in different sizes as well to handle a variety of findings.
Features:
2 gold pans (14in. and 10.5in.)

Precision tweezer with attached magnifier

Hand trowel

2 gold vials
What we love:
Easy to collect your findings in the sample bottles

The pans have a good amount of thickness to them
What we don't like that much:
The steel in the hammer is a little thin
Sale
Stansport Yukon Deluxe Gold Prospecting Kit with Pick, Black
Includes 10.5" gold pan, 14" gold pan, 2 gold vials (1 oz. and 1/2 oz.), precision tweezers with magnifier
Hand trowel, 3/8" mesh classifier and snuffer bottle
Re-live the gold rush days of the old west
Everything you need to get you started on this gold seeking adventure
Fun and educational
3. Garrett Complete Gold Panning Kit
With the Garrett Complete Gold Panning Kit, you get quality materials that are both sturdy and lightweight enough for the sake of easy portability. The plastic pans are thick, and you get 3 of them to work with. They come in different sizes with the largest acting as a combination sifter or classifier pan. It is perfect for use in both wet and dry conditions, and it features 7/16in. pores to sift smaller material.
With the gold guzzler bottle, also known as a snuffer bottle, you can suck finer gold granules out from the water at the bottom of the pans. Also, the regular pans feature 90° riffles which speed up the process even more so you can more readily identify the precious gold granules.
There are 2 vials within which to store the gold flakes you will find. The entire kit can be packed in a backpack and carried along on your journey without weighing you down. It also comes with a simple pamphlet that can serve as a good introduction to panning for gold, making the kit a quality beginner's purchase.
Features:
3 gold pans (14in. (2) and 10in. (1))

Suction bottle

Tweezers with attached magnifier

2 gold vials
What we love:
Thick enough material to withstand frequent use

Screen does well at filtering out different rock sizes
What we don't like that much:
Sometimes difficult to get the gold out
Sale
4. SE Prospector's Choice Gold Panning Kit
The SE Prospector's Choice Gold Panning Kit is an essential collection to start your gold hunting adventure. It is basic in terms of what it contains, but it's all you need to start looking for treasure. There are 2 gold pans, each with dual riffles. There are coarse and fine riffles to help you better separate the debris. Meanwhile, another pan serves as a sifter with a 1/2in. mesh screen attached.
If you have discovered gold at the bottom of your pan, you can use the 4oz. sniffer bottle to capture each of the flakes without getting in all the excess large debris.
Apart from the sniffer bottle, you can also utilize the tweezers with the attached magnifying glass to pluck them out of the pan. When you have picked them up, you can drop them into the 2 storage vials included with the kit. Both are see-through, making it effortless to keep track of your gold.
Features:
2 gold riffled pans

1 sifter pan

Tweezers with magnifying glass

2 gold storage vials
What we love:
The classifier features durable heavy-gauge wire

Includes high-quality pans that are sturdy and not prone to flexing
What we don't like that much:
The classifier seems best at removing larger particles rather than smaller ones
SE Gold Panning Mining Accessories Kit - Includes 10" 14" Gold Pans, 1/2" Sifting Screen, 2 Gold Vials, Snuffer Bottle, Tweezers, 7 Pieces
ALL-IN-ONE GOLD PROSPECTING KIT - Take your gold prospecting to the next level with this 7-piece value set! Perfect starter kit for beginners that has everything you need to pinpoint, trap, and capture gold flakes, nuggets, raw gemstones, and precious minerals
MORE OPTIONS. MORE GOLD - Includes 2 sizes of green gold pans with dual riffles in 10" and 14" for use with different types of paydirt during gold panning; Easily classify materials with the gold sifting sieve with mesh wires in 1/2" size that fits perfectly over a 5-gallon bucket
GET THE GOLD STANDARD - Includes a sand magnet to attract and separate iron based black sand from the gold; A pair of magnified tweezers to help spot and pluck out the gold and other hard-to-reach trace minerals; 1 snuffer bottle to suck out and capture the gold until it's ready for the glass vials; 2 glass vials with airtight twist caps to safely secure the fine gold flakes
GREAT VALUE - For gold enthusiasts and adventure seekers, this gold panning kit comes equipped with everything you'd need at a price you'll love. Buying everything as a starter set instead of individually saves you time and money.
IDEAL FOR FAMILY TIME FUN - Perfect hobby for the whole family in the outdoors away from electronics; A perfect gift for the gold prospecting enthusiast, casual hobbyist, or metal detectorist
5. Minelab PRO-Gold Gold Panning Kit
The Minelab PRO-Gold Gold Panning Kit contains numerous items for your next great adventure. It is all-inclusive and comes with 2 quality, ultra-durable gold pans. The largest is 15in. in size and features dual riffles. The other pan is 10in. and is has a single riffle.
Alongside the gold pans comes a hex-mesh classifier to sift through larger and medium-sized debris. The items aren't just made from thick plastic, but they are UV-resistant and they float well in water. So, in case you ever drop one, there is no worry about losing it in a stream.
At the same time, the items are all light weight and, when fit into the carrying bag that comes along with the kit, you can carry them around without feeling fatigued. Apart the pans, this kit comes with a vacuum suction bottle to pick up those finer gold flakes. There is a magnifying glass, suction tweezer, and 2 clear vials for storage purposes. To make you feel even more like a professional, this kit also includes an iron-separator magnet.
Features:
2 gold pans with riffles

Vacuum suction bottle

Large hex-mesh classifier

Iron-separator magnet
What we love:
Blue coloring on the pan makes it simple to spot gold

Easier to use the classifier thanks to the built-in handles
What we don't like that much:
The magnet could be better as it seems a bit tough to handle
Minelab PRO-Gold Gold Panning Kit 2 Gold Pans, Classifier and More
Includes: 2 Pans, Classifier, Bag, Magnet, Magnifier, Suction Bottle, Pipette, & Vials
This premium panning kit has everything you need to get started!
Constructed from durable, lightweight polypropylene
UV-resistant and float in water
Everything you need to get started! Discover gold the easy way with the Minelab PRO-GOLD range of high quality pans and accessories.
6. Gold Rush Nugget Bucket
The Gold Rush Nugget Bucket is a high-end gold panning kit that is ideal for beginners and experienced users alike. It comes with several key items to make your gold expedition a hit, and all of it fits in a compact bucket that is available in 3 different color styles. This makes it easier than ever to pack up and take with you on the road with friends and family. It only weighs 7lbs so it is not heavy to carry around.
The gold pan features a finger lip for simpler use. This is also the only gold panning kit that offers a patented fluid bed concentrator. Additional tools include the clean-up kit that includes fine tweezers, a black sand magnet, a suction bottle and a gold vial for storage. There is even a hand scoop to make things easier for you.
This entire kit is simply convenient. All you have to do is scoop in the dirt, pour in some water, and let gravity go to work in sifting through the debris so you can find your gold. Once you're done, pack it all back up in the bucket and head off to the next location.
Features:
Gold pan with finger lip

Concentration bowl and base

Hand scoop

Clean-up kit
What we love:
The unit features sturdy materials

Makes it fast and simple to process material
What we don't like that much:
Does contain several small parts that can easily get lost if dropped
Gold Rush Nugget Bucket - Gold Panning and Prospecting Kit (Camouflage)
As seen on ABC's Shark Tank. Deal made with Robert Herjavec.
Recommended by the Gold Prospectors Association of America (GPAA) for all ages.
Everything Stacks Neatly Inside this 7 Pound, Easy to Carry Kit
The only gold panning kit that offers a patented "fluid bed concentrator"
Just scoop in dirt, pour in water, and let gravity do all the work to find gold!
FAQs About Best Gold Planning Kits
What are the best places to hunt for gold in Canada?
You can discover most gold in Canada across the Canadian Shield. This covers about half of the land area in the entire country. To be more specific, the high-grade gold can be located in Quebec, Ontario, Nunavut and British Columbia. There is even some to be found in Newfoundland, but at a lesser extent compared to the other regions.
What equipment do I need when hunting for gold?
If you want to find high-quality golden nuggets, then having the right equipment is vital. Not only do you need the right tools to be able to locate them, but also to properly extract the gold nuggets. That way, you can actually sell the gold you find at a good price.
You will need what's typically contained in a gold panning kit. This includes gold pans that feature riffles for sorting through different-sized particles. A sifter pan helps too as the size of the mesh will determine the amount of debris it can clear out.
Having a suction bottle aids in pulling out tinier flakes of gold found at the bottom of the pans. You can also make use of fine tweezers to pluck up any flakes you find.
Consider also getting small storage vials so you can safely pack away the gold you recover. Some kits may include a hand trowel, but you may want to purchase a shovel as well to get into those hard to reach locations if you are planning a proper gold hunting adventure.
What is gold panning?
Panning is regarded as a principal technique when it comes to recovering gold and diamonds from within placer deposits. The method involves separating the particles of greater gravity, such as gold, from soil or gravel by washing it all in a pan with water.
Without proper gold panning, it can take ages to locate any gold. Perhaps you won't find any at all. That is why it's so important to have the proper tools ready, so you can sort through all the unnecessary and invaluable debris to get to the real treasure.
To Conclude
If you have found a solid location to pan your own gold, then you need a quality gold panning kit to get the job done well. It might take a little bit of practice if you are new to all this, but the time invested in learning how to do it will all be worthwhile in the end. Understanding your skill level will also help you decide which kit is right for you as some are designed with beginners in mind while others are more for the professional prospector.
The 6 we discovered are versatile enough to encompass all categories, with options for individuals just starting to explore hunting for gold and those of you with more experience in the matter. If you are still undecided or concerned about your budget, then you can always check out our more specific recommendations based on price. We laid them out below:
911metallurgist.com is a participant in the Amazon Services LLC Associates Program, an affiliate advertising program designed to provide a means for sites to earn advertising fees by advertising and linking to Amazon.com.