In smelting and melting for pure gold, that is, gold of 24-kt. value is very much too soft for jewelry purposes and it is therefore always alloyed with other metals to increase its hardness and resistance to wear. For the same reason pure silver is seldom used alone but is alloyed with copper, the standard alloy being sterling silver which contains 92.5% silver and 7.5 % copper. The metals commonly used for alloying gold are silver, copper, nickel and zinc.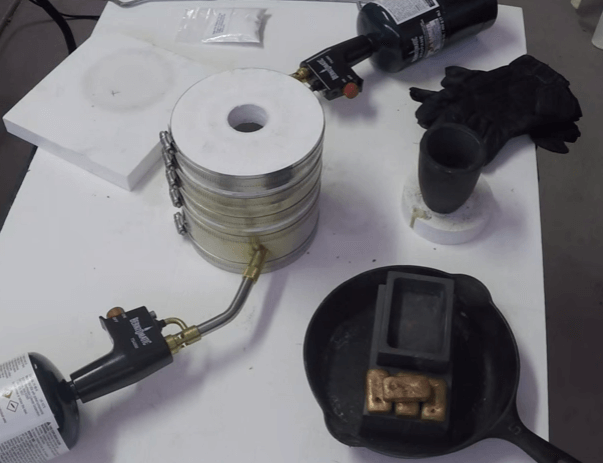 In addition to hardening the-gold and producing alloys of different karat values the use of these metals makes possible the production of gold alloys of various colors such as yellow, red, green and white. The gold-silver-copper alloys vary in color from light greenish-white through green, yellow and red depending on the relative amounts of the three metals. Green or yellowish-green colored golds are also obtained by combining relatively large amounts of zinc (maximum about 18%) with gold, copper and small amounts of silver.
In recent years the so-called white golds have been very popular for jewelry chiefly because of the resemblance to the color of platinum.
The bluish-white color of these white golds depends on the presence in the alloy of both nickel and zinc, the former in 14 kt. (58.3 % gold) white golds varying between 12 and 17% and the latter between 4 and 8%.
| | | |
| --- | --- | --- |
| | | |
| Electric gold melting furnace | Portable Torch Cutting Welding | pH and Thermometer |
| | | |
| Gas Mask | Chemical Protective Clothing |    Glove Chemical |
| | | |
| Boots | Chemical goggles | Digital Scale 0.001 g |
| | | |
| Hot Plate | Alcohol Lamp | Spoon |
| | | |
| Glass Stir Sticks | Distilled Water Bottles | Glass Baster |
Filtering Flask
Stainless Steel Beaker
Graphite Crucible
Distilled Water

Borax Gold Melting Flux

     Granular Soldering

Na2B4O7 10H2O

Nitric acid HNO3

Glass Beakers

Copper beads
Lead ingots
Hazardous Chemicals

1. Acid danger
2. Heat danger
3. Poison gas danger
THIS IS FOR AN UNVERIFIED APPROXIMATE DEPICTION OF A RECYCLING PROCESS.
I HAVE NOT TESTED THIS MYSELF.
DO NOT PERFORM AT HOME.
Chemical is very dangerous. You should protect in every step. You have to wear gloves, mask or protective clothing when you work. When extracting gold finish, you must clean thoroughly with water immediately and learn all kinds of chemicals that you used and how thoroughly protected.
Gold extraction can do several methods. In each method depends on material that you use for extraction. How to extract gold smelting. For any of the gold alloy. Such as gold old scrap gold, Gold jewelry. And some electronic equipment.
How to extract gold by smelting
Extraction of gold by smelting is done with metallic mix gold. Scrap gold, jewelry gold, With gold components for more than 25%.
Not suitable for metal gold plated surfaces. If you want to do. Using nitric acid to dissolve  Metal mixed with gold out. You can get scrap gold. Scrap gold bring smelting.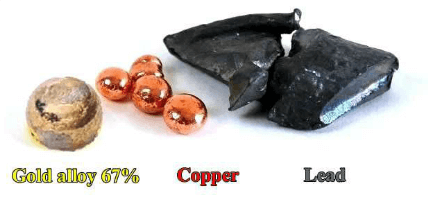 Ratio 1:2:1
1.Copper        3 grams
 2.Lead             6 grams
                                             3.Gold alloy. Estimated that there is a mixture of gold 3 grams (The total weight of 5 g)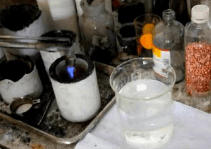 Melt metal all together. The copper melt first. Put the gold and lead Homogeneous
Pour the melted gold into the water.Broken down into smaller ones. To make it easier to use nitric acid to dissolve the metal is not gold.
Pour the water out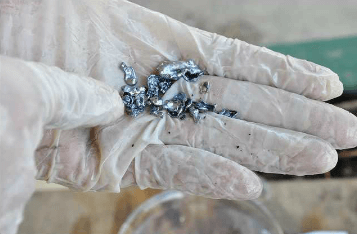 The smelting of gold and poured into water pellet small.
HOW TO EXTRACT GOLD FROM THE SMELTING
Ratio Chemical 1:1
1. Nitric acid       100ml.
2. Clean Water   100ml.
Fill nitric acid into clean water. Wait for 2 minutes for chemical substance mixed together.
Fill nitric acid into gold
Boil nitric acid with 70-90 degree Celsius.
Boil until no air bubbles. Nitric acid to dissolve the metal completely. Nitric acid solvent is not good. Powder sediments by boiling with nitric acid is gold.
Fill Nitric acid into gold
Method empirically surely that nitric acid corrodes metal out. Lump of gold break down into a powder and it did not air bubbles from the reaction of Nitric acid.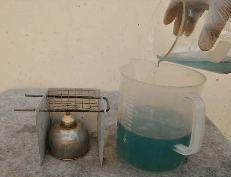 Surley that nitric acid corrodes metal out. Then pour some nitric acid out but be careful gold dregs flow with nitric acid or percolate only gold dregs.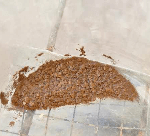 Cleaning Powder gold of nitric acid. Powder gold boiled with clean water for 10-15 minutes, temperatures 70-900C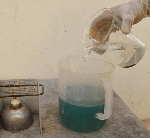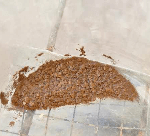 Pour the water out.
This is dry gold dregs.
When the water dries out, slowly pour the gold powder into a crucible (or the AR process to be more gold purity> 99%)
Given some heat to gold power but use low heater.
Fill little borax for beautiful and shine. Then scoop gold out.
Scoop gold out from crucible when it coagulated. Suddenly fill in distilled water. Because of if gold lost heat, gold will adhere with the crucible.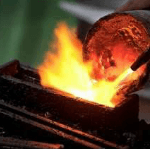 If you use electric crucible or ceramic crucible, when gold was melt pour into the block.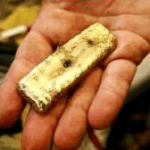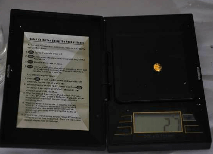 Scrap gold 5 grams can be gold 2.7 grams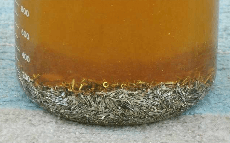 A high percentage of gold is round and glossy. This pure of gold is 98.4%. If you want gold cleaner, you can boil with nitric acid about 10-20 minutes.
Thumbnails gold extracted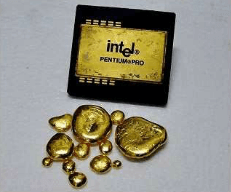 THIS IS FOR AN UNVERIFIED APPROXIMATE DEPICTION OF A RECYCLING PROCESS.
I HAVE NOT TESTED THIS MYSELF.
DO NOT PERFORM AT HOME.