Disclosure: This post contains affiliate links and I may earn a small commission if you purchase through these links.

Searching for gold can be a thrilling activity but actually finding gold is harder than you might think. This is where sluice boxes can help enormously.
Long, narrow, and portable, sluice boxes are tools that water passes through when placed in a creek, river, or stream. Obstructions known as riffles catch the gold and gold dust, after which the particles are trapped in carpeting or rubber matting at the bottom of the box. They're highly effective at finding gold particles and nuggets anywhere between 25mm to 100pm.
If you want to be successful at gold prospecting, purchasing a sluice box is an excellent start but you'll also need a gold pan. You can use this to find out if the location you're in may have a plentiful supply of gold.
Wherever you go looking for gold, it's important to be aware of the rules. Be sure to check up on the guidelines whether you're prospecting in the US or Canada.
When picking out our top choices we considered such factors as the length of the box and the riffle material, for example, miner's moss or rubber matting. We also used genuine consumer reviews from people who have bought these sluice boxes, ensuring that any fake reports were eliminated.
1. Keene Super Sluice Box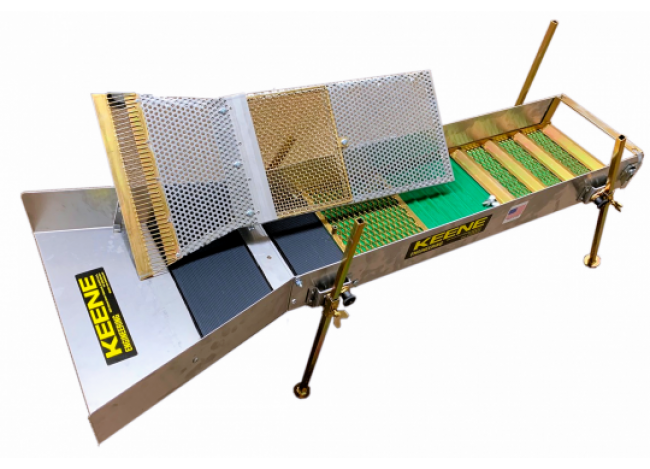 If you intend to head off on your treasure hunt to discover a large amount of gold, the Keene Super Sluice Box is your new best friend. It's a high-end sluice box that is impressive in size, and this larger build allows it to take in a far higher volume of unclassified materials, which can help save you time. Additionally, the box is built with convenience in mind thanks to the Mini Max folding leg system. The legs articulate in four different directions for a variety of setups.
As for the screen system, it is a mixture of woven wire, grizzly bars, and a punch plate. This speeds up the process while keeping the riffles performing at their best to trap gold. Additionally, thanks to the combination of expanded metal and carpet, the sluice box is built to handle a multitude of different outside conditions. This way, you can take your gold hunting to various locations, even in areas that may be heavy with sand.
Features:
Articulate leg system
Expandable design
Screen system (punch plate, grizzly bars, woven wire)
Folding hopper
What we love:
Doesn't need any weight to keep it in place
Adjustable legs so it's more convenient to set up in different locations
No classification of the material is needed for the recovery process
We don't like this as much:
We'd like to see some instructions for beginners to understand how to use/clean this
Buy Now: https://www.kellycodetectors.com/super-sluice-box
2. Sluice Fox Gold Panning Kit
The Gold Panning Kit from Sluice Fox is a handy set to buy, especially for beginners with an interest in hunting for gold. It comes with all the tools required, such as gold pans and tweezers with a useful magnifying glass. However, our focus remains on the mini sluice box. This box may work better when used for sampling prospects so you can finish the materials you find later.
There are multiple ways you can use the box, so that you can adapt it to best suit your needs. This has the standard V matting, which is a black mat made from plastic. Then there is the miner's moss. You can use the sluice box with just the matting or use it along with the miner's moss. What works best depends on the area and if the gold you're looking for is fine or not. This versatile design will broaden the type (and amount) of gold you are able to find while using the sluice box.
Features:
12in. long sluice box
Separator magnet
Tweezers with magnifier
2 gold pans and mini classifier sifting pan
What we love:
Beginner-friendly design that makes it simple to learn to use
Properly weighted so it doesn't tip easily
Its compact size makes it simpler to pack up for portability
We don't like this as much:
As it is a smaller sluice box, it will require more frequent emptying and cleaning out
Sale
Gold Panning Kit | Mini Sluice Box | Black Sand Magnet | Free Tote Backpack
This Compact Prospecting Kit Includes a miniature "Pocket" Sluice Box that measures 12" long and includes both rubber v-trap matting and miner's moss. Full dimensions for this aluminum pocket sluice are 12" x 3.5" x 1.5".
8 Lb Black Sand Paydirt Separator Magnet, Mini Classifier Sifting Pan, 2 Small Gold Pans with Dual riffles (one 8" and one 10").
Tweezers feature a magnifier to help spot gold flakes. Suction tweezers to suck up the gold flakes and fines from one of two gold pans. Includes three vials to store gold.
This Prospecting kit is assembled in USA near Keyesville, California by the Sluice Fox group of prospectors and outdoor professionals. Parts sourced globally.
Includes a free tote backpack to take on your prospecting adventure. Pack up and join the gold rush!
3. Keene 2″ Power Sluice Combination Kit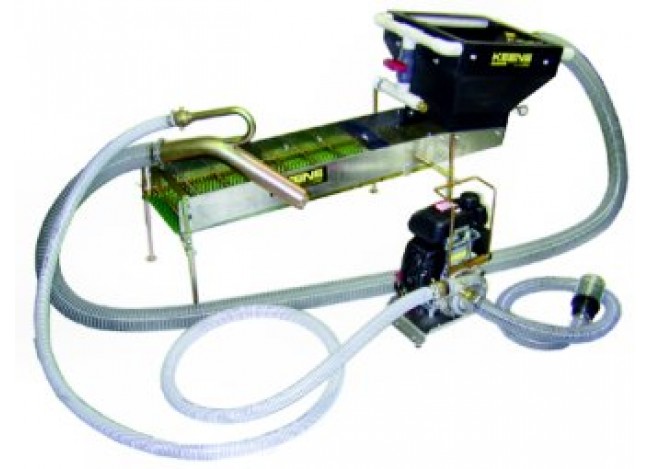 The Keene 2in. Power Sluice Combination Kit is a rather large set that allows you to build your own conversion. This comes with everything you need to get it operating successfully in the field, including a hand sluice, classifying screen, hopper conversion component, dredging riffle, sluice trough extension, a coupled pressure hose, frame, pump, engine, intake assembly, and pressure hose.
Assembling this conversion may greatly improve your progress while searching for gold. For example, this sluice combination kit is capable of handling massive volumes of water and material so you can process more in a brief amount of time rather than going back and forth between emptying it and setting it back up. Also, the adjustable legs on the sluice box add more versatility to the entire setup.
Features:
Classify screen
Hand sluice
Adjustable support legs
Sluice trough extension
What we love:
Solid built-in legs for extra reliability when used in harsher conditions
Designed so that building the conversion is a streamlined process
Though made for advanced users, it's the perfect next step for hobbyists
We don't like this as much:
Due to its heavier weight, you may need assistance when setting up/moving it around
Buy Now: https://www.kellycodetectors.com/2-power-sluice-combination-kit
4. ASR Outdoor Gold Sluice Box
The ASR Outdoor Gold Sluice Box is a reliable tool that offers you a straightforward means of finding gold in various bodies of water. This box is a comfortable length, resting at 50 inches. long, so it can manage bigger volumes of material at a time. Even so, the box is also foldable. This gives it great portability so you can pack it up in a bag with the rest of your gold hunting tools.
The sluice box, made from aluminum, comes with carpet and miner's moss that is pre-installed so you can start recovering gold right away. In fact, this is designed for high-yield with 18-gauge steel zinc-plated riffles that are built all over the sediment channel. These riffles can handle smaller material well, trapping in tiny golden nuggets and even gold flakes with ease. This way, you may have a greater chance of catching those hard-to-find gold items that would otherwise slip through the net.
Features:
Foldable design
Miner's moss with carpet underneath
Angled mesh
Large riffle design
What we love:
Balanced weight so that it's simple to carry while still being stable
Miner's moss and carpet work well at catching extra materials
Easy to assemble and maintain
We don't like this as much:
The shoulder strap could be longer for easier carrying
Sale
ASR Outdoor Gold Sluice Box Folding Aluminum Portable Gold Prospecting, 50 Inch
PORTABLE DESIGN: ASR Outdoor Folding Sluice Box folds down compact for easy storage and carrying. You can backpack this folding sluice into remote areas or even carry it inside a 5 gallon bucket
EFFORTLESS USE: Everything can be packed up in your backpack ready to deploy. All you need to do is make sure your sluice box is level in the field. When extended in stream the sluice box body is designed to lock rigidly in place so that when removed it does not fold up and collapse without warning
DURABLE CONSTRUCTION: Made to be used. designed to be portable the Backpack Sluice Box for Gold Recovery is lightweight made from highly-durable, rust-free aluminum. It will surly withstand the harshest environments
HIGH-YIELD GOLD RECOVERY: 18 Gauge steel zinc-plated riffles are built in throughout the sediment channel creating water turbulence that traps gold flake and small gold flour in the woven vinyl miners moss which is pre-installed and ready to use out of the box
SPECIFICATIONS: Extended Dimensions: 50" Length ; Folded Dimensions: 15" x 9" x 5" ; Wide-Mouth Flange: 13.25" ; Weight: 7.5lbs ; Comes with carpet, woven vinyl miners moss and shoulder strap
5. Compact 30 Sluice Box by Royal
As its name aptly suggests, the Compact 30 Sluice Box by Royal is a smaller unit that is fun to use for simple gold hunting tasks. It has a wide enough flare that it easily pulls in an adequate volume at a time. Thanks to it being smaller in size, you can slip this inside a backpack with ease, making it a useful tool to take while hiking or if you are planning to go out camping near a stream and want to test your luck to find some gold.
Moving it around is made even simpler thanks to the built-in carrying handle on one side of the sluice box. There's absolutely no struggle to set it up and lift it out of the water if you want to change locations. With its aluminum body and weighing just a few pounds, the unit holds its ground when facing lightly rushing water without having to add too much external weight to it.
Features:
Removable flare
Zinc coated steel riffles
Carrying handle
Carpet matting
What we love:
User-friendly so that novice users can handle it without experience
Not overly heavy so not difficult to carry
Great for catching small flakes of gold
We don't like this as much:
This sluice box could benefit from having more than one layer of carpet
Compact 30 Sluice Box by Royal
Compact and Portable Design; (one only) 30" L x 7" W and weighs 3.7 Lbs.
Removable Flare Stores Neatly Inside Sluice Box (as shown).
Zinc Coated Steel Riffles Over Expanded Aluminum Riffles.
Proudly Made in U.S.A by Royal Manufacturing.
1/16" Aluminum Body with Black Anodized Carrying Handle.
6. Sluice Fox Gold Panning Supply Kit
The Sluice Fox Gold Panning Supply Kit would make for a wonderful gift to those just starting out in their gold prospecting journey. It is most ideal for hobbyists, especially as it comes with all the basic items needed. In fact, this kit contains a whopping 16 items in total! For instance, there are three gold pans, two mesh sifting pans, and the sluice box. This even comes with a pick and hook set to get into those hard-to-reach spots.
Turning to the sluice box, a primary feature is its interlocking design. Because of this, configurations are near-limitless, meaning you can adapt this box to work with any situation you find yourself in. It comes with miner's moss so once you set the kit up, you can place the sluice box in the water and get to finding gold quicker. This moss works well at trapping smaller flecks of gold too so that you have a higher chance of coming away with a healthy variety of treasure.
Features:
2 stackable mesh sifting pans
Sluice box with flare
3 dual riffle gold pans
Tweezer with magnifier
What we love:
Thanks to the green color, it contrasts well with gold, making it easier to spot
UV-resistant so that the kit will last longer out in the elements
Very easy to assemble the items together
We don't like this as much:
We'd like to see the option to remove the attached matting, allowing for greater user choice
7. Keene Super Mini Sluice Box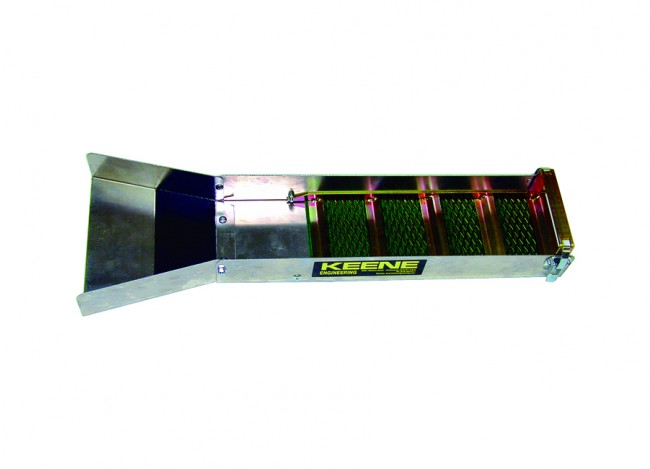 The Keene Super Mini Sluice Box packs plenty of the features from the larger versions while maintaining a more sleek and compact appearance. Weighing only 5lbs, this unit is a breeze to pack up and go, and you can even slip it inside a rucksack or backpack without issues. Due to its size, it may work best for those who are just starting out, or it can also be beneficial if you need to simply test an area for signs of smaller deposits.
As for it still having a professional build despite its size, the unit features a unique riffle design with robust carpet underneath the expanded metal to better trap smaller deposits. Also, thanks to the black rubber matting, it is easier to recognize gold right away since it contrasts well. This even has a reliable handle built onto the non-flared end of the sluice box. The handle doesn't just make it simpler to pick up, but it also grants it some extra stability.
Features:
High-profile carpet
Black rubber ribbed matting
Built-in handle
Wide flare design
What we love:
Removable flare so that backpacking with it is easier
Processes materials faster than other boxes on the market
Improved latching system makes clean-up simpler
We don't like this as much:
We'd like to see the addition of legs like its larger predecessor
Buy Now: https://www.kellycodetectors.com/super-mini-sluice-box
8. Royal Folding Backpack Sluice Box
The Royal Folding Backpack Sluice Box is as convenient as its name implies. This folds down so that you can slip it into a 5-gallon bucket or even a large backpack for portability, making it simpler than ever to carry all your supplies around. There is even a strap built into the box so lifting it is even easier. This strap works whether the unit is folded or unfolded.
The sluice box features a comfortable, wide flare to work with higher volumes. It has a good-sized platform too so you can better separate classified material. Overall, it isn't overly large once you unfold the unit. In fact, the size would be ideal when you want to venture out into a small creek. It's easy to lie down in various locations but still has enough weight to minimize any risk of it being transported away by the current.
Features:
50in. long
Miner's moss
Foldable design
Carrying strap
What we love:
Pieces are easy to remove for cleaning and simple to put back together
Features a self-locking design
Perfect for handling black sand
We don't like this as much:
Does require a small learning curve to learn how to properly set the box up so you don't miss any gold
Royal Folding Backpack Sluice Box
Folding Stream Sluice
Fits neatly within a 5-gallon bucket or backpack
Folded Dimension: 4-1/8" x 9" x 15-1/8"
Unfolded Dimension: 50" x 9" x 2-1/2" deep
Flare: 13-3/4" wide
9. Sluice Fox Modular Sluice Box System
The Sluice Fox Modular Sluice Box System is designed so that you can either use it as a stand-alone sluice box or as an addition to a longer system. As a stand-alone unit, it doesn't have a flare, but one can be purchased separately and attached quickly. If you want to connect it, you are able to sync this sluice box up with others, either side-to-side or end-to-end. It is a lightweight unit so that it's rather easy to handle.
This sluice box also comes with two miner's moss pockets. So, if you wish to use it as-is, it is more than capable of trapping what you need. There are even three channels, giving this modular system a slightly more professional feel. This can work just as well in a river as it does in small to medium-sized creeks.
Features:
3 sets of V-shaped channels
2 miner's moss pockets
Impact-resistant plastic construction
Lightweight (1.89lbs)
What we love:
Built so that it's easy to modify as needed, such as connecting additional components
Travel-friendly design that simplifies transportation
Can catch gold from small flakes to nuggets
We don't like this as much:
Standalone, the water flow can be a bit slow, so it may be beneficial to modify with existing components
Sluice Fox 24" Portable Modular Sluice Box (Green) Gold Panning Dredge Sluicing
Patent Pending Modular Sluice Box Design. This Module Can be Used as a Stand-Alone Sluice Box Unit.
Connect Multiple Units Together End-To-End or Side-To-Side to Create Your Ideal Tool.
Each Unit Measures Approx 24" x 7.5" x 2.5" - Weight: 1.89 lbs.
Each Unit Features 3 Sets of V-Shape Channels and 2 Miner's Moss Pockets
Lightweight, Impact Resistant Polypropylene Plastic Construction
10. Sluice Fox Modular Sluice Box System with Flare
The Sluice Fox Modular Sluice Box System is dark in color, making it near-instantaneous to recognize gold material at the bottom. Even the included miner's moss is black to further aid in the recovery process. This can be used on its own if you don't have any other sluice box, or you can use this system to create a larger unit. Multiple units can connect to this system either end-to-end or side-to-side. This freedom gives you the ability to truly create something personal that best suits your needs.
As a lightweight sluice box, the unit is simple to move around with. Thanks to the unique design of the flare, with it measuring 13 inches in width, you can easily place most classifiers on top of the flare. This makes using it even more convenient, seeing as you don't have to classify materials separately. Instead, everything happens at once as it all runs through the sluice box
Features:
2 miner's moss pockets
Deep V ribbed floor
3 sets of V-shaped channels
Speed flare
What we love:
Features a "speed feed" flare design for quicker water flow
Foolproof set up system for quick use
Riffles are good at sucking up gold and black sand/dirt
We don't like this as much:
We'd like to see the connecting points of this sluice box reinforced, as heavy-handed use may cause structural damage
Sluice Fox 36" Portable Modular Sluice Box with Flare Black Dredge Gold Panning
Patented Modular Sluice Box Design. Includes Sluice Box and Removable "Speed Feed" Flare.
Connect Multiple Units Together (each sold separately) End-To-End or Side-To-Side to Create Your Ideal Tool.
This Set Measures Approx 36" x 7.5" x 2.5" when Assembled Together. Flare measures 13" wide at mouth and 3" tall - Total weight: 3 lbs.
Features 3 Sets of V-Shape Channels and 2 Miner's Moss Pockets, Deep V ribbed floor on the flare. Patent pending uniquely shaped flare allows for most classifiers (compatible with both Sluice Fox and SE classifiers) to stack directly on top of the flare, eliminating the need to separately classify material before running it through the sluice.
Lightweight, Impact Resistant Polypropylene Plastic Construction
FAQs About Sluice Boxes
What is a sluice box?
A sluice box is a tool used to recover gold, black sand, and a host of other minerals. For commercial operations, it is far larger and more intricate. However, for prospecting purposes and pure hobbyists, the box-like tool is also made on a smaller scale with it being long, narrow, and portable. It is essential if you want your gold recovery process to go by smoothly and efficiently, as you don't have to sift through completely by hand.
Water will pass through a sluice box when it is placed in the likes of a stream or any other body of running water. The rush of water will help separate gravel and dirt from the gold. In turn, all this gold will become trapped in the riffles at the bottom of the box. These purposeful obstructions can feature any material. They can be made with rubber matting, miner's moss, or even carpeting.
How does a sluice box work?
Once you know where to start looking for gold, place the sluice box in the flow of a stream, creek, or river. Certain sluice boxes work better in specific locations such as compact or lightweight ones being ideal for slow-moving water like a creek. Even so, you still set them all up the same. The water should flow through the flared end so that it rushes through the entire box. Of course, not all sluice boxes feature a flare, which can still make the process work, but it may go by at a slower rate.
Placing the sluice box at a downhill angle is best since that can contribute to speeding up the water flowing. From there, it is up to the box itself and the material within it to catch any minerals. When everything is ready to be cleaned out, simply remove the box from the water and empty it over a bucket. Take out the riffle tray and material, emptying and washing them into the bucket as well.
Any heavy material and gold that survived this process should be in the bucket, and you can use a gold pan or other tool to separate it from there.
Why do gold pans and sluice boxes work well to recover gold?
Gold and gold dust are heavier than other minerals and materials. So, if you are out detecting it, it is usually not as simple as digging a bit and finding some gold. These types of items will sink into the water. If you don't want to spend time trying to dig it out, especially gold flakes that are hard to see, then you need recovery items like gold pans and sluice boxes.
Since gold items sink, they will drop to the trough or bottom of a recovery item like a sluice box. This makes them easy to spot and recover. As for the gold dust, the added weight will still cause them to settle more in the sediment in a creek or river so a tool can find it.
Before all that can happen, however, you need gold pans. Gold panning is used for sampling purposes, so it's helpful to do this first to find out if a location will give you a rich payout. With gold pans and sluice boxes, you'll save far more time and have a higher chance of recovery.
To Conclude
There are many tools you need when hunting for gold, and a sluice box sits high on that list. Sluice boxes make gathering gold in outdoor environments a far easier process. You may have to play around with it for a little while to completely understand how to use it, but it is simple to master with a little bit of practice.
Although sluice boxes all have the same goal, they are not all made the same. Some feature different materials to trap the gold, and they are even made in various lengths, which can completely change how much you can get inside at a time before needing to empty the box. Portability is another major factor as some are capable of being folded for easy transport while others may be slightly bulkier.
The sluice box that will work best for you depends on your situation, so we discovered a variety of items to consider to help you find the right one. Be sure to check out our favorite picks for the best budget option, the best mid-range choice, and our top high-end sluice box.
911metallurgist.com is a participant in the Amazon Services LLC Associates Program, an affiliate advertising program designed to provide a means for sites to earn advertising fees by advertising and linking to Amazon.com.